When it comes to indulging in the epitome of taste and luxury, there is nothing quite like experiencing the most expensive wines.
Among the vast array of exquisite wines, a select few stand out for their unparalleled opulence and price tags that could make your jaw drop.
We're talking about the crème de la crème, the most expensive wines that tantalize the palates of the elite.
These extraordinary bottles are not merely beverages; they are liquid masterpieces, crafted with meticulous care and aged to perfection.
From rare vintages to limited editions, these wines are meant to be savored on extraordinary occasions when celebration knows no bounds.
Prepare for an unparalleled journey of flavor and luxury that will leave an indelible mark on your taste buds and memories.
Cheers to the finer things in life!
Screaming Eagle Cabernet Sauvignon 1992 – $500,000
This exquisite wine showcases the elegance of Cabernet Sauvignon, specifically the rare and highly sought-after Screaming Eagle vintage from 1992.
Its deep ruby color hints at the rich flavors of blackberry, cassis, and chocolate, complemented by subtle notes of oak and spice.
Savored by discerning connoisseurs, this luxurious drink captivates with its velvety texture and impeccable balance.
Its hefty price tag is attributed to its limited production and impeccable reputation.
This wine is best enjoyed on special occasions or intimate gatherings, offering a taste of sheer opulence and the opportunity to indulge in the finest wines.
---
Jeroboam of Chateau Mouton-Rothschild 1945 – $310,000
Celebrated as a masterpiece of winemaking, this wine features a legendary vintage from Chateau Mouton-Rothschild in 1945.
Its deep, dark hues allude to the extraordinary flavors of blackcurrant, tobacco, leather, and truffle.
The profound complexity and velvety texture create a symphony of indulgence on the palate.
A symbol of prestige and heritage, this drink carries a hefty price tag due to its rarity and the artistry behind its production.
Perfect for momentous occasions, it is best enjoyed in the company of fellow enthusiasts who appreciate the rich history and finesse of this remarkable vintage.
---
Chateau Cheval Blanc 1947 – $305,000
This wine showcases the extraordinary Chateau Cheval Blanc vintage from 1947, an iconic wine from the Saint-Emilion region.
With its deep garnet color and intoxicating aromas of plum, blackberry, and cedar, it invites a sensory journey through time.
Its velvety texture and layers of flavors, including spices and hints of earthiness, evoke a luxurious experience.
Renowned for its scarcity and exceptional quality, this drink commands a high price, attracting collectors and enthusiasts alike.
Savor it slowly, allowing each sip to unravel the story of this remarkable vintage and the mastery of its creators.
---
Chateau Margaux 1787 – $225,000
This wine transports you to the 18th century, offering a taste of history and extraordinary craftsmanship.
The Chateau Margaux vintage from 1787 presents itself with deep garnet hues and aromas of ripe dark fruits, tobacco, and leather.
With a regal presence on the palate, it delivers a symphony of flavors, from blackcurrant to dried herbs, complemented by velvety tannins.
Its exorbitant price tag stems from its remarkable age, rarity, and the legacy it carries.
This is famously the most expensive bottle of wine ever broken – in 1989 a wine merchant brought a bottle from Thomas Jefferson's collection to dinner, where it was knocked over and destroyed on accident by a server.
He claimed the bottle was worth $500,000, but the insurance payout was $225,000.
---
Chateau Lafite 1869 – $230,000
Indulge in the timeless elegance of Chateau Lafite, with this remarkable vintage from 1869.
The wine captivates with its deep, ruby color and enthralling aromas of black cherry, cigar box, and graphite.
On the palate, it reveals layers of complexity, with flavors of blackberry, truffle, and spices, all enveloped in a silky texture.
Its extraordinary price reflects the rarity and heritage associated with this vintage.
Savor it slowly, allowing the wine to evolve in the glass, and appreciate the craftsmanship and legacy that make this wine truly exceptional.
---
Ampoule from Penfolds – $168,000
The Ampoule from Penfolds stands as a testament to the artistry and dedication of winemaking.
Encased in a handcrafted glass vessel, this wine contains a precious blend of exquisite wines, carefully selected by Penfolds' experts.
Its exact composition remains a well-guarded secret, enhancing the allure of this unique experience.
The complexity and depth of flavors in this wine are unrivaled, with hints of dark berries, chocolate, and spices dancing on the palate.
The smooth and velvety texture lingers, leaving a profound impression.
---
Henri Jayer, Vosne-Romanée Cros Parantoux 1999 — $136,955
A true gem in the world of wines, the Henri Jayer Vosne-Romanée Cros Parantoux 1999 embodies elegance and finesse.
This extraordinary wine boasts a beautiful ruby hue and a bouquet of red fruits, violet, and earthy undertones.
Its silky texture and complex flavors of cherry, raspberry, and exotic spices create an unforgettable experience.
The scarcity of this vintage, combined with the masterful winemaking techniques employed by Henri Jayer, contribute to its lofty price tag.
Sip it slowly and let the enchanting flavors transport you to the vineyards of Burgundy, where this remarkable wine originates.
---
Shipwrecked 1907 Heidsieck – $275,000
Prepare to embark on a taste journey like no other with the Shipwrecked 1907 Heidsieck wine.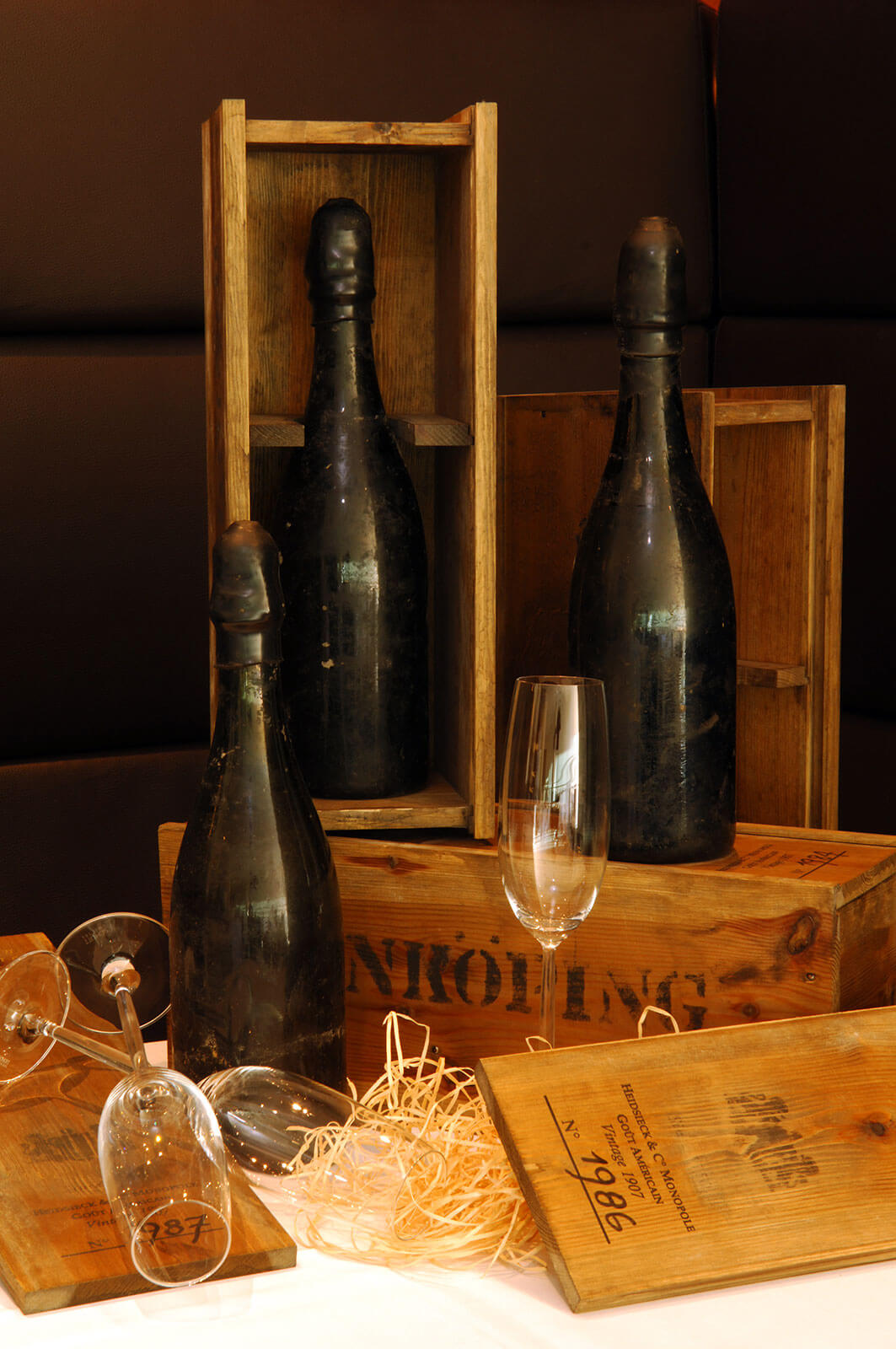 Recovered from a sunken shipwreck, this vintage Champagne has been aged to perfection.
With its radiant golden color and delicate bubbles, it enchants the senses.
The aromas of toasted brioche, caramelized apples, and honeyed almonds envelop the nose, while the palate is treated to an exquisite blend of citrus, dried fruits, and a touch of minerality.
The steep price tag reflects the rarity and historical significance of this unique Champagne, making it an extraordinary choice for celebrating momentous occasions or simply reveling in the beauty of life.
---
Romanee Conti 1945 – $123,900
Step into the realm of vinous legends with the Romanee Conti 1945 wine.
Hailing from the esteemed vineyards of Burgundy, this vintage showcases the pinnacle of Pinot Noir excellence.
Its radiant garnet color invites exploration, while the aromas of red berries, truffles, and floral notes captivate the senses.
On the palate, layers of complexity unfold, with flavors of ripe cherries, earth, and exotic spices intertwining harmoniously.
The exorbitant price of this wine can be attributed to its scarcity, exceptional quality, and the unwavering demand from passionate collectors and enthusiasts.
To fully appreciate this masterpiece, indulge in it during a contemplative moment, allowing its elegance and depth to enchant your soul.
---
Chateau D'YQUEM – $117,000
The Chateau D'YQUEM wine showcases the epitome of luxury in the realm of dessert wines.
This exquisite Sauternes vintage entices with its golden hues and captivating aromas of honey, apricot, and citrus blossom.
On the palate, it envelops the senses with an indulgent symphony of flavors, from luscious tropical fruits to caramelized notes and a touch of botrytis.
The painstaking production process, coupled with the limited quantity produced, contributes to its prestigious price tag.
Pair it with foie gras, blue cheese, or a decadent dessert to elevate your gastronomic experience.
This wine embodies a moment of pure indulgence, inviting you to savor life's sweetest pleasures.
---
Chateau Lafite 1787 – $156,450
Chateau Lafite 1787 stands as a pinnacle of indulgence, showcasing the magnificence of this extraordinary wine.
Crafted with the finest Bordeaux grapes and aged to perfection, it presents a symphony of flavors.
This opulent drink features a deep crimson hue and enthralling aromas of blackcurrant, tobacco, and cedar.
On the palate, it unravels layers of complexity, with hints of blackberry, spices, and velvety tannins.
The exorbitant price tag is justified by its exceptional age, rarity, and the legacy it carries.
People are drawn to this wine for its unmatched elegance and the opportunity to taste a piece of history.
---
Please drink responsibly, be fully accountable with your alcohol consumption, and show others respect.