Indulging in a well-crafted tequila shot is like embarking on a journey of fiery flavors and vibrant sensations.
With its origins deeply rooted in Mexican tradition, tequila has captivated enthusiasts worldwide with its distinct personality and invigorating kick.
In this tantalizing expedition, we will uncover a selection of the finest tequila shots that epitomize the art of mixology and ignite the senses.
From smooth sips that dance on the palate to bold concoctions that demand attention, we will traverse through a myriad of tequila expressions, celebrating the agave spirit's versatility and the endless possibilities it presents.
Brace yourself for a thrilling exploration of tequila shots that transcend the ordinary and embrace the extraordinary.
Tequila Shot
A Tequila Shot, accompanied by a pinch of kosher salt and a zesty lime wedge, is an exhilarating experience for the adventurous palate.
This spirited concoction combines the smoothness of tequila with the tangy burst of lime, creating a tantalizing balance of flavors.
The salt serves as a delightful counterpoint, enhancing the drink's complexity.
This classic combination never fails to excite, making it a favorite choice for those seeking a bold and unforgettable moment of enjoyment.
---
Tequila Sunrise Shot
The Tequila Sunrise Shot is a vibrant and lively concoction that combines the smoothness of tequila with the sweetness of orange juice, topped off with a touch of grenadine.
This delightful shot delivers a burst of fruity flavors, with the orange juice lending a zesty and citrusy profile.
The addition of grenadine creates a mesmerizing visual effect reminiscent of a sunrise, making it as visually appealing as it is delicious.
Sipping on a Tequila Sunrise Shot is an enjoyable experience that evokes a sense of relaxation and fun.
---
Mexican Samurai
The Mexican Samurai is a citrusy tequila shot that showcases the dynamic fusion of flavors achieved by combining bold Blanco Tequila, a vibrant Citrus Liqueur, and a fresh Sweet and Sour Mix.
The Blanco Tequila provides a smooth and robust base, while the Citrus Liqueur adds a bright and tangy twist.
The Fresh Sweet and Sour Mix brings a refreshing balance of sweetness and acidity, elevating the drink's complexity.
Unleash your inner samurai and savor the irresistible blend of flavors that will leave you craving more.
Cheers to embracing the extraordinary!
---
Double Trouble Tropical Tequila Shots
Double Trouble Tropical Tequila Shots offer a tantalizing blend of flavors that transport the senses to a sun-soaked paradise.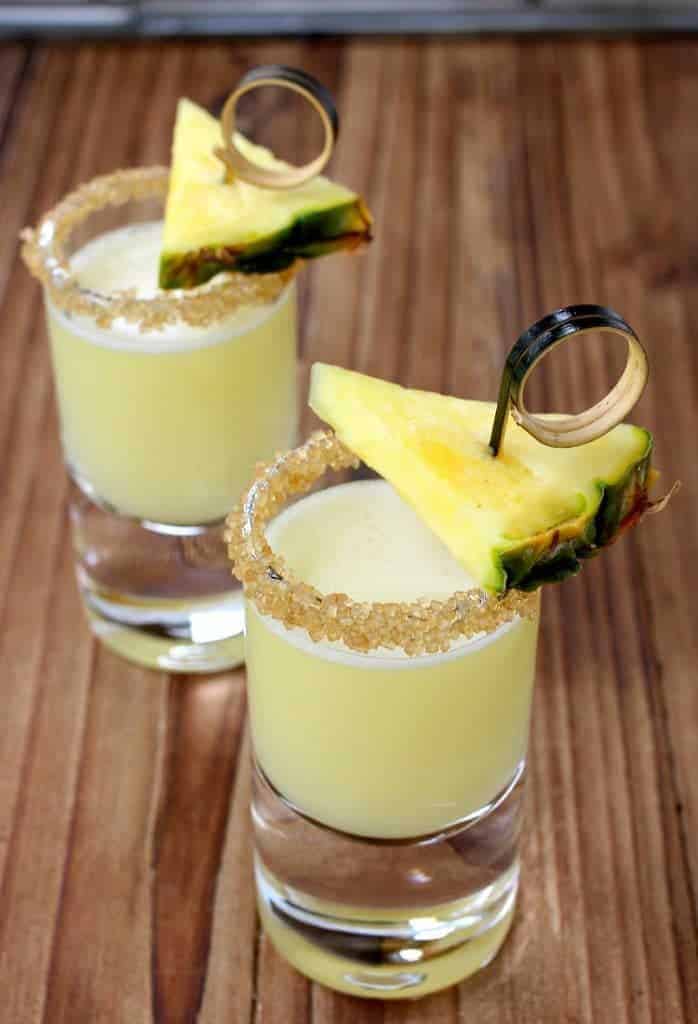 Combining the rich and smooth reposado tequila with the tropical essence of pineapple vodka, pineapple juice, and piña colada mix, these shots deliver a delightful burst of fruity indulgence.
The addition of Turbinado sugar adds a touch of sweetness, perfectly balancing the vibrant flavors.
With their origins rooted in tropical cocktail culture, these shots have gained popularity for their exotic allure and irresistible taste.
Served with a garnish of pineapple wedges, Double Trouble Tropical Tequila Shots are the perfect choice for those seeking a taste of paradise in a single sip.
---
Watermelon Tequila Shots
Watermelon Tequila Shots offer a stimulating and invigorating experience that is simple to serve and perfect for everyone.
Combining the smoothness of silver tequila with the bright notes of watermelon vodka and the refreshing essence of watermelon juice, these shots capture the essence of summer in a glass.
The addition of a touch of sea salt enhances the flavors and adds a hint of complexity.
Served with a small watermelon slice garnish, these shots are visually appealing and enjoyable to savor.
Whether you're hosting a party or looking for a delightful treat, these Watermelon Tequila Shots are a crowd-pleaser that can be enjoyed by all.
---
Salted Jalapeño Shots
Spice up your palate with Salted Jalapeño Shots, an enticing blend of flavors that packs a punch.
The blanco tequila brings a smooth and vibrant character, while the jalapeños add a fiery kick, infusing the drink with a bold and zesty essence.
Served in Himalayan salt glasses, each sip tantalizes with a perfect balance of heat and saltiness.
These shots are a thrilling choice for those who crave a combination of heat and tequila's distinct charm.
Get ready to spice up your evenings and ignite your senses with these captivating shots.
Cheers to the bold and the brave!
---
Sour Patch Tequila Shots
Introducing Sour Patch Tequila Shots, a whimsical and playful concoction that combines the boldness of tequila with the tangy sweetness of Sour Patch Kids and flavored soda.
The rim of colored sugar adds a touch of sweetness that perfectly balances the sour elements, creating a harmonious taste experience that is both stimulating and fun.
With each sip, your taste buds are treated to a delightful burst of contrasting flavors as the tequila's smoothness mingles with the zesty, fruity notes of the candy and soda.
These Sour Patch Tequila Shots are a hit at parties and gatherings, bringing a burst of vibrant flavors that elevate the festive atmosphere.
---
Mexican Candy Shots
Mexican Candy Shots combine the smoothness of white unflavored tequila with the vibrant sweetness of watermelon schnapps and a fiery kick of hot sauce.
The tequila brings a distinct earthy flavor, while the watermelon schnapps adds a refreshing and fruity note, and the hot sauce adds a spicy punch, creating a unique and tantalizing taste experience.
These Mexican Candy Shots are commonly served in shot glasses rimmed with salt or chili powder, and when you take a sip, you'll be greeted with a dynamic blend of flavors.
The combination of sweet, spicy, and tangy elements creates a delightful explosion on the palate, leaving a lingering heat that adds an extra layer of excitement to the experience.
---
Spicy Tequila Shot
A Spicy Tequila Shot is crafted with the classic combination of tequila and jalapeños, distinguishing it as a bold and fiery choice among the others.
This unique shot brings together the smoothness of tequila with the intense heat of jalapeños, creating a tantalizing fusion that ignites the taste buds and sets it apart from milder libations.
When you take a sip, you'll be greeted with a thrilling fusion of heat and smoothness, as the tequila's richness intertwines with the spicy notes of the jalapeños, leaving a tantalizing warmth that lingers on the palate.
Cheers to the perfect combination of heat and smoothness in every exhilarating sip!
---
Cheetos Flaming Hot Tequila Shots
Cheetos Flaming Hot Tequila Shots offer a unique and bold flavor experience.
Combining the fiery heat of Flamin Hot Cheetos with the smoothness of tequila and a touch of lime, these shots create a captivating fusion of spicy and tangy notes.
To enjoy, one can take a sip of the tequila shot, followed by a quick bite of the Flamin Hot Cheetos, allowing the flavors to intertwine and ignite the senses.
This unconventional combination appeals to those who appreciate the thrill of bold flavors and enjoy experimenting with unexpected taste sensations.
It's a playful and daring choice that adds a delightful twist to any occasion.
---
Tequila Sunrise Jello Shots
Tequila Sunrise Jello Shots bring a burst of vibrant colors and flavors to your party.
The orange-flavored Jello sets the foundation with its fruity sweetness, while the tequila adds a spirited kick.
Bottled orange juice contributes a refreshing tang, while a splash of grenadine creates that signature sunrise effect.
These jiggly treats are a crowd-pleaser at parties and gatherings, adding a fun and flavorful element to the festivities.
Get ready to raise a toast to unforgettable moments and enjoy the delightful delight of Tequila Sunrise Jello Shots.
Cheers to the sweet, tangy, and boozy joy!
---
11 Best Tequila Shots Recipe
Ingredients
Instructions
Pick your favorite recipe
Gather all the needed ingredients
Prep a tasty cocktail in less than 5 minutes
Please drink responsibly, be fully accountable with your alcohol consumption, and show others respect.