Welcome to the delightful world of picnic cocktails, where the art of mixing meets the joy of outdoor indulgence.
Whether you're planning a serene afternoon in the park or a sunny beach escapade, these libations add a splash of charm to your al fresco experience.
In this article, we'll explore the secrets of crafting portable, refreshing beverages that capture the essence of summer.
From light and zesty to fruity and effervescent, we'll unlock the mixological wonders that elevate your picnic gatherings into unforgettable moments.
So, grab your blanket, pack your essentials, and get ready to savor the simple pleasure of sip-worthy concoctions amidst nature's beauty.
Elderflower & cucumber G&Ts
The Elderflower & Cucumber G&T is a delightful fusion of flavors that entices the palate with its stimulating and floral essence.
The aromatic notes of elderflower cordial elegantly complement the crispness of cucumber, harmonizing with the botanicals of gin.
Topped with tonic water, it offers a lively effervescence, making it a perfect summer sipper.
Enjoy it over ice, garnished with a cucumber slice, while relishing the mingling of delicate tastes, creating a truly invigorating experience.
---
Picnic Basket Cocktail
The Picnic Basket Cocktail is a tantalizing blend of flavors, with each ingredient playing a crucial role in crafting this delightful drink.
The bold and smooth Jim Beam bourbon sets a rich foundation, while the Giffard Passionfruit Liqueur adds a tropical sweetness that dances on the taste buds.
Zesty lemon juice provides a refreshing tang, perfectly balanced by the luscious and vibrant watermelon-strawberry juice.
This cocktail is a burst of summer in every sip, inviting you to savor the joy of picnics and the taste of sunshine.
---
Picnic Punch
The Picnic Punch cocktail is a harmonious blend of flavors that excite the senses with every sip.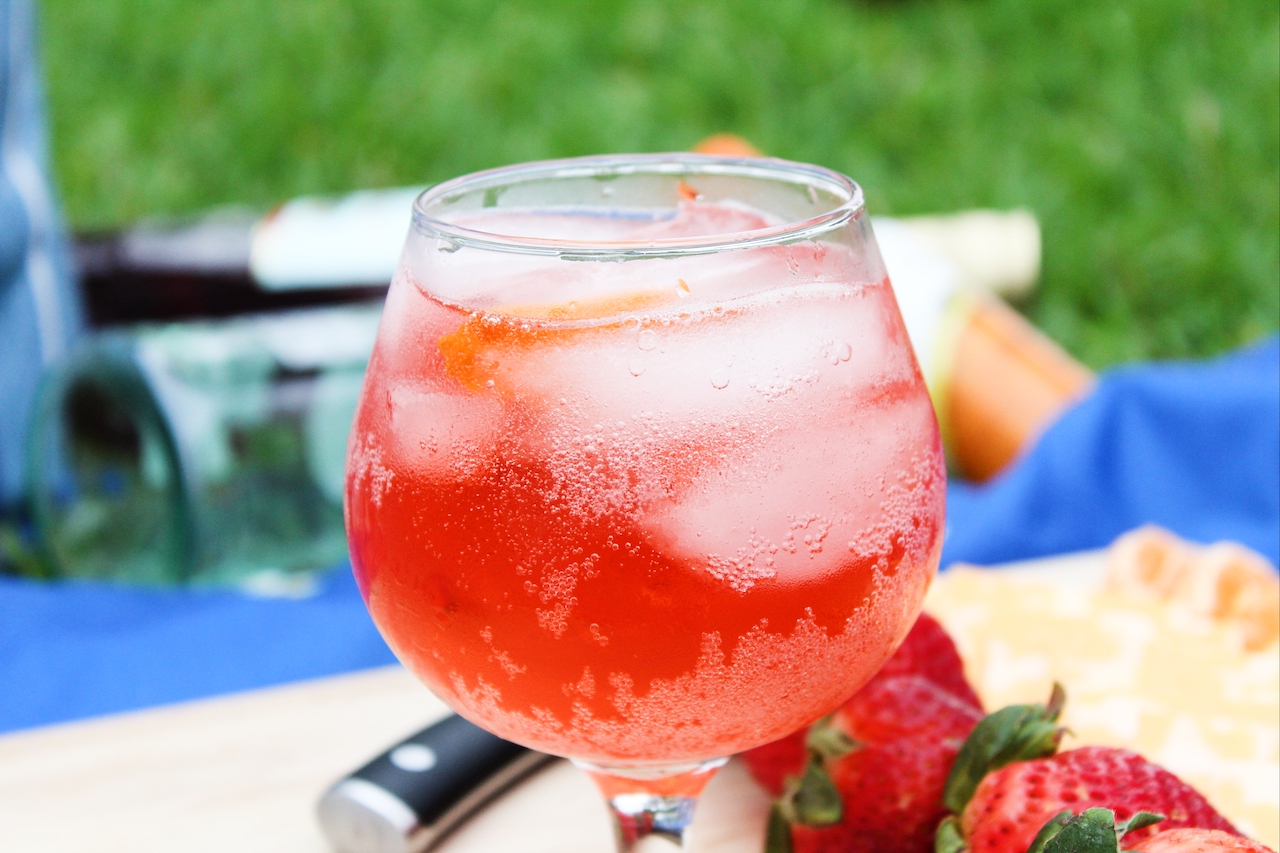 The bold white rum anchors the drink, infusing it with a tropical spirit, while Campari adds a touch of bitterness, perfectly balanced by the subtle complexity of bitters.
The lime-flavored sparkling water imparts a zesty effervescence, creating a stimulating and light character. Garnished with a twist of orange peel, it offers a citrusy aroma that complements the drink's profile.
Its popularity soared as beachgoers and picnickers alike embraced the easy-going nature of this luscious cocktail, making it a staple for outdoor gatherings and summer festivities.
---
Citrus + Herb Picnic Punch
The Citrus + Herb Picnic Punch cocktail is a refreshing and vibrant drink that effortlessly blends the tangy notes of orange and lemon juice with the smoothness of vodka.
The addition of basil and mint leaves infuses it with a delightful herbal essence, elevating its taste profile.
Served over crushed ice and garnished with orange slices and fresh herb leaves, it presents a visually appealing drink.
Enjoy it under the sun, surrounded by nature's beauty, for an invigorating and memorable picnic experience.
---
Dogwood Punch
Introducing the Dogwood Punch, a delightful concoction that brings together the fizz of sparkling rosé, the lusciousness of strawberry lemonade, and the sweet allure of grenadine.
The sparkling rosé boasts a crisp and bubbly character, while the strawberry lemonade bursts with the perfect blend of tangy strawberries and zesty lemon.
When combined with a splash of grenadine, it unveils a mesmerizing fusion of flavors, creating a captivating and refreshing drink.
Let this delightful cocktail be a symbol of cherished memories, uniting hearts and kindling the spirit of camaraderie, one sip at a time.
Cheers to the Dogwood Punch!
---
Watermelon Cocktail Punch
Discover the Watermelon Cocktail Punch, a tantalizing blend of watermelon juice, lemon juice, lime juice, simple syrup, tequila, and Cointreau.
Immerse yourself in the stimulating taste of juicy watermelon, enhanced by zesty notes of lemon and lime juice and perfectly balanced with the sweetness of simple syrup.
The addition of tequila and Cointreau infuses a delightful hint of citrus and warmth, culminating in a well-rounded and summery cocktail.
Raise your glasses and toast to the spirit of summertime fun with this crowd-pleasing and invigorating punch.
---
The Lillet Spritz
The Lillet Spritz is a delightful concoction made with Lillet Blanc, tonic water, club soda, and ice cubes.
Lillet Blanc adds a subtle sweetness with hints of citrus and floral notes, while the fizz of tonic water and club soda brings a bubbly character to the mix.
Garnished with sliced cucumber, mint sprigs, and strawberries, it offers a visual treat and a burst of fresh aromas.
Sip and savor the flavors as you unwind and enjoy the company of loved ones, surrounded by the subtle beauty of this delightful drink.
Cheers to moments of bliss and laughter!
---
Grapefruit Basil Greyhound
The Grapefruit Basil Greyhound cocktail is a refreshing twist on a classic Greyhound, made with vodka, fresh grapefruit juice, honey, chopped basil leaves, and sparkling water.
What sets it apart is the addition of basil and honey, elevating the flavor profile with a subtle sweetness and a delightful herbal note, creating a unique and invigorating taste experience.
Served cold over ice, the Grapefruit Basil Greyhound offers a crisp and revitalizing sensation.
This enchanting concoction is the perfect choice to uplift your spirits and add a touch of elegance to any gathering.
---
8 Picnic Cocktail Recipes
Ingredients
Instructions
Pick your favorite recipe
Gather all the needed ingredients
Prep a tasty cocktail in less than 5 minutes
Please drink responsibly, be fully accountable with your alcohol consumption, and show others respect.