If you're looking to elevate your cocktail game, then egg white cocktails might just be the game-changer you've been searching for. These frothy, velvety concoctions bring a unique texture and a touch of elegance to your favorite libations. Picture a smooth, creamy foam topping your drink, adding a luxurious mouthfeel and a visually stunning element. The best egg white cocktails strike a perfect balance between sweet, sour, and boozy, creating a harmonious blend of flavors that will tantalize your taste buds.
From classic sours to innovative creations, these cocktails are perfect for anyone who enjoys indulging in a little bit of cocktail artistry. So, grab your shaker and get ready to impress your guests with these delightful, foam-topped libations.
Whiskey Sour
Probably the most well-known of all the egg white cocktails is the whiskey sour. It's a simple recipe using whiskey, lemon juice, simple syrup, and one egg white. The ingredients are vigorously shaken together, creating a creamy white layer on top of the sweet and sour cocktail.
View Recipe
---
Gin Fizz Cocktail
The gin fizz is bright and bubbly with the silky texture of shaken egg white to top it all off. It's similar to the whiskey sour but uses gin instead and is topped with club soda. The cocktail is a delicate drink with a citrus-forward flavor.
View Recipe
---
The Clover Club
You'll fall in love with the beautiful balance of tartness and sweetness in this cocktail. It has gin, raspberry syrup, lemon juice, and an egg white. You can buy premium raspberry syrup, but the cocktail will taste even better if you use homemade syrup.
View Recipe
---
Frothy Orange Creamsicle Cocktail
This cocktail has the sweet, citrus flavor of an orange muted by the creaminess of the egg white. The combination of egg white and a splash of vanilla extract brings the creamsicles flavors forward and will amaze you.
View Recipe
---
White Lady
This elegant egg white cocktail has an herbal, citrus flavor that is distinct and smooth on the palate. It's a gin cocktail with lemon juice, simple syrup, Cointreau, and thyme sprigs. And, of course, an egg white. It comes out a soft cream color with pure white foam on top, offering a silky texture and subtle flavor.
View Recipe
---
Gin Sour
Unsurprisingly, the gin sour is similar to the whiskey sour. The whiskey is swapped for gin, and the lemon juice for lime juice. A gin sour has a more tart and biting flavor than a sweet whiskey sour. It's an ideal egg white cocktail for someone who enjoys gimlets or gin and tonics.
View Recipe
---
Amaretto Sour
An amaretto sour is a potent drink with two liquors: amaretto and bourbon or whiskey. It has a prominent flavor that combines the warmth of the alcohol with the sweetness of maple syrup and the tartness of lemon juice. To elevate the richness, it includes a few drops of Angostura bitters. The foamy egg white topping helps mitigate the forceful taste of the other ingredients.
View Recipe
---
White Dragon Tequila Cocktail
Not only does this cocktail have a fancy name, but the flavors are elegant and straightforward. If the orange creamsicle cocktail appeals to you but seems too sweet, try this simpler drink. It has a subtle orange flavor from the Cointreau liqueur, with the same creamy egg white and a dash of lemon juice for tartness.
View Recipe
---
Blood Orange Pisco Sour
For other orange-y drinks, check out this tasty blood orange pisco sour. You achieve the succulent flavor with blood orange juice and lime juice, which elevate one another. Pisco is a white brandy that complements the creamy egg white for a well-rounded drink.
View Recipe
---
Mezcal Sour with Strawberries and Ginger
For a distinct and complex flavor, make this mezcal sour that combines the smokiness of mezcal with the delicate foaminess of an egg white. The strawberries give it a sweet, jammy flavor, and the ginger cuts through everything else to give you a hint of spice.
View Recipe
---
Orange Campari Vodka Sour Cocktail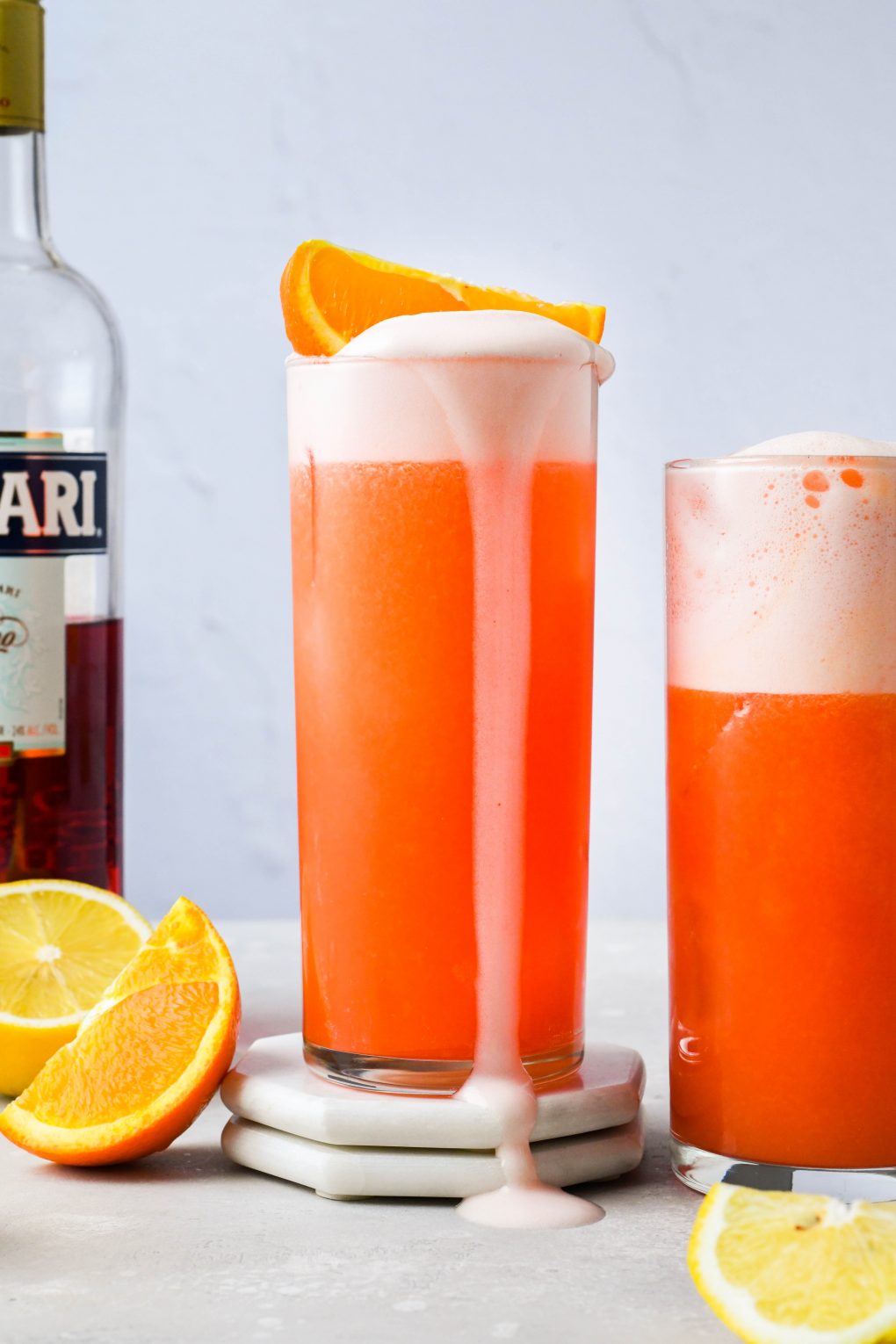 This cocktail combines fresh orange juice with Campari for a deep citrus flavor. The vodka and lemon juice lightens the taste, and a drizzle of maple syrup adds a rich sweetness. Finally, the fluffy egg white gives it a satin texture for an impeccable drinking experience.
View Recipe
---
11 Egg White Cocktail Recipes
Elevate your mixology skills and try these egg white cocktails for a delightful drink experience.
Ingredients
Instructions
Pick your favorite recipe
Gather all the needed ingredients
Prep an egg white cocktail in less than 5 minutes
Please drink responsibly, be fully accountable with your alcohol consumption, and show others respect.