If you're looking to add some fun and excitement to your gatherings, vodka shots are the way to go! Vodka shots are small, potent drinks that pack a punch and are perfect for livening up any party or celebration. Whether you're hosting a casual get-together with friends or planning a big night out, vodka shots are a great way to kick things up a notch and get the good times flowing.
These recipes are perfect for anyone who enjoys experimenting with different flavors and likes to keep the party vibes going strong. Whether you're a seasoned vodka enthusiast or just looking to spice up your next event, there's a vodka shot recipe out there for everyone to enjoy. So, gather your friends, stock up on your favorite vodka, and get ready to shake things up with some exciting and irresistible vodka shot ideas!
Kamikaze Shot
The kamikaze shot is often ordered at bars, but it's pretty easy to make at home. All you need is vodka, triple sec, and lime juice to make a delicious shot with a punchy, tart flavor. If you're trying to impress your guests, the kamikaze is a go-to and sure to up your bartending game.
View Recipe
---
Woo Woo Shot
The Woo Woo shot also has three ingredients and comes out a lovely pink color. This shot is great for beginning drinkers who don't want to drink straight vodka. The woo-woo shot is simple, sweet, and delicious, a mix of vodka, peach schnapps, and cranberry juice. It's a great way to save some of the vodkas as well.
View Recipe
---
Gummy Bear Shot
The gummy bear shot is a fun way to theme a party or include candy as a chaser. Peach schnapps, cherry vodka, pineapple juice, and sprite are a little more complicated than your average shot. However, most people serve it with a gummy bear in the shot glass, making it a sweet and colorful way to take shots!
View Recipe
---
White Tea Shot
There is no tea in the white tea shot, but it comes out to a white, milky color (which is where it likely got the name). However, the taste is tart and citrusy, unlike tea. A white tea shot has peach schnapps, soda, and sour mix and is easy to throw together for a summery backyard party.
View Recipe
---
Lemon Drop Shots
If we're talking about citrusy vodka shots, nothing is more classic than a lemon drop shot. Traditionally made with lemonade and vodka, this can also be made with lemon juice and sugar. If you've ever asked a bartender to make you a lemon drop, you know that these shots are delicious and easy to drink!
View Recipe
---
Jolly Rancher Shot
These shots are named after sweet and tart hard candy, and they taste just like them. Modeled after a larger cocktail, Jolly Rancher shots include peach schnapps, cranberry juice, and pineapple juice. They're delicious and a great choice if you're trying to take the night slow (while still doing shots).
View Recipe
---
Pineapple Upside-Down Cake Shot
If you love pineapple, you will love this pineapple upside-down cake shot. It utilizes vanilla vodka to add sweetness and a little bit of the cake flavor and tops it off with pineapple juice and a splash of grenadine (for the cherry). It's a classic cake and makes for a delicious shot!
View Recipe
---
Peach Vodka Jello Shots
No shot list is complete without at least one form of jello shot. In this case, we recommend peach vodka jello shots. As long as you have peach vodka and Jello, you are set to make these delicious party snacks (shots?). Top them with a peach gummy ring to complete the taste!
View Recipe
---
Dill Pickle Shots with Vodka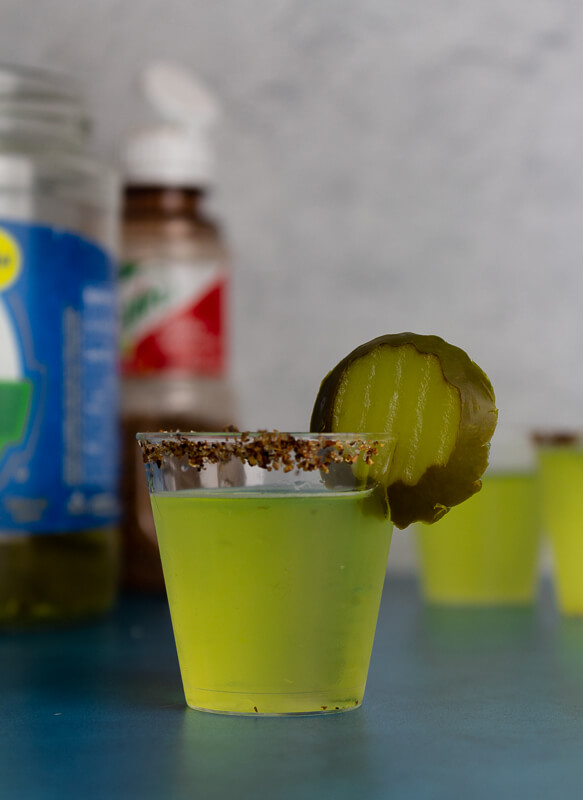 Are all of these shots too sweet and fruity for you? Looking for something a little more out of the ordinary? Well, these dill pickle shots are certainly not sweet and definitely not your average shot. You only need pickle juice and vodka to make a surprisingly tasty savory shot.
View Recipe
---
Wonder Woman Shot
This Wonder Woman Shot uses science to stack the liquids on top of each other, creating a neat striped appearance. With grenadine, peach vodka, and blue raspberry vodka, you can make a shot that looks like Wonder Woman's costume and tastes fantastic as well!
View Recipe
---
Pineapple Tamarind Vodka Shots
Instead of choosing sweet or savory, try a bit of both with pineapple tamarind vodka shots. This recipe uses pineapple juice and specialty tamarind-flavored vodka to create a unique and delicious mixture. The glass rim is also essential – don't skimp on the tajin seasoning!
View Recipe
---
11 Vodka Shot Recipes
These vodka shooters are perfect for any party or celebration.
Ingredients
Instructions
Pick your favorite recipe
Gather all the needed ingredients
Prep a vodka shot in less than 5 minutes
Please drink responsibly, be fully accountable with your alcohol consumption, and show others respect.