Apples have a long and storied history. Sure, the fruit led to Eve getting unceremoniously evicted from Eden, but it also helped Isaac Newton figure out gravity.
Apples capture our imaginations in literature and food and drink. The fruit isn't limited to America's favorite pie; apples enrich whiskey to a delicious effect.
We've collected the best apple whiskeys, broken down what makes them so great, and listed them here for your drinking pleasure.
Without further ado, the best apple whiskeys to add to your bar this fall include:
Evan Williams Apple Bourbon
Evan Williams Apple Bourbon packs a powerful punch. The whiskey is smooth and delicious, and the distillers infuse the spirit with a full green apple flavor.

Apple enthusiasts will want to savor the bourbon straight. Caramel and spices complement the fruit taste; the whiskey is basically liquid apple pie in a glass. The liquor also makes a great cocktail ingredient.
---
Jack Daniel's Tennessee Apple Whiskey
Jack Daniel's blends its Old Number Seven whiskey with real apples to create this delicious, refreshing apple spirit.
Tennessee Apple tastes excellent alone; green apples provide a tart and pleasant bite. However, the whiskey also helps craft a perfect apple fizz for cocktail lovers.
---
Bird Dog Apple Whiskey
Bird Dog Apple Whiskey works as a drink or a dessert. The sweet, refreshing spirit captures all the best elements of apple pie in a bottle.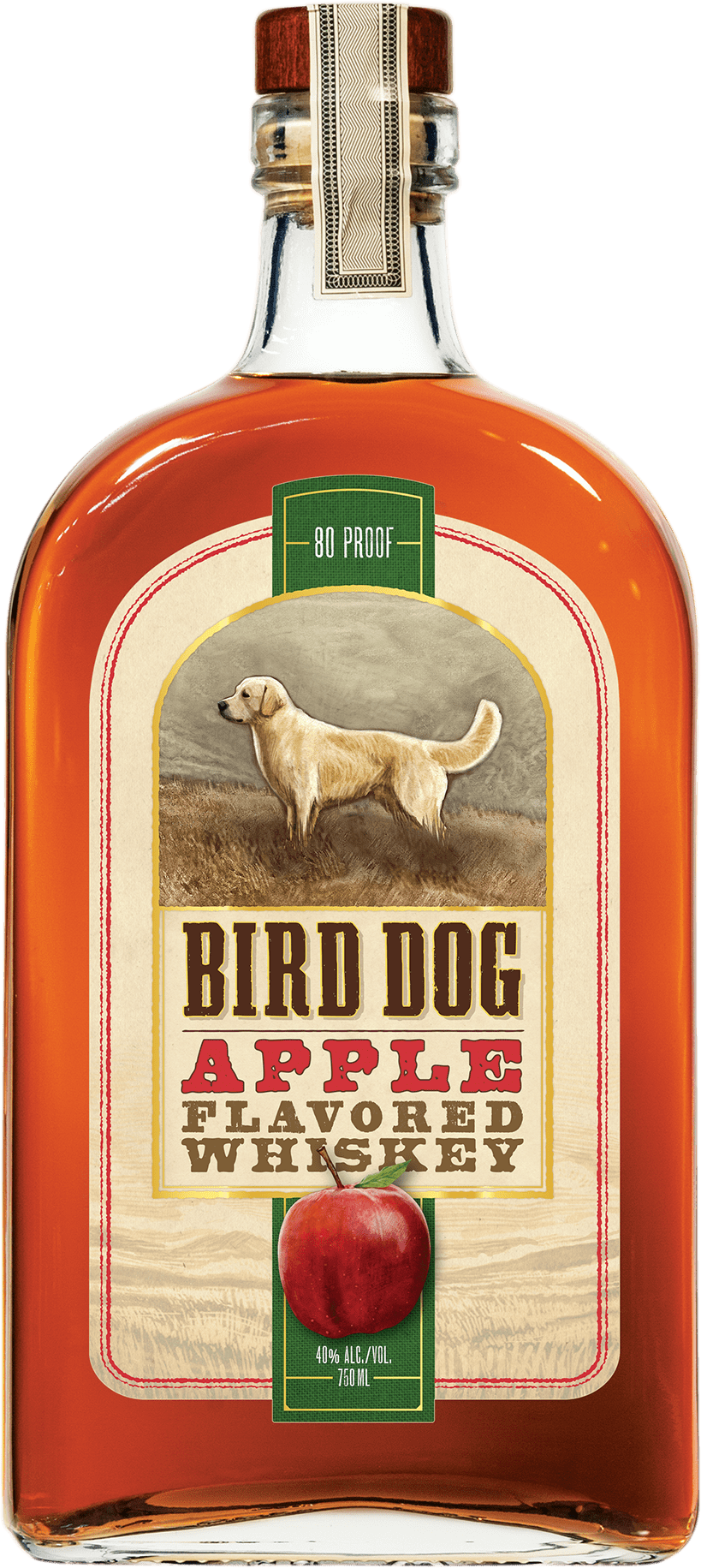 Bird Dog infuses its Kentucky bourbon with fresh apples. The resulting whiskey has won the distillery multiple awards, including platinum, gold, and double gold medals.
---
Crown Royal Apple Whiskey
Crown Royal ensures its apple whiskey continues the distillery's noble legacy. The celebrated spirit makers blend their beloved Canadian whisky with Regal Gala Apples. The resulting liquor is crisp, balanced, and has a hint of tart.
Crown Royal Apple Whiskey finishes with notes of caramel and spice. The sip is slightly sweet without being cloying.
---
Rattlesnake Rosie's Apple Pie Whiskey
Rattlesnake Rosie's Apple Pie Whiskey is an entire meal in a glass. The distillery blends New York apple cider, cinnamon, vanilla, brown sugar, and corn whiskey into a complex, layered spirit.
The whiskey has won Rattlesnake Rosie several awards, including the Double Gold Medal at the North American Bourbon and Whiskey competition. Though the spirit makes a fantastic mixer, you may drink all of it before you have a chance to add any other ingredients.
---
Serpent's Bite Apple Cider Whisky
Apple cider is the official taste of autumn. Serpent's Bite Apple Cider Whiskey is ideal for cool fall evenings; the bright, crisp spirit warms you from the inside.
The apple cider lends the smooth whiskey a dose of sweetness. The spirit is sugary and strong, so best imbibed in small amounts. Serpent's Bite apple cider whiskey makes a great shot, enjoyed straight.
---
Iron Smoke Applewood Smoked Whiskey
Iron Smoke Applewood Smoked Whiskey is the perfect drink to sip by a fire in a haunted cabin in the woods. The spirit is complex and layered, fusing complementary flavors into a delicious autumn drink.
Iron Smoke Applewood is a sweet and smoky whiskey that tastes of vanilla, pecans, apples, and caramel. The spirit is an ideal after-dinner drink meant for slow savoring.
---
Leopold Bros New York Apple Whiskey
Leopold Bros uses only natural ingredients in its New York Apple Whiskey. The resulting spirit is crisp and bright.
Leopold Bros don't limit themselves to apples, however. To round out the spirit's flavor, the whiskey includes apricots, raisins, and other dried fruits. The ingredients provide the drink with its color, a deep golden amber.
The New York apple whiskey tastes lovely alone but works particularly well as a cocktail mixer.
---
Jim Beam Apple Bourbon Whiskey
Jim Beam Apple Bourbon Whiskey blends the best elements of the esteemed distiller's whiskey and green apple liqueur.
The spirit is tart and not too sweet. Jim Beam's bourbon is smooth and goes down easily on its own; paired with green apple flavor, the drink is a little dangerous. The whiskey is particularly delicious on ice.
---
Cheers!
Ready to take a bite out of apple whiskey? The bottles in this article contain the best apple whiskeys, bursting with fruit flavor and supplemented with seasonal spices. These spirits are sure to warm you up and delight your taste buds.
Do you have a favorite apple whiskey? Let us know in the comments and mention your favorite Roundup product.
---
Please drink responsibly, be fully accountable with your alcohol consumption, and show others respect.