If you're a fan of creamy, tropical flavors in your cocktails, then you're in for a treat with coconut cream cocktails. These delightful concoctions bring together the rich, smooth texture of coconut cream with a variety of spirits and mixers to create indulgent, refreshing drinks that are perfect for any occasion. Whether you're lounging by the pool, hosting a beach-themed party, or simply craving a taste of the tropics, coconut cream cocktails are sure to hit the spot.
With their luscious, slightly sweet taste and hints of coconut goodness, these drinks appeal to anyone who enjoys a touch of exotic flair in their libations. So, grab your shaker and get ready to whip up some creamy, dreamy coconut cocktails that will transport you to a sun-soaked paradise.
Coconut Margarita
Margaritas are a classic summertime drink, and the coconut margarita is no different. This creamy and refreshing cocktail uses cream of coconut for a tropical flavor and tequila for the classic margarita flavor. Adding a toasted coconut rim blends the flavors perfectly with every sip.
Visit Website
---
Piña Colada
Another classic coconut drink is the piña colada. This creamy cocktail makes one of the best summertime drinks with its cream of coconut, pineapple juice, lime juice, and whatever type of rum you prefer. It's smooth, cold, and refreshing, cooling you off on a hot day. If you want to take your piña colada to the next level, add a fresh wedge of pineapple and a slice of lime as garnishes. It's optional, but it will certainly make the drink more appealing!
Visit Website
---
Coconut White Russian
This vodka-based cocktail becomes delicious with the addition of cream of coconut, coffee liqueur, and milk. It's creamy and sweet, and the coffee liqueur makes it perfect for colder months or during the holidays. There is a vegan version, where you use coconut, cashew, or other alternative milk. So no matter your guests' dietary restrictions, everyone can enjoy this treat.
Visit Website
---
Blue Hawaiian Cocktail
Blue Hawaiian cocktails are another summertime favorite that uses blue curacao, vodka, rum, pineapple juice, and for a smooth and creamy finish, cream of coconut. Some alternatives use sweet and sour juice for a non-creamy drink. Whichever version you choose, don't forget to add the signature cocktail umbrella!
Visit Website
---
Creamy Coconut Mojitos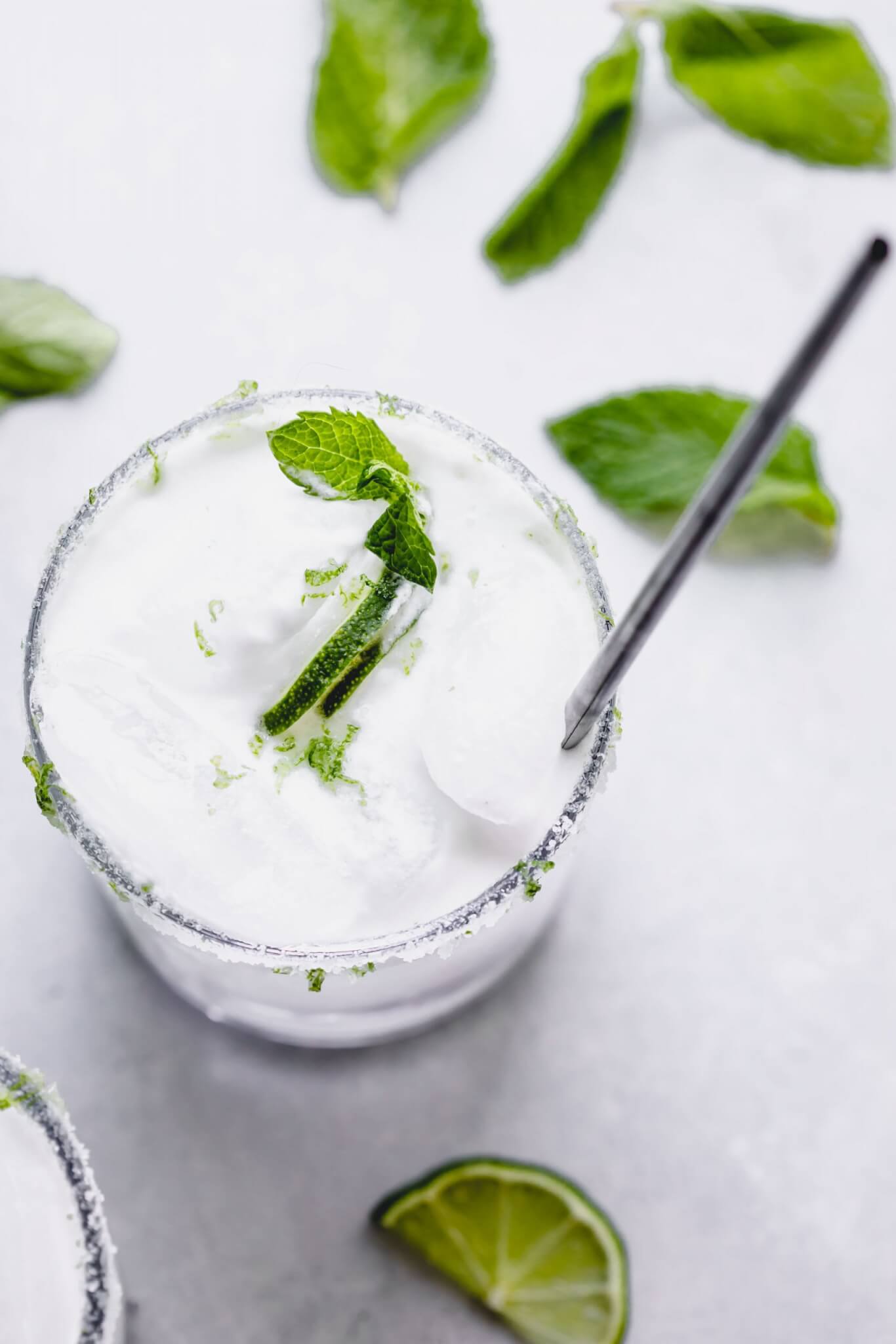 If you're a mojito fan but love creamy drinks, all the same, the creamy coconut mojito combines both into one. With cream of coconut, mint, rum, and lime juice, this cocktail makes a refreshing and unique drink for hot summer days on the beach or sitting on a poolside bar.
Visit Website
---
Island Fishbowl
The island fishbowl is a fun summer cocktail that uses coconut rum, blue curacao, pineapple juice, heavy cream, and cream of coconut. Saving the two creams for last, this themed summer drink is sweet, creamy, and delicious for any hot day resting by the poolside.
Visit Website
---
Blue Coconut Cocktail
The blue coconut cocktail takes a twist away from the summertime cocktails and introduces a winter-themed festive drink. Using similar flavors of pineapple juice, cream of coconut, and blue, the difference is the white coconut flakes for a frosty rim.
Visit Website
---
Banana Cabana
The banana cabana is a creamy coconut and banana cocktail with Kahlua, Baileys Irish Cream, and white rum. Its tropical flavors and cold temperature make it a delicious summer vacation drink. However, by incorporating nutmeg, this tropical drink can become a holiday one.
Visit Website
---
Coconut Cloud Martini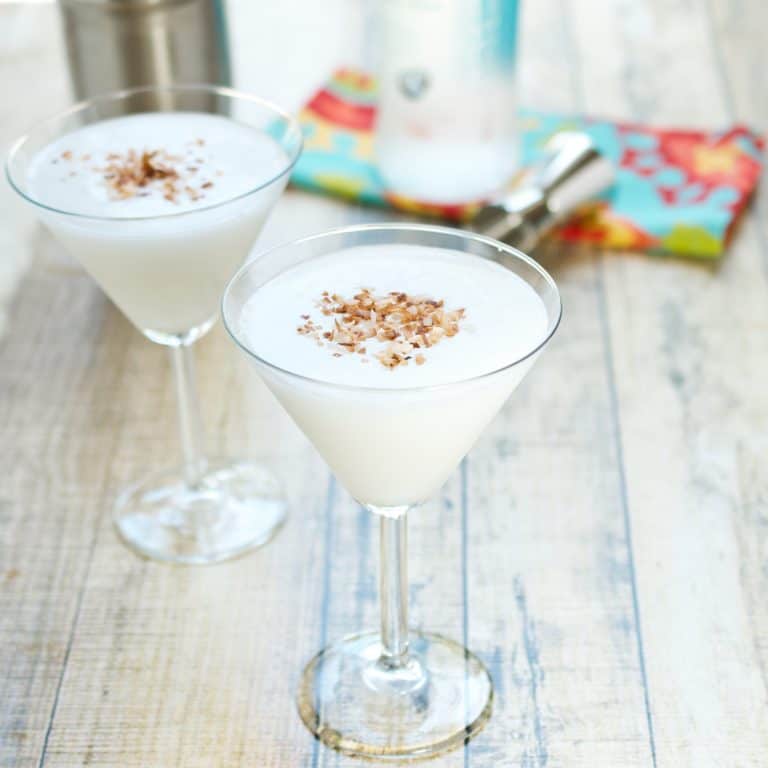 The coconut cloud martini is a simple cocktail with rum, vodka, and cream of coconut. It's strong and bold but makes a perfect warming drink on a cold evening. With toasted coconut sprinkled on top, this martini makes coconut a delicious winter-season flavor.
Visit Website
---
Coconut Rum Painkiller
A coconut rum painkiller is a spicy and creamy cocktail perfect for a hot summer day but can also work as a winter cocktail as well. With allspice dram, nutmeg, coconut rum, dark rum, pineapple juice, orange juice, and cream of coconut, this delicious drink is sweet and spicy.
Visit Website
---
Coconut Amaretto Cocktail
With the cream of coconut, amaretto, coconut rum, coconut water, and minneola tangelo, this creamy coconut and orange-flavored cocktail are ideal for hot summer weather. It's cold, smooth, and sweet, perfect for sitting by the pool and keeping cool.
Visit Website
---
Milk Maid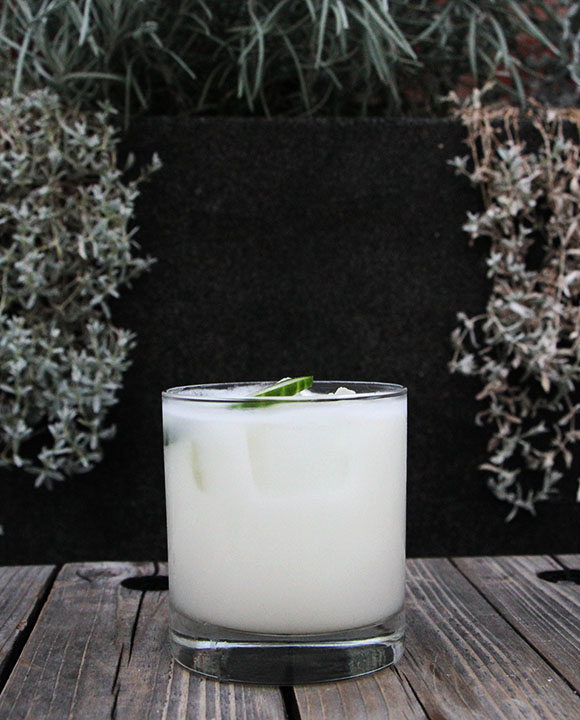 The milk maid is a tequila cocktail with cream of coconut, lime juice, cucumber, and simple syrup. It's a refreshing cocktail despite its creamy addition and mixes well despite the differences in textures. The milk maid is cool and delicious, perfect for hot summer days.
Visit Website
---
Cream of Coconut Cocktail Recipes
Savor the rich taste of cream of coconut in a variety of refreshing cocktails.
Ingredients
Instructions
Pick your favorite recipe
Gather all the needed ingredients
Prep a cream of coconut cocktail in less than 5 minutes
Please drink responsibly, be fully accountable with your alcohol consumption, and show others respect.