Fall Bourbon Cocktails are a delicious way to enjoy the flavors of autumn with a boozy twist. These cocktails typically feature bourbon as the main ingredient, combined with seasonal flavors like apple cider, maple syrup, and pumpkin spice. They're perfect for cozy nights in, sipping by the fire, or for entertaining guests at a fall gathering.
If you're a bourbon lover, or just looking for a new way to enjoy the flavors of fall, these cocktails are for you. They offer a unique and tasty way to experience the season's best flavors, with the added warmth and richness of bourbon. Whether you prefer your cocktails sweet or sour, fruity or spicy, there's a fall bourbon cocktail out there that's sure to please your taste buds.
Pumpkin Old Fashioned
The pumpkin old-fashioned is a fall take on a bourbon classic. The pumpkin old-fashioned uses maple syrup as a sweetener instead of simple syrup and pumpkin spice for added fall flavor. The pumpkin old-fashioned is shaken with a scoop of pumpkin puree to get true pumpkin flavor, and garnished with a cinnamon stick and a cocktail cherry.
View Recipe
---
Maple Bacon Old Fashioned
If you want to get into the fall spirit but you don't like any of the especially sweet cocktails, consider a Maple Bacon Old Fashioned instead! The classic old fashioned recipe is tweaked, using maple syrup instead of sugar to sweeten the drink for a warmer fall flavor. A crispy bacon garnish completes the drink, adding some salty and savory flavors to the drink. Plus, you get to eat the bacon as you sip!
View Recipe
---
Cider and Maple Old Fashioned
The cider and maple old-fashioned is a fall take on a bourbon classic. The cider and maple old-fashioned swaps the simple syrup for maple syrup and the zest of the orange peel for apple cider. Garnished with a cinnamon stick this old-fashioned has a balanced bitter, sweet fall kick perfect for curling up next to the fire.
View Recipe
---
Autumn Apple Bourbon Cocktail
The autumn apple bourbon cocktail is a cinnamon syrup-infused bourbon cocktail mixed with apple cider. This bourbon cocktail has a sweet kick because of the cinnamon-infused simple syrup. The apple cider also sweetens the cocktail with a distinct fall flavor. Because this recipe requires specialty simple syrup, it can be cumbersome to produce in large batches.
View Recipe
---
Juicy Apple Bourbon Fall Cocktail
The juicy apple bourbon fall cocktail is fresh, sweet, and a little zesty. The sweetener used in this cocktail is the fall-appropriate choice: maple syrup. A lemon peel brightens the overall heft of this sweet and sleepy cocktail. And a dash of Honeycrisp apple juice as a mixer helps unify the cocktail's flavor.
View Recipe
---
The Clove and Cider – A Bourbon Cocktail
The clove and cider is an apple cider forward bourbon cocktail that's quick and simple to make. The sweetener for the clove and cider is made with cloves, sugar, and water. The base of the cocktail is apple cider with a hint of lemon juice. Top this cocktail with a smoked cinnamon stick to create your new fall favorite.
View Recipe
---
Rabbit Hole Bourbon "Fall Back" Cocktail
The aptly named Fall Back is a bourbon and apple-cider-based cocktail with a fall-forward flavor profile. This drink is sweetened with Gran Mariner and simple syrup, although maple syrup can be used as a festive alternative. A dash of lemon juice to balance the sweetness tickles the palette and a slice of apple (or cinnamon) tops the drink.
View Recipe
---
Cinnamon Maple Whiskey Sour
The cinnamon maple whiskey sour is a simple fall classic. This drink features equal parts bourbon and lemon juice for a simple yet balanced flavor. Sweeten this drink to your liking by adjusting the amount of maple syrup included. This simple cocktail is finished with a pinch of cinnamon for a hint of fall flavor.
View Recipe
---
Apple Cider Bourbon Cocktail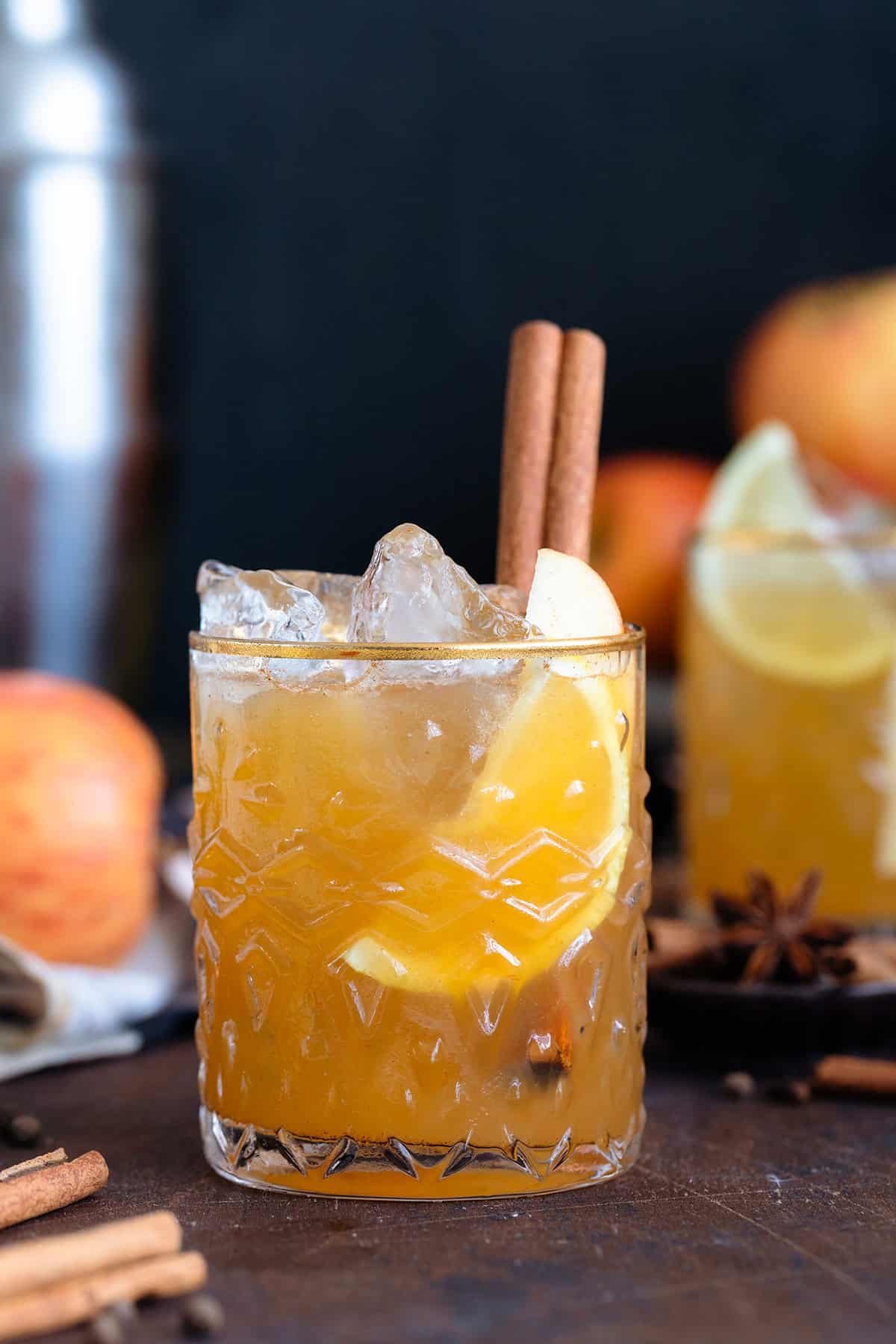 The apple cider bourbon drink is a sweet take on an old-fashioned. The apple cider bourbon cocktail uses maple syrup as a sweetener instead of sugar and retains the orange bitters that give old-fashioned their zest. Apple cider vinegar and a pinch of cinnamon add the fall flavors to make this cocktail an Autumn classic.
View Recipe
---
Cozy Maple Pumpkin Bourbon Cocktail with Apple Cider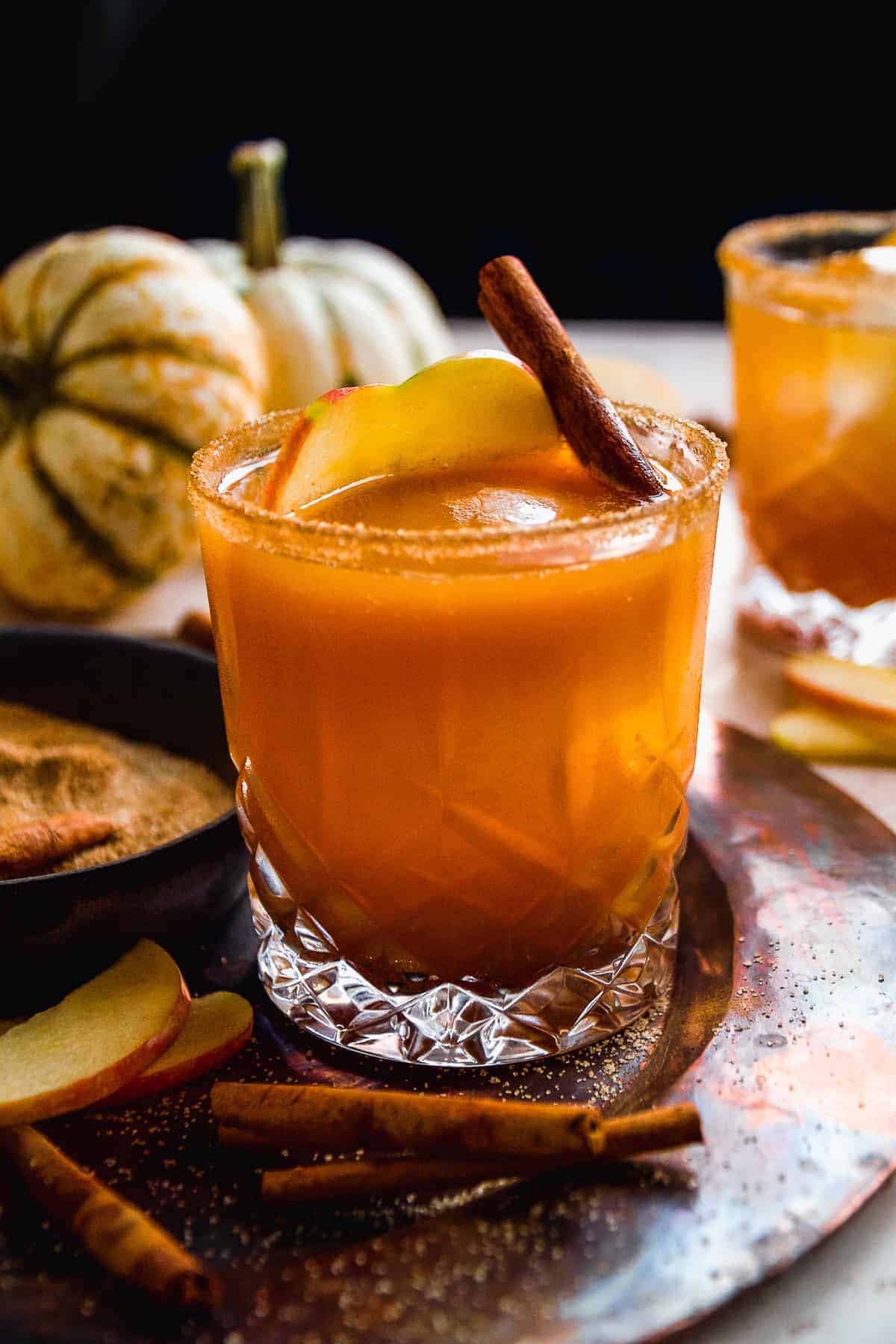 The cozy maple pumpkin bourbon cocktail with apple cider is special because it uses real pumpkin puree to flavor the drink. Alternatively, you can use pumpkin spice for a similar flavor and a more viscous texture. This drink is sweetened with cane sugar and maple syrup. Altogether this is a hearty cocktail made for one.
View Recipe
---
Fall-Spiced Old Fashioned Cocktail
The fall-spiced old-fashioned cocktail is a spin on the classic old-fashioned. This cocktail recipe uses maple syrup instead of cane sugar as a sweetener to evoke the fall mood. Star anise, cinnamon, and vanilla bean are infused into the cocktail for a rich fall flavor that pairs nicely with a high-rye bourbon.
View Recipe
---
Cider-Bourbon Cocktail
The cider-bourbon cocktail is a simple, seasonal favorite. The cider-bourbon cocktail uses apple cider as its primary mixer with a bit of lemon juice to brighten the flavor. This cocktail also includes fresh ginger for a zesty spice that pairs well with the fresh flavor of apple cider. Garnish this cocktail with a slice of apple for an instant classic.
View Recipe
---
The Cranberry Apple Hot Toddy
The cranberry apple hot toddy is a deliciously warm and fruity cocktail. This fall take on the classic bourbon hot toddy features cranberry and apple juice for a sweet kick and lemon juice and star anise for a little zest. Because it's a hot toddy, this cocktail is sweetened with honey.
View Recipe
---
Bourbon Sour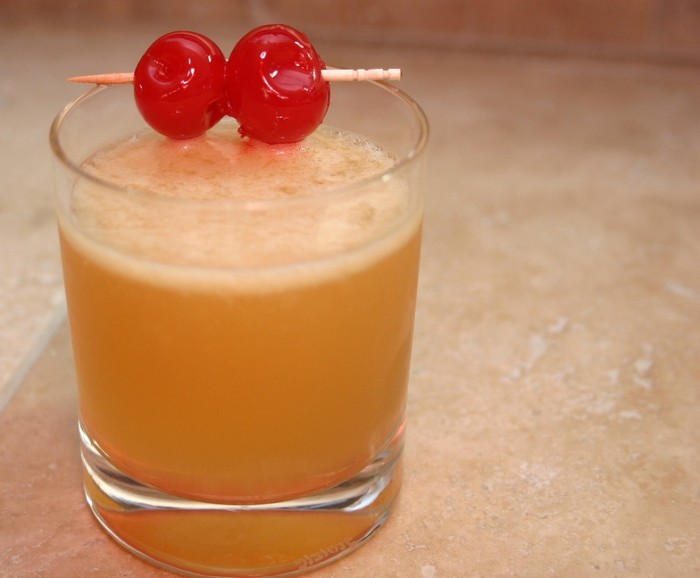 The bourbon sour is a fall minimalist's dream. All of the fall aesthetic with minimal fuss. The bourbon sour is a classic sweetened with super fine grain sugar. An orange peel and a shot of lemon juice brighten the bourbon, making a relaxing and refreshing cocktail for the cool autumn months.
View Recipe
---
14 Fall Bourbon Cocktail Recipes
Cozy up with these fall bourbon cocktails all season long!
Instructions
Pick your favorite recipe
Gather all the needed ingredients
Prep your fall bourbon cocktail in less than 5 minutes
Please drink responsibly, be fully accountable with your alcohol consumption, and show others respect.