Fall is a season of transformation, where the leaves change color and the air becomes crisp, signaling the arrival of cozy sweaters and warm, comforting flavors. It is the perfect time to explore whiskey cocktails, a versatile spirit that can be the star of many delightful concoctions.
Whiskey, with its rich, robust, and complex profile, pairs exceptionally well with autumnal flavors like apple, cinnamon, and pumpkin, creating a symphony of warmth and spice that is ideal for the season. Whether it's a classic Old Fashioned with a fall twist or a creative new concoction, fall whiskey cocktails are a wonderful way to embrace the changing seasons.
In this post, we will explore a variety of fall whiskey cocktail ideas that are sure to elevate your autumn gatherings and provide a comforting embrace as the days grow shorter and the nights colder. So, grab your favorite whiskey and let's dive into the world of fall-inspired mixology!
Cinnamon Maple Whiskey Sour
Whiskey sours are among the most popular whiskey cocktails, but when Fall hits, you must try this cinnamon maple whiskey sour. The recipe only takes minutes to make once you combine your whiskey, lemon juice, and maple syrup. You can use however much maple syrup you want, depending on how sweet you want.
---
Apple Cider Whiskey Smash
This easy whiskey cocktail only takes five minutes to make and tastes like Fall in a glass. The apple cider whiskey smash only requires three ingredients: your favorite whiskey, lemon juice, and apple cider. It's best shaken, but you can stir the ingredients together if you don't have a shaker.
---
Juicy Apple Bourbon Fall Cocktail
Nothing screams Fall like fresh apples, and this juicy apple bourbon Fall cocktail is refreshing and tasty. You can use whatever apple juice you like, but Honeycrisp apple juice is fantastic in this. You can add a few apple slices as a garnish, and voila!
---
Fall Spiced Whiskey Sour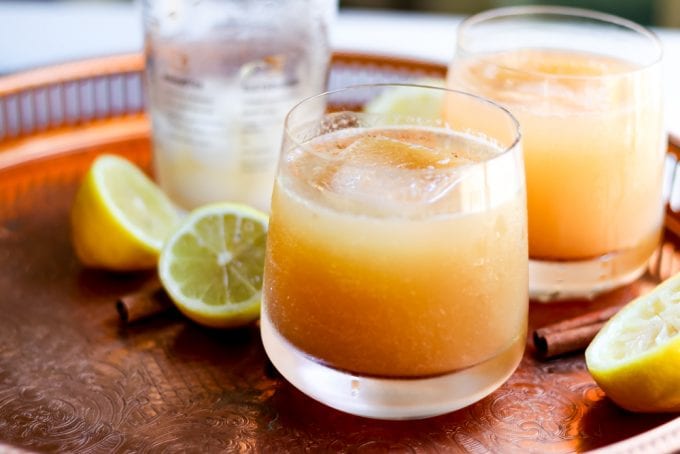 Another excellent whiskey sour recipe you need to try out is this Fall spiced whiskey sour.
It's super easy to make, and the recipe serves one, but you can adjust the measurements to make more if you're hosting several people.
It's similar to other Fall whiskey sours, but what makes it stand out is the pumpkin spice.
---
Legends of the Fall
Legends of the Fall is a whiskey cocktail that's big on spices and bitters. If you love sweet cocktails, you probably won't enjoy this one, but it never hurts to try something new. You'll need rye whiskey, allspice, and several other robust Fall spices to create a truly unique drink.
---
The Whiskey Lush
The whiskey lush is one of the most delicious Fall whiskey cocktails that also brings in a little Summer flavor. One of the main ingredients is pineapple juice, but trust us, it's still a Fall cocktail! You'll need whiskey, bitters, pineapple juice, and honey simple syrup. It takes minutes to make, and you'll have an impressive whiskey cocktail.
---
Spiced Cider Lemonade Cocktail
This spiced cider lemonade cocktail is perfect for transitioning from Summer to Fall. It only requires four ingredients, and you can easily double the recipe if you want to make one for yourself and your friend. You'll combine lemonade, apple cider, whiskey, and a dash of cinnamon. It's best shaken, but you can stir it if you want.
---
"Fireball" Whiskey Cocktails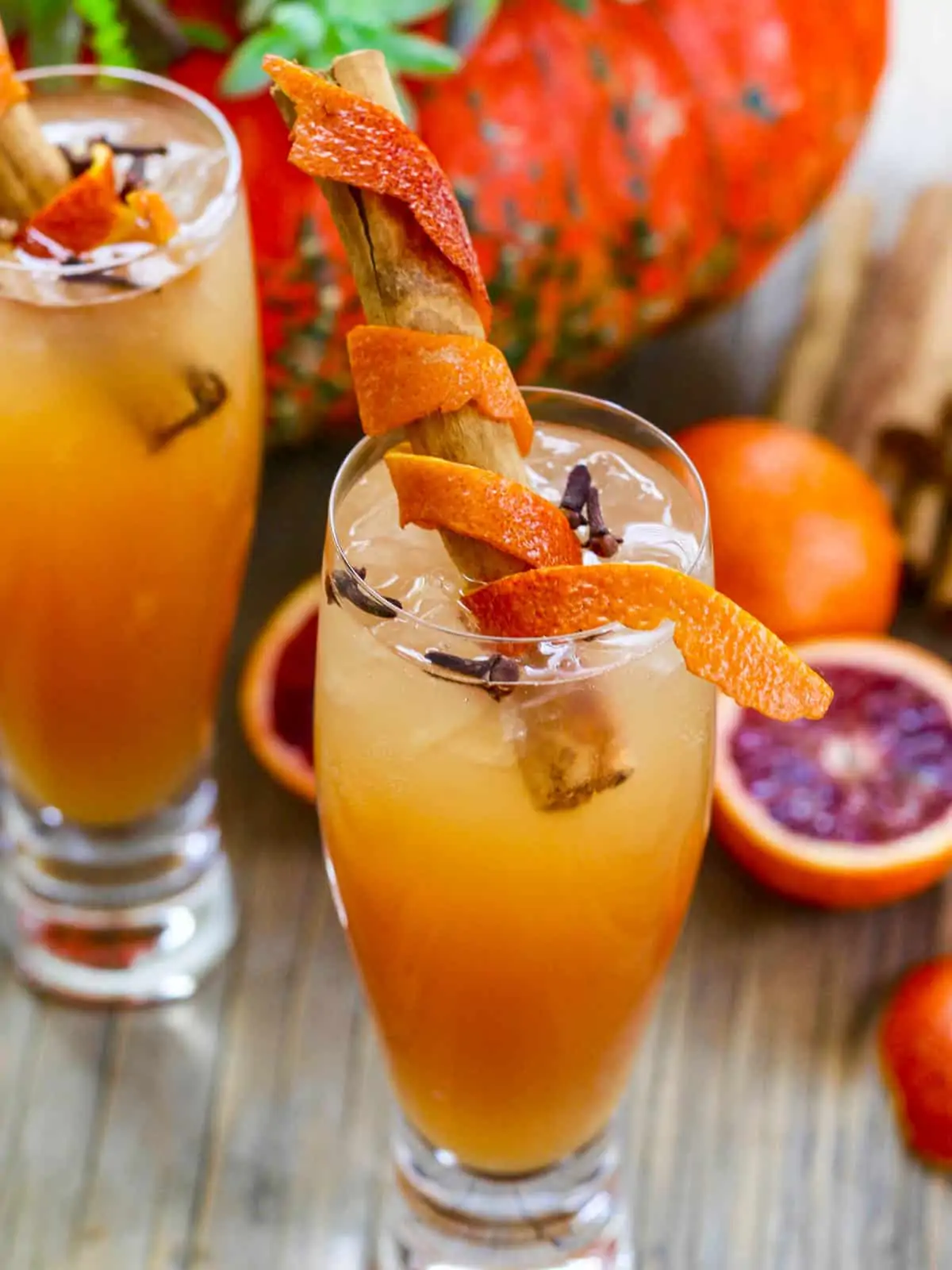 These fireball whiskey cocktails are a perfect drink to have on Thanksgiving or another Fall event. You'll need Fireball whiskey, apple cider, 7Up, oranges, cloves, and cinnamon. These cocktails are extremely elevated with spices, and the soda adds a nice crispness. You can use apple juice if you're in a pinch.
---
Apple Whiskey Smash
This whiskey smash recipe is slightly different from the apple cider whiskey smash because it's much more of an apple flavor than the cider flavor you get with the previous recipe. You'll use apple juice and fresh apples to get that extra boost of sweetness. The fresh sage makes it stand out amongst the other whiskey smash recipes.
---
Fall Whiskey Smash Recipe
There are several whiskey smash recipes on this list, but this one is the classic Fall whiskey smash. It's perfect for those who love a more robust whiskey flavor and have more time on their hands. It's still pretty easy to make, but you must muddle the mint leaves and lemon together to get the right flavor.
---
Pumpkin Spice Cocktail for Fall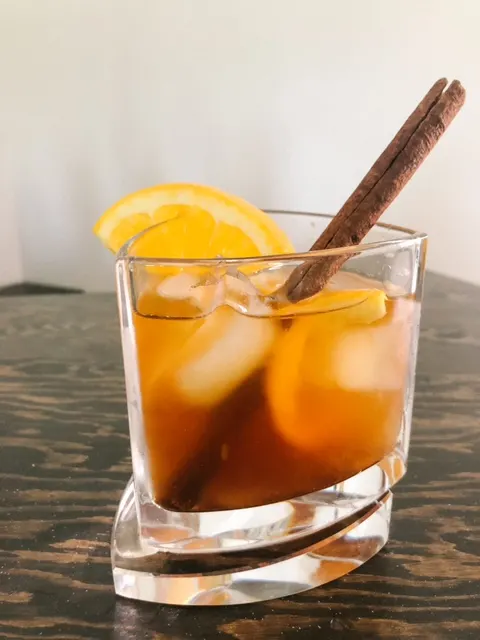 Pumpkin spice takes over when Fall comes, so it's no surprise there's a delicious Fall cocktail that tastes like pumpkin spice. It's comforting, warm, and perfect for sipping around a bonfire. Orange slices are the perfect garnish.
---
Apple Cider Old Fashioned
For those who love an old fashioned but are craving a Fall flavor, consider trying an apple cider old fashioned. To make this refined cocktail, you'll need bourbon, apple cider, brown sugar, fresh orange peel, and a large ice cube. It's perfect for sipping with friends or enjoying a night in or at a party.
---
Cranberry Whiskey Sour
Another great whiskey sour you need to try this Fall is this one that incorporates cranberry. It has all the makings of a classic whiskey sour with cranberry juice. You'll be able to make it pretty quickly, and it's a delicious drink to make for a crowd.
---
Boozy, Frozen Pumpkin Spice Latte
You'll need a little time and patience for this boozy frozen pumpkin spice latte, but it's worth it in the end. You'll want to freeze almond milk into ice cubes, so the ice doesn't water the drink down. Other ingredients include espresso, pumpkin puree, whiskey, and pumpkin spice. You'll blend everything and have a delicious boozy coffee drink.
---
Maple Ginger Hot Toddy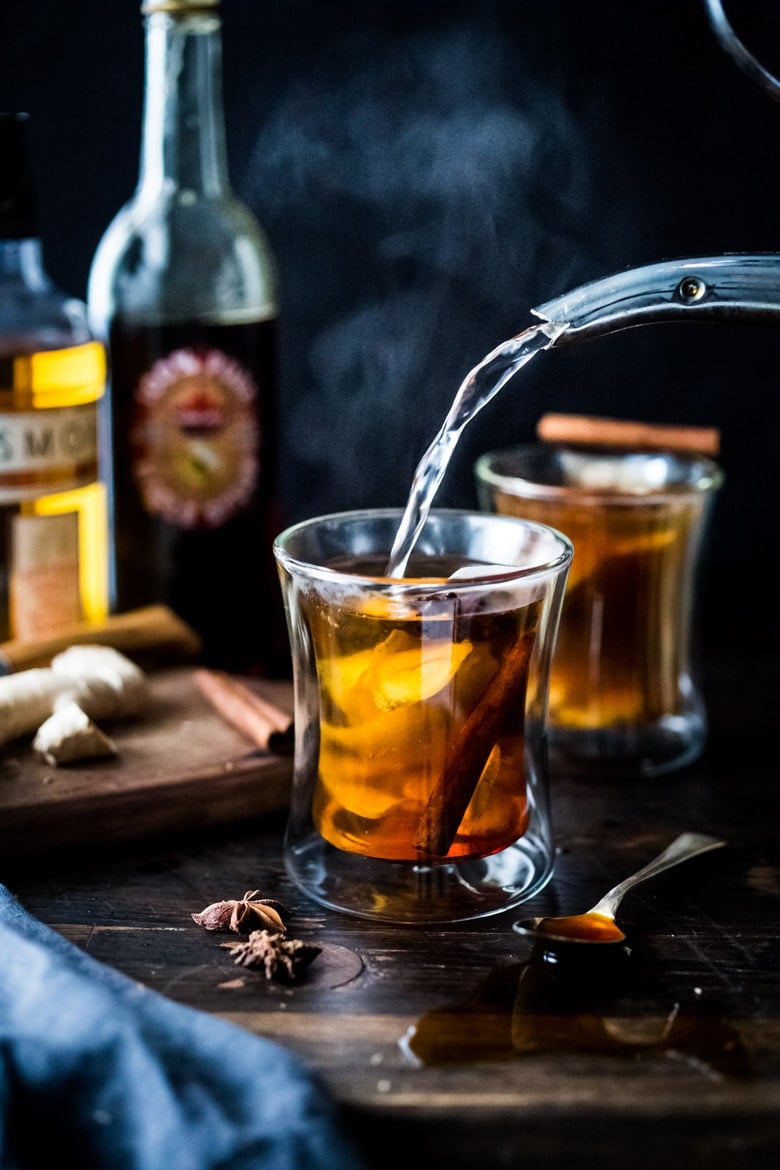 This maple ginger hot toddy is the perfect Fall drink when you're sitting outside and it's chilly. It's perfectly warm, and the maple and ginger flavors are fragrant and pair well with the whiskey. This drink is a more complicated recipe since you'll need to chop ginger, but if you have the time, you have to try this recipe.
---
Perfectly Balanced Irish Coffee
Irish coffee is the perfect boozy morning beverage on a Fall weekend. It's warm, comforting, and one that many people enjoy drinking the following morning after a night of drinking. It's not too strong and is the perfect end to a cozy meal.
---
Cinnamon Apple Cider Cocktail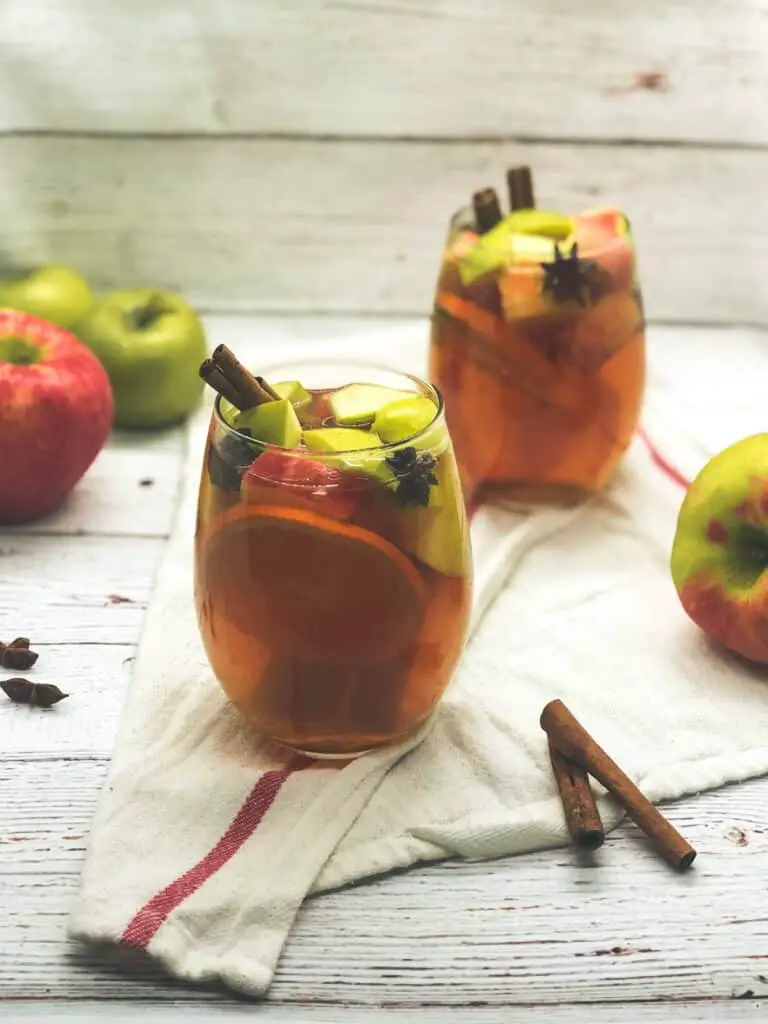 You might think this cinnamon apple cider cocktail is hard to make with a longer ingredient list, but you don't need to shake it. You'll combine cinnamon whiskey, apple cider, lemon juice, and seltzer. The seltzer provides a subtle dose of carbonation.
---
Maple Whiskey Sour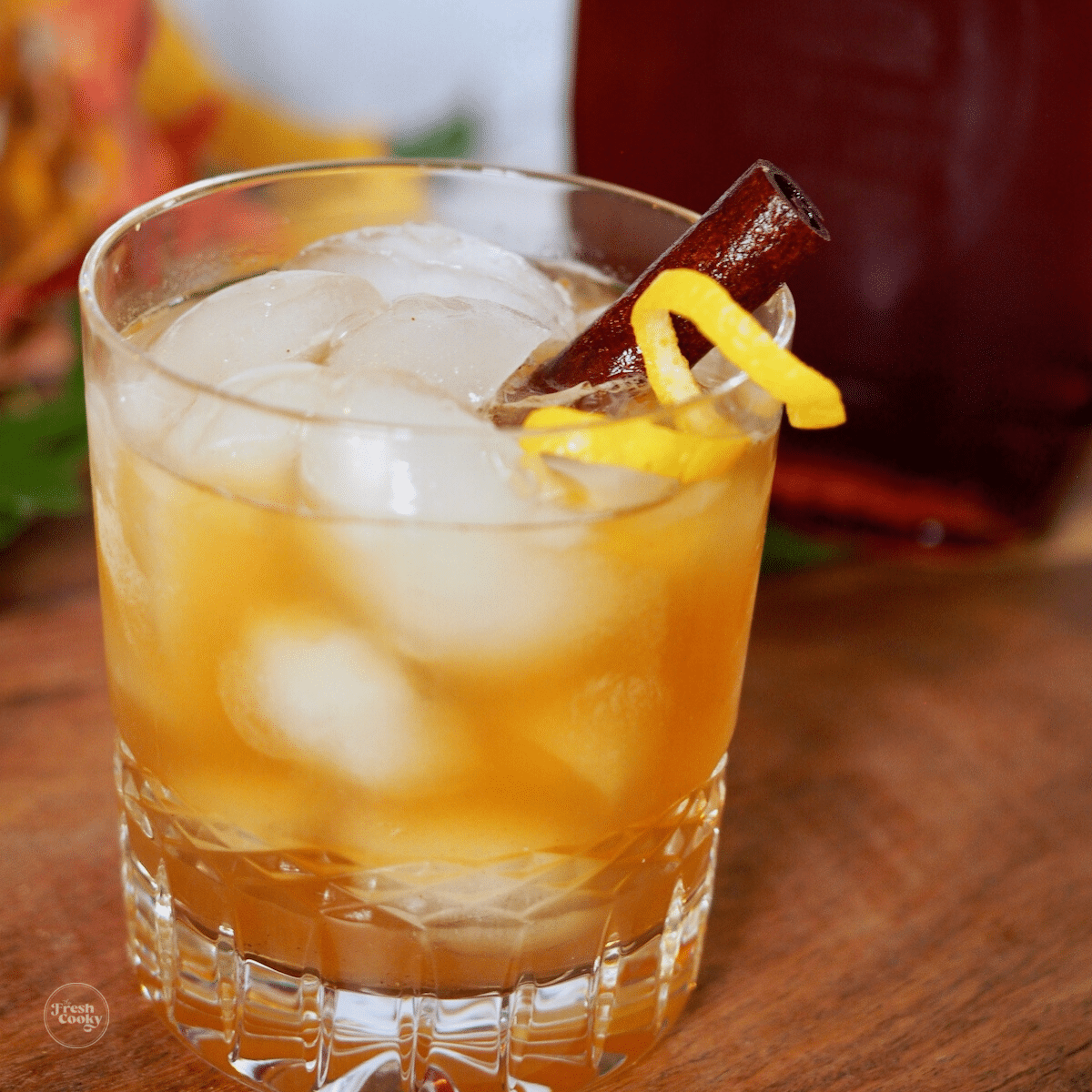 If you want a whiskey sour without the cinnamon, this maple whiskey sour is top-notch. It takes three minutes to make, and the recipe makes one drink. The three main ingredients are bourbon or whiskey, lemon juice, and maple syrup. It's warm and refreshing all at once.
---
Spiced Honey Bourbon Old Fashioned
A spiced honey bourbon old fashioned takes a little longer to make. The recipe calls for you to simmer spices to get them fragrant before muddling them in the bourbon. You can wait for the spices to cool and serve it chilled or warm.
---
Cheers!
Whether you're a fan of pumpkin spice or want a cocktail with other Fall flavors like cranberry or apple, you can miss trying any Fall whiskey cocktails.
They're great at parties or when you feel like polishing up your bartending skills.
Leave us a comment and let us know if you have another Fall whiskey cocktail you think we should try!
---
19 Fall Whiskey Cocktails
Instructions
Pick your favorite recipe
Gather all the needed ingredients
Create your cocktail in less than 5 minutes
Please drink responsibly, be fully accountable with your alcohol consumption, and show others respect.