Fall is the perfect season to cozy up with a warm, delicious cocktail in hand. As the weather gets colder and the leaves start to change, it's time to swap out those refreshing summer drinks for something a little more comforting. Fall cocktails are the perfect way to celebrate the season and all the flavors that come with it. From apple cider to pumpkin spice, there's a drink for every taste bud.
If you're someone who loves to entertain, fall cocktails are a great way to impress your guests. These drinks are perfect for a cozy night in with friends or a festive gathering. But even if you're just looking for a way to unwind after a long day, fall cocktails are the perfect way to treat yourself. So grab your favorite mug or glass, put on a cozy sweater, and get ready to sip on some delicious fall flavors.
Pumpkin Spice White Russian
You know fall is here when you start seeing pumpkin spice offerings everywhere, including in your cocktails. If you love a pumpkin spice latte, you are sure to love our Pumpkin Spice White Russian. Made with vodka, coffee liqueur, heavy cream, pumpkin puree and pumpkin spice, this decadent drink is perfect for fall sipping.
View Recipe
---
Gin and Apple Fall Cocktail
Apples may be available year-round, but they're the bounty of a fall harvest. This gin cocktail sweetened with cider and honey gets a refreshing splash of lime juice for much-needed tartness. This recipe is simple and user-friendly, making for a special fall happy hour treat.
View Recipe
---
Fall from the Tree
Apples and cinnamon are a match made in heaven, and this Fall from the Tree cocktail proves it. It consists of Laird's applejack, an apple-cinnamon-infused brandy combined with apple juice, cinnamon syrup, lemon juice, and bitters. It tastes like apple pie in liquid form, but the lemon juice and bitters keep the sweetness in check.
View Recipe
---
Ginger Pear Snap cocktail
Ginger is a spicy and aromatic root that stands up to salt as well as sweetness. In the case of the Ginger Pear Snap cocktail, ginger reigns supreme. It overpowers the subtle sweetness of pear vodka and the tangy bitterness of rhubarb bitter. You use both ginger liqueur and fresh ginger for a drink that's spicey with a sweet, bubbly finish, thanks to sparkling pear juice.
View Recipe
---
Bitter Apple Negroni
If you're not a fan of sweet cocktails, this Bitter Apple Negroni aims to please you. In true Negroni fashion, this recipe piles on the bitters, using both Cocchi Americano and Suze in conjunction with apple-infused brandy. To balance the bitterness, the Bitter Apple Negroni calls for a scratch-made apple cinnamon syrup.
View Recipe
---
Creamy Pumpkin Spice Martini
Indulge in the famous flavor of the season – pumpkin spice – with this dessert drink. You don't have to be an expert bartender, but you will impress guests with this Pumpkin Spice Martini. All you need is RumChata, vanilla vodka, pumpkin puree, and pumpkin pie spice. Shake well with ice, and pour into a martini glass with a cinnamon sugar garnish for a decadent fall martini.
View Recipe
---
Apple Cider Cocktail
This tart and floral cocktail consists of equal parts gin and apple cider with a splash of lime juice and simple syrup. While this recipe requires you to make simple syrup from scratch, it's the easiest simple syrup method that you'll surely use to sweeten all beverages from here on out.
View Recipe
---
Juicy Apple Bourbon Fall Cocktail
This is the most refreshing bourbon cocktail you'll encounter. It tastes like biting into a fresh fall apple straight from the tree. The key is to doctor up regular apple juice with a freshly squeezed lemon wedge and a dash of pure maple syrup. The dash of maple syrup highlights the smokiness of the bourbon.
View Recipe
---
Wild Turkey Cocktail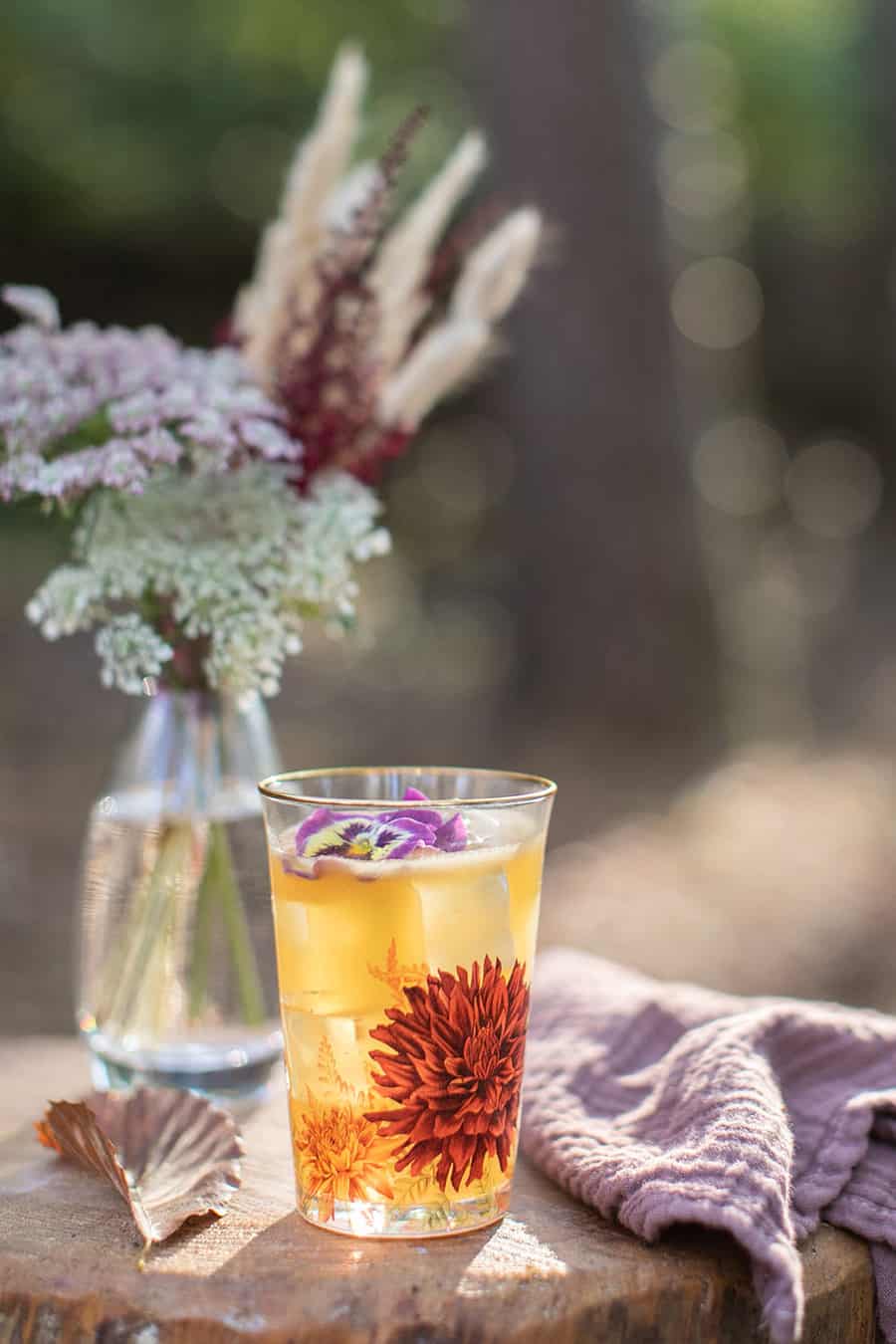 This simple, three-ingredient cocktail is ready in under a minute. Bourbon, lemon juice, and honey simple syrup get a quick twenty-second shake, and voila, you've got a wonderful fall beverage. If you can't find honey simple syrup at the store, it's easy to make. Just cook equal parts honey and water on the stove to dilute it into a thinner texture that you can shake into cocktails.
View Recipe
---
Fireball Thanksgiving Punch
Food isn't the only thing to be thankful for on Thanksgiving Day. This dangerously delicious and highly alcoholic punch features hearty portions of fireball whiskey and prosecco to spike the cider and orange juice punch bowl. My favorite part of this punch is the frozen chunks of granny smith apples.
View Recipe
---
Fig and Ginger Gin Cocktail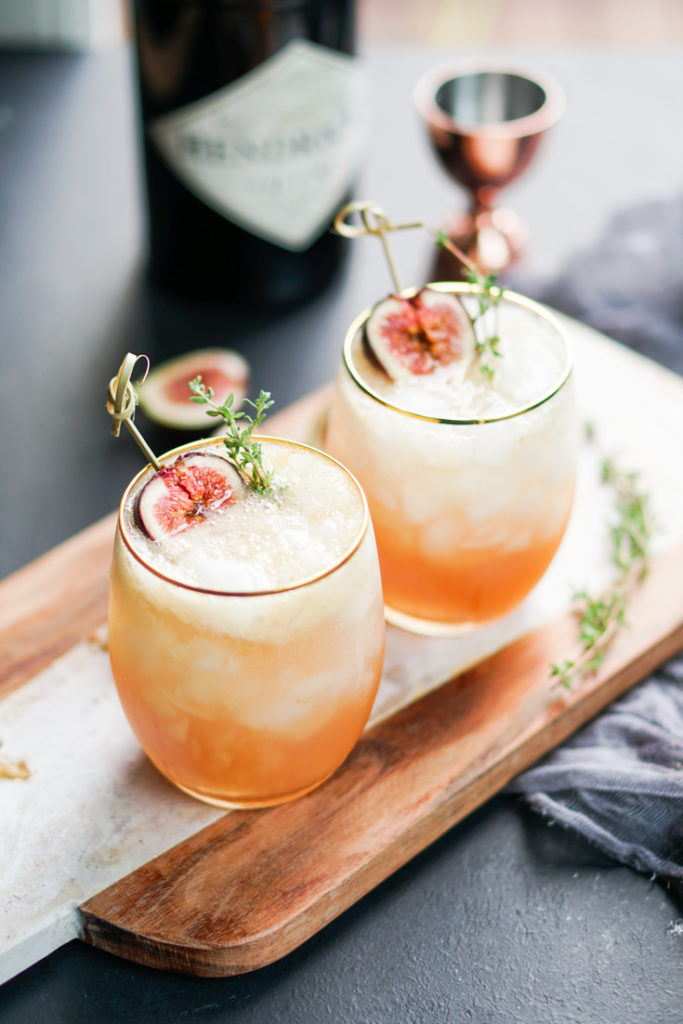 Food isn't the only thing to be thankful for on Thanksgiving Day. This dangerously delicious and highly alcoholic punch features hearty portions of fireball whiskey and prosecco to spike the cider and orange juice punch bowl. My favorite part of this punch is the frozen chunks of granny smith apples.
View Recipe
---
Spiced Pear Martini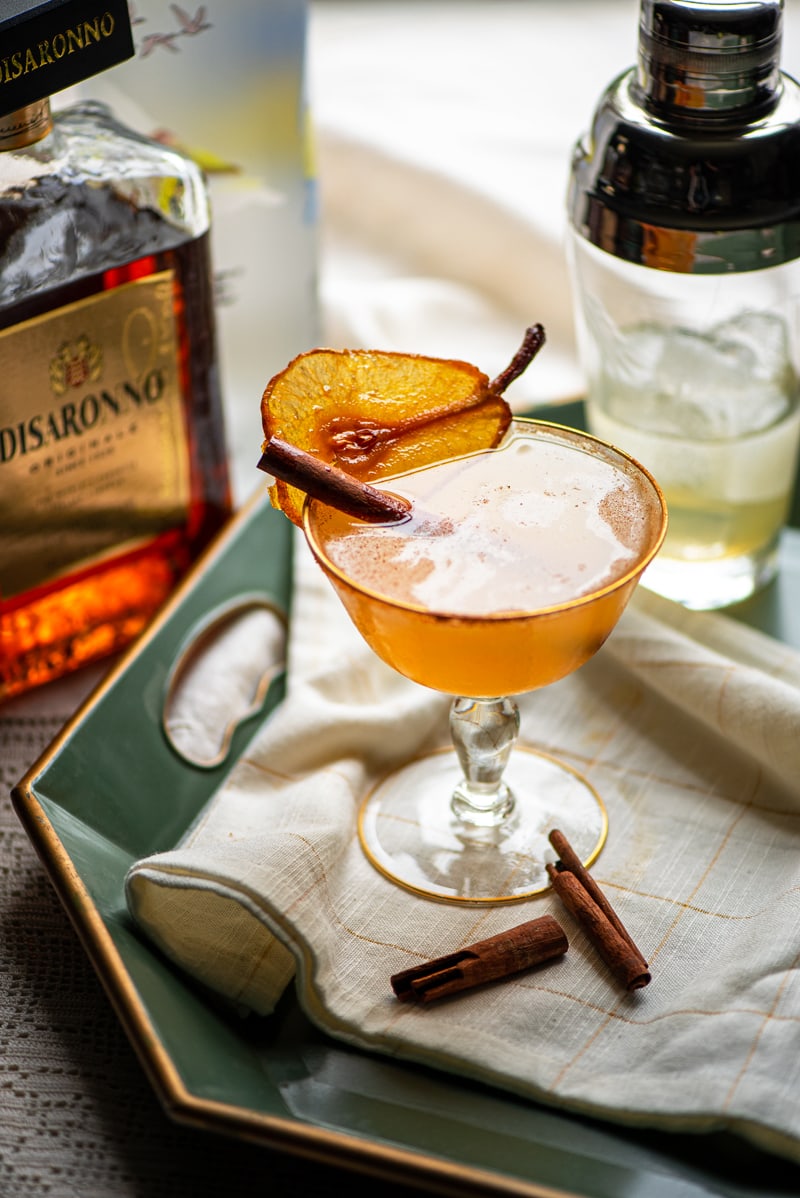 This delicious, spiced pear martini recipe tastes like a slice of pear and almond torte. It's a simple recipe that combines honey and lemon with cardamom bitters, pear vodka, and amaretto. It's the amaretto, for me, that makes this martini so spectacular. You could serve this drink in place of dessert, and your guests would not complain!
View Recipe
---
Cider and Maple Old Fashioned
Old Fashioned cocktails are an ode to bourbon, whose inherent smokiness is reminiscent of a fall bonfire. This Old Fashioned spices up this classic cocktail with the addition of maple syrup and apple cider. Maple and cider are quintessential fall ingredients that complement smoky bourbon and orange bitters perfectly.
View Recipe
---
Earl Grey Blackberry Bourbon Cocktail
Nothing's more comforting than a warm cup of tea on a brisk fall day. This boozy cup of tea uses bourbon to make the warmth last a little longer. The sedate earl grew tea uses freshly muddled blackberries and simple syrup for fruity sweetness. This is a chilled tea cocktail, but I think it tastes just as good hot.
View Recipe
---
Apple Cider Aperol Spritz
A delightfully refreshing twist on sparkling apple juice, this Apple Cider Aperol spritz is sure to become a regular on your dinner party menu. Aperol and champagne add a dry, bitter flavor that pairs perfectly with spiced apple cider. If you want it to be more alcoholic, you can switch the splash of club soda for an extra ounce of Champagne.
View Recipe
---
Smoky Harvest Apple Cider Margarita
Mexico may be the land of eternal summer, but you can adapt them for fall palates with this wonderfully complex Smoky Harvest Apple Cider Margarita. Swapping mezcal for tequila is the key to this margarita's smokiness. Cider combines with orange liquor and lime for a surprisingly refreshing sweetness. While this recipe calls for maple syrup, I'd use it as a binding agent for the salt and cinnamon-dusted rim instead of stirring it into the cocktail itself.
View Recipe
---
Cranberry Maple Bourbon Cocktail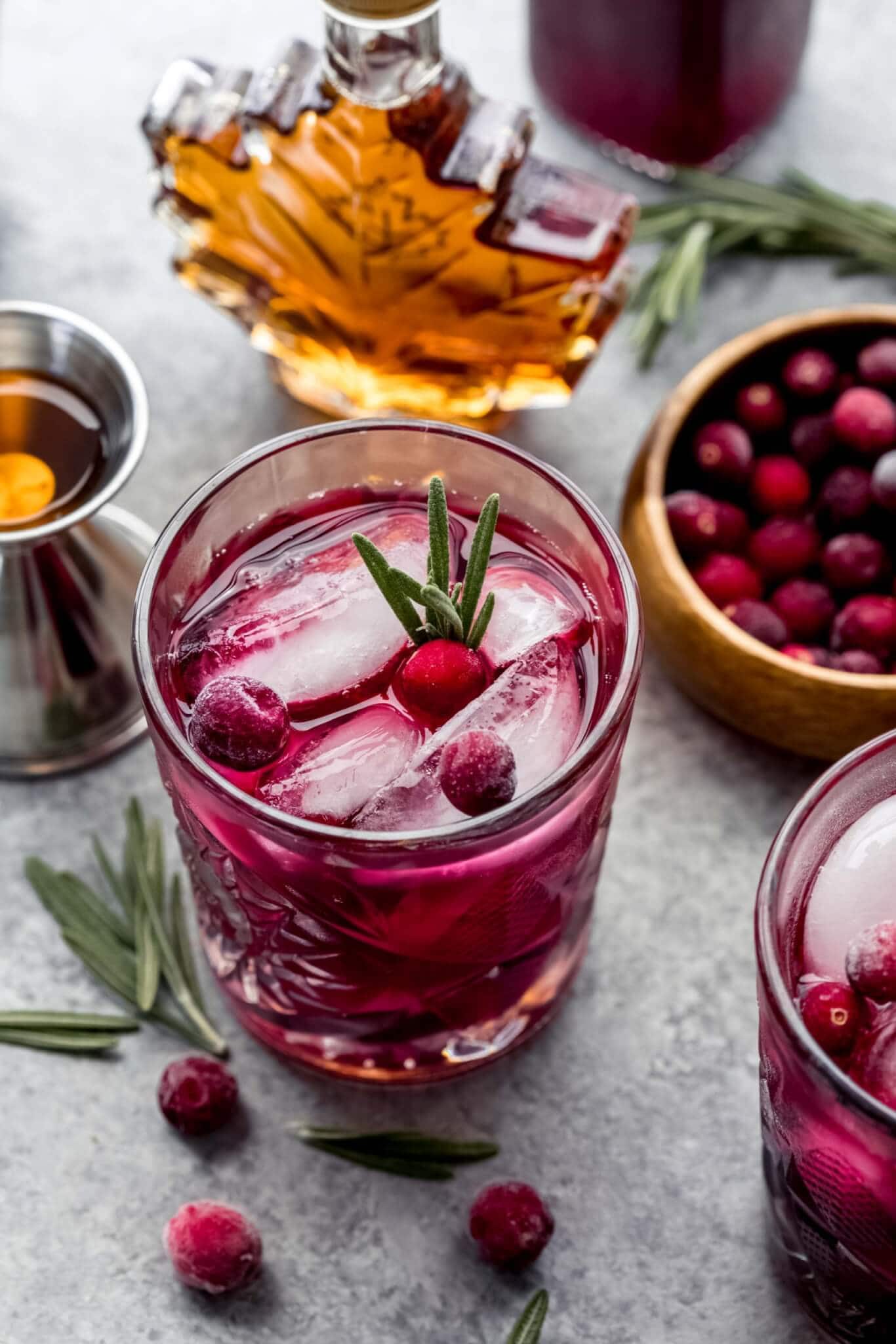 Adding maple to anything infuses it with the flavors of fall, and this Cranberry Bourbon Cocktail showcases maple in a show-stopping simple syrup. In fact, the most difficult part of this recipe is the maple cranberry simple syrup which involves reducing frozen cranberries, water, and maple into a delightful syrup. You combine the syrup with smokey bourbon and tangy unsweetened cranberry juice for a well-balanced and classy fall cocktail.
View Recipe
---
The Candy Corn Cocktail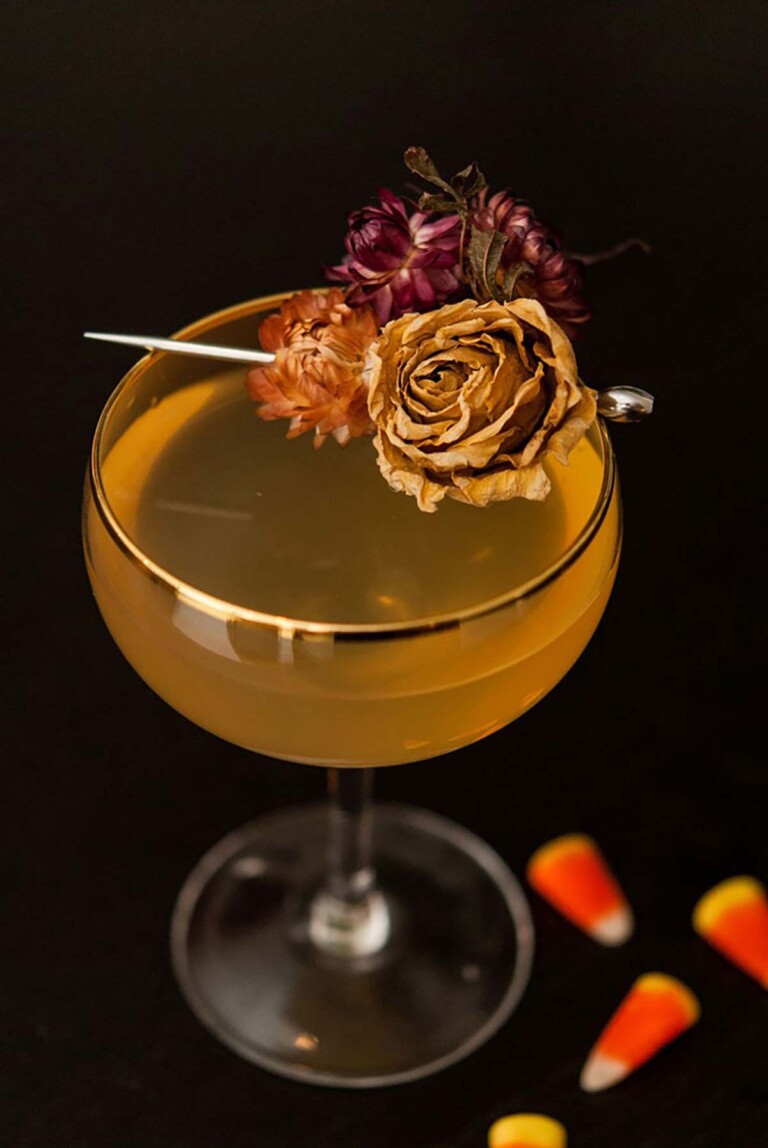 Candy Corn is the official fall candy, and this adult take on it is a vast improvement. It may be just as sweet, fall flavors shine through all the sugar. The sweet ingredients of apple cider and butterscotch schnapps get a tangy punch from lemon juice and an alcoholic kick from the shot of vodka.
View Recipe
---
Spiced Honey Bourbon Old Fashioned
Old Fashioned cocktails run the flavor gamut, using bitter citrus, smokey bourbon, tangy lemon juice, and sweet honey. This Spiced Honey Bourbon Old Fashioned puts a fall twist and adds yet another flavor component with a recipe for infused honey. The spiced honey uses vanilla, cinnamon, ginger, and cardamom for a true taste of fall in every teaspoon.
View Recipe
---
The "Autumn Twilight" Grape & Rosemary Cocktail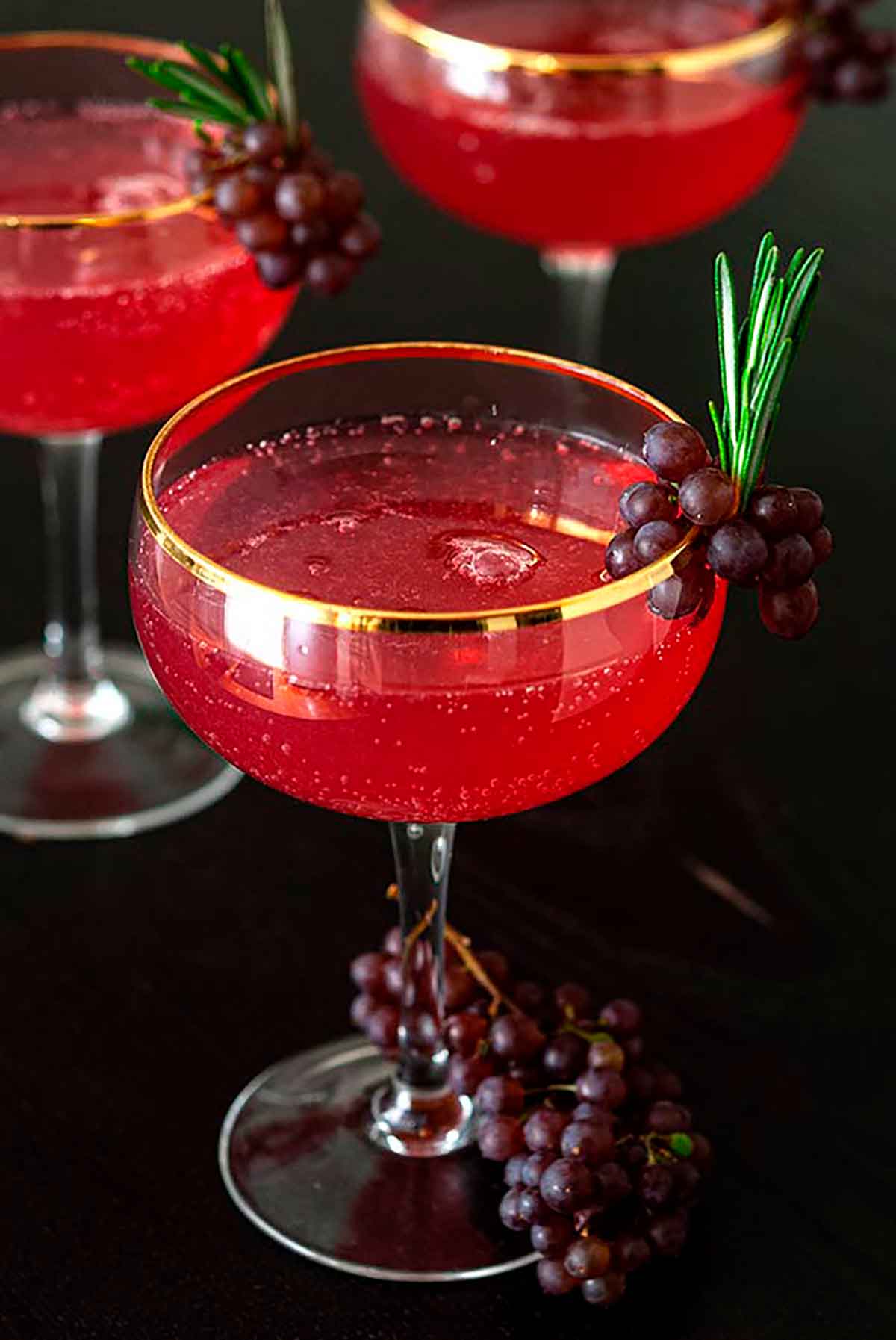 Rosemary is a classic fall flavor, imparting a distinct flavor to roasted root vegetables. It also happens to be the key ingredient in this refreshing gin cocktail. You create a rosemary simple syrup to combine with lime juice, whole grapes, and soda. This Autumn Twilight recipe showcases rosemary's versatility.
View Recipe
---
Pomegranate Gin and Tonic
Gin and tonic is a refreshing and refined cocktail in its own right. This elegant recipe just adds to a gin and tonic's sophistication with a dash of fruity pomegranate juice. The fruity sweetness from the pomegranate mixed with tangy lime juice pairs perfectly with floral and earthy notes in gin and tonic water.
View Recipe
---
21 Fall Cocktail Recipes
Fall flavors are some of the best, especially in cocktail form! Check out these seasonal fall cocktails to enjoy as the leaves fall.
Instructions
Pick your favorite recipe
Gather all the needed ingredients
Prep your fall cocktail in less than 5 minutes
Please drink responsibly, be fully accountable with your alcohol consumption, and show others respect.