Yellow cocktails are a bright and cheerful addition to any party or gathering. These cocktails are typically made with a combination of citrus juices, sweet liqueurs, and a splash of something bubbly. The result is a refreshing and vibrant drink that is perfect for sipping on a warm summer evening or enjoying with friends at a holiday celebration.
If you're someone who loves to experiment with new and exciting cocktail recipes, then yellow cocktails are definitely worth trying. They are a great way to add a pop of color to your drink menu and are sure to impress your guests. Plus, with so many different variations and combinations to choose from, there is a yellow cocktail recipe out there for everyone. Whether you're a seasoned mixologist or just starting out, yellow cocktails are a fun and easy way to elevate your drink game.
Yellow Bird Cocktail
The Yellow Bird cocktail is a combination of Galliano liqueur, orange liqueur, white rum, and lime juice. This cocktail is neither sweet nor sour. It's a perfect mix of both! It's easy to make, requiring only two steps, and should be served in a highball or cocktail glass, depending on the type of party you're having!
View Recipe
---
Yellowjacket
This drink is a herbal-tasting cocktail perfect for a hot day on the porch. It includes yellow chartreuse, which has flavor notes of honey, flowers, and spice. This cocktail is easy to make. All you need is gin, yellow chartreuse, honey syrup, lemon, and a cocktail shaker. Finish with a lemon twist for garnish to concoct the perfect Yellowjacket!
View Recipe
---
Yellow Hammer Drink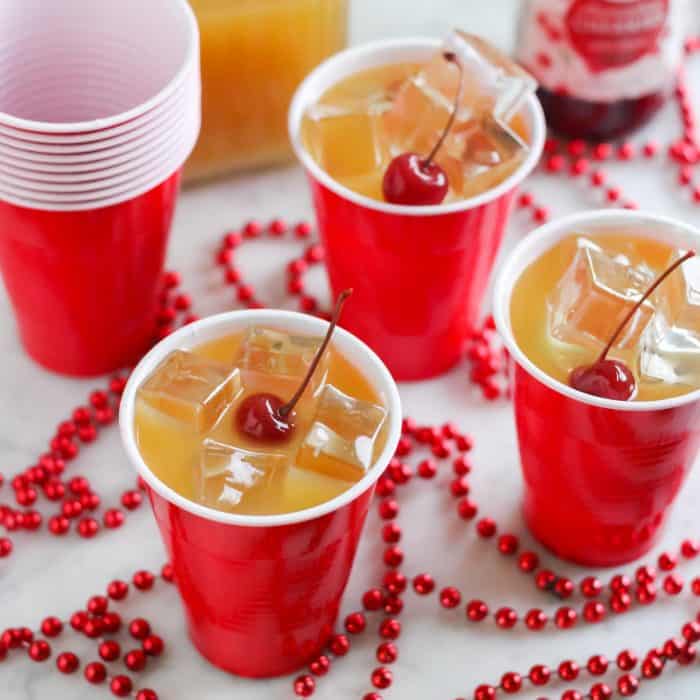 Inspired by a popular drink in a bar in Tuscaloosa, Alabama, the Yellow Hammer is a mixed drink made in large quantities and served in a pitcher or other large dispenser. You will need vodka, light rum, amaretto, water, pineapple juice, orange juice, and maraschino cherries to get the party started! This recipe is perfect for parties and tailgates! It's sweet, refreshing, and has a beautiful yellow hue.
View Recipe
---
Reggae Rum Punch
For your next tropical get-together, try making this perfectly sippable cocktail! Reggae Rum Punch is a more involved cocktail since it calls for homemade strawberry syrup, but the recipe is easy to follow and includes directions for the strawberry syrup. For this tasty drink, you will need white rum, orange juice, pineapple juice, lime juice, and strawberry syrup. Finish with mint, some ice, and a pineapple slice, and serve!
View Recipe
---
Caribbean Sunrise
You might have heard of this drink as a Tequila Sunrise. This version uses vodka but is equally as refreshing! The recipe calls for vodka, lime juice, pineapple juice, grenadine, and pineapple slices. Layer the grenadine on the bottom for the perfect-looking Caribbean sunrise and the taste of the tropics!
View Recipe
---
Passion Fruit Mojito
This recipe is sure to be a hit with mojito lovers! You need fresh passion fruit, mint leaves, light rum, lime juice, granulated sugar, and club soda. Straining the passion fruit makes this recipe moderately difficult, but it's worth the effort! The recipe calls for enough ingredients to make four servings, so invite the neighbors over for a Saturday and make them this deliciously fruity cocktail!
View Recipe
---
Pansy Gimlet
This drink has only three ingredients, so it's the perfect yellow cocktail to whip up in the kitchen for your guests or yourself! The recipe calls for gin, pansy simple syrup, and lemon juice. You can expect a floral and citrusy cocktail that hits the taste buds with a jolt of sourness, but the florals tame the palette. Try it out!
View Recipe
---
Lemon Drop Cocktail
This tangy cocktail is easy to make and sip slowly. It's kind of like an adult lemonade! You will need vodka, limoncello, fresh lemon juice, cucumber, basil leaves, and cherry bitters. It's a quick cocktail to make since you only need to muddle the fruits and herbs together, then add the liquor, shake, and strain. It's best served chilled in a martini glass.
View Recipe
---
Passion Fruit Daiquiri
Passion fruit is the perfect tropical and fresh ingredient for a summer drink! Make the passion fruit purée homemade, or buy your own. It's not an elaborate drink. The recipe only calls for white rum, passion fruit purée, lime juice, and simple syrup. However, the taste is divine and refreshing!
View Recipe
---
The "Hawaiian Bon Fire" Spicy Pineapple Cocktail
Nothing says tropical like Hawaii! Try this spicy and fruity cocktail during your next pool or beach day! It sounds complicated, but this recipe is pretty easy to put together. The most involved step is creating the jalapeño infused pineapple juice. Combine the jalapeño infused pineapple juice with mezcal, Malibu rum, fresh lime juice, and Prosecco. Then shake in a shaker and pour into a chilled glass. Enjoy!
View Recipe
---
10 Yellow Cocktail Recipes
Make your day brighter with one of these delicious yellow cocktails.
Ingredients
Instructions
Pick your favorite recipe
Gather all the needed ingredients
Prep a yellow cocktail in less than 5 minutes
Please drink responsibly, be fully accountable with your alcohol consumption, and show others respect.