Dragon fruit cocktails make for a fun and flavorful addition to any drink menu. With its vibrant pink flesh and subtle sweetness, dragon fruit lends itself perfectly to both fruity and savory mixed drinks. The exotic fruit hails from Southeast Asia but has gained popularity worldwide in recent years.
Those with adventurous palates will find dragon fruit cocktails to be a refreshing twist from typical cocktail staples. The mellow yet distinct flavor profile pairs well with ingredients like lime, mint, basil, and ginger. Whether shaken up for a crowd on a hot summer night or sipped slowly on a tropical getaway, dragon fruit cocktails are a light and lively way to enjoy this unique superfood. The creative recipes that follow are sure to become new favorites for both dragon fruit lovers and those simply looking to expand their cocktail horizons.
Dragon Fruit Cucumber Limeade
First is a cool, refreshing drink that has a complex flavor profile. Sweet dragon fruit combines with spicy jalapeno and sour lime. You'll have to create a dragon fruit simple syrup for this cocktail ahead of time. This cocktail takes effort to craft, but you can enjoy sipping it down mixed with either vodka or tequila for a fruitier drink.
View Recipe
---
Dragon Fruit Sangria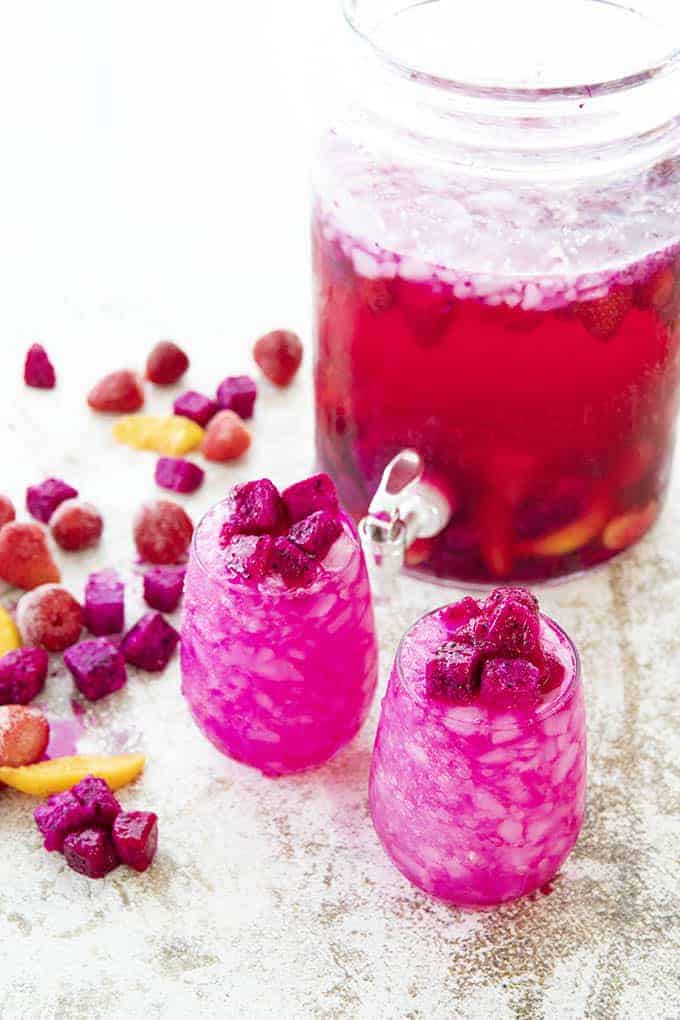 Sangria is a party favorite, and this Dragon Fruit Sangria is a sweet option that can make a splash at any gathering. Dragon fruit, strawberries, and peaches mix for a fruity choice. You can bring it together with either chardonnay or rose, plus some vodka. Be careful with this deceptively strong drink.
View Recipe
---
Pitahaya Agua Fresca
Next is a blended option, the Pitahaya Agua Fresca. This drink is refreshing and one of the few dragon fruit choices that aren't a bright purple. Lime is the primary addition, cutting some of the sweetness with the citrus and sour. You can add vodka or other neutral alcohol to boost it.
View Recipe
---
Dragon Fruit Lychee Mimosa
Two exotic fruits in one beverage, the Dragon Fruit Lychee Mimosa is a simple drink. You can add some sweetness to your brunch or enjoy this option anytime. Champagne is the primary alcohol, so it'll be a light, bubbly cocktail. Some lime juice helps to sour the sweet and floral dragon fruit and lychee combo.
View Recipe
---
Sparkling Dragon Fruit Margarita
Another drink that requires some prep, the Sparkling Dragon Fruit Margarita, is a fun party option. The bright purple cocktail looks particularly stunning in a classic margarita glass. You'll have to make a dragon fruit puree and simple syrup, but these sweet options find balance in some lime juice. Tequila adds earthy notes, and club soda rounds it out.
View Recipe
---
Dragon Fruit Lemonade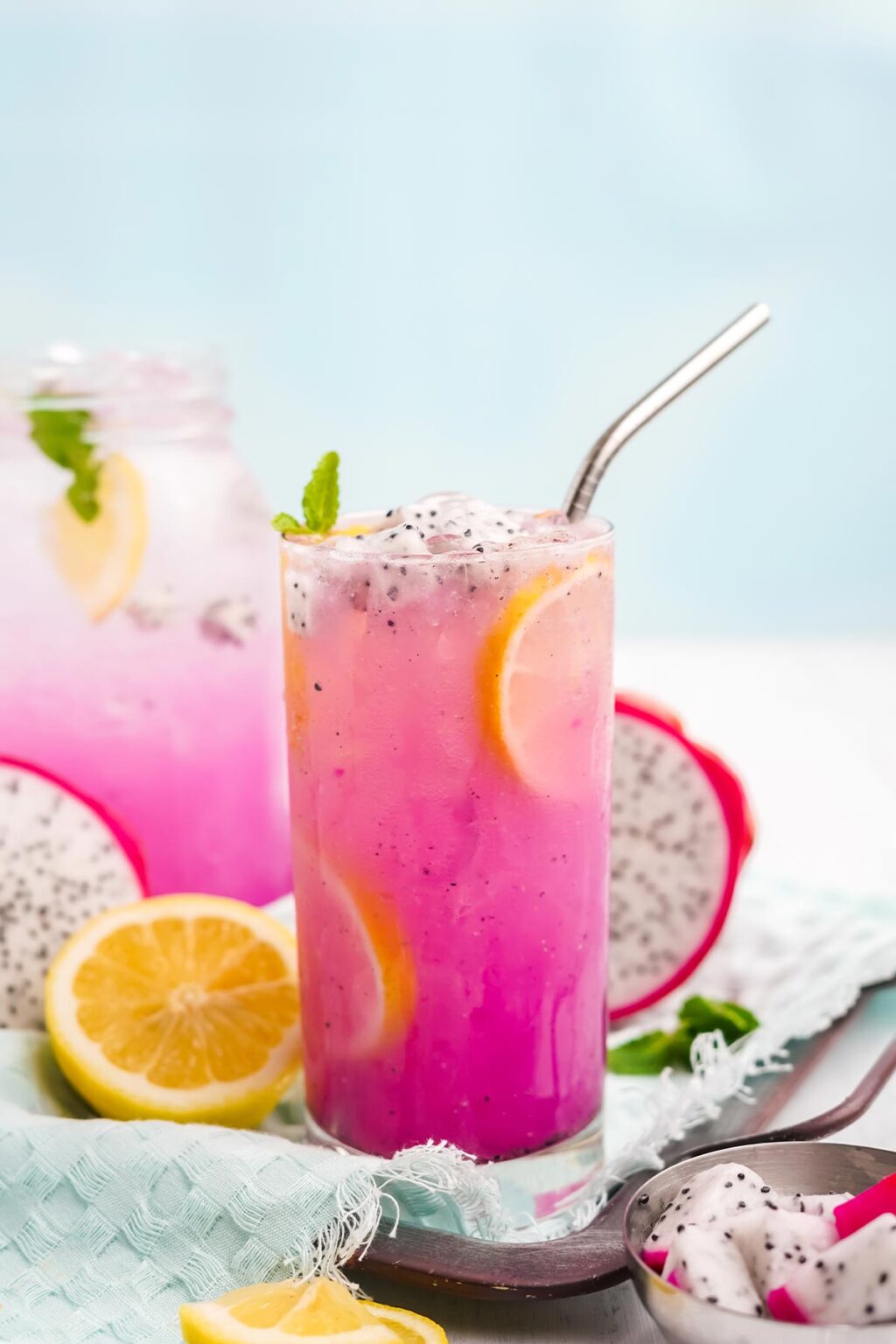 Next, a Dragon Fruit Lemonade is an ideal option if you find some dragon fruit cocktails too sweet. It's easy to control the sweetness of this drink by adjusting the sugar to taste. Flavored lemonade can be a classic summer party staple. Some mint can help make it extra refreshing, or you can create a slushy version.
View Recipe
---
Dragon Fruit Mojito
Fans of traditional mojitos may enjoy this twist on the tropical drink. The Dragon Fruit Mojito is a bit sweeter than classic options but still has that classic lime and mint flavor. Instead of white rum, you can use coconut rum for a refreshing drink that may pair better with the taste of dragon fruit.
View Recipe
---
Dragon Fruit Martini
For a creamy martini, you can try this Dragon Fruit Martini. You'll blend coconut cream and dragon fruit chunks for a smooth, milky cocktail. Some lime helps to balance the sweetness, and this drink can be made quickly in batches by adding ingredients to a blender.
View Recipe
---
Dragon Fruit Paloma
Finally, the Dragon Fruit Paloma is a citrusy option that counters its sweet flavor with a salt rim. Some of the primary flavors are dragon fruit, lime, tequila, and grapefruit. Club soda is a final neutral addition that helps neutralize the drink and add fizz.
View Recipe
---
9 Dragon Fruit Cocktail Recipes
Ingredients
Instructions
Pick your favorite recipe
Gather all the needed ingredients
Prep a dragon fruit cocktail in less than 5 minutes
Please drink responsibly, be fully accountable with your alcohol consumption, and show others respect.