If you're looking to add a tropical twist to your next happy hour, then guava cocktails might just be your new go-to. Guava cocktails are all about infusing that sweet, slightly tangy flavor of guava into refreshing drinks that are perfect for sipping on a sunny day. Whether you're a fan of fruity flavors or just looking to mix up your usual drink routine, these drinks offer a delightful change of pace.
These cocktails are ideal for anyone who loves a touch of exotic flair in their beverages. If you enjoy the taste of ripe, juicy guava and want to explore new and exciting flavor combinations, then guava cocktails are definitely worth a try.
Watermelon Guava Margarita
Tequila and rum combine for this delicious tropical cocktail. Guava helps balance the sweetness of watermelon with its signature sweet and sour flavor. Garnish with salt and a watermelon slice for a tasty and festive cocktail. This cocktail is perfect for a summer gathering or a beach bachelorette party.
View Recipe
---
Guava Rum Cocktail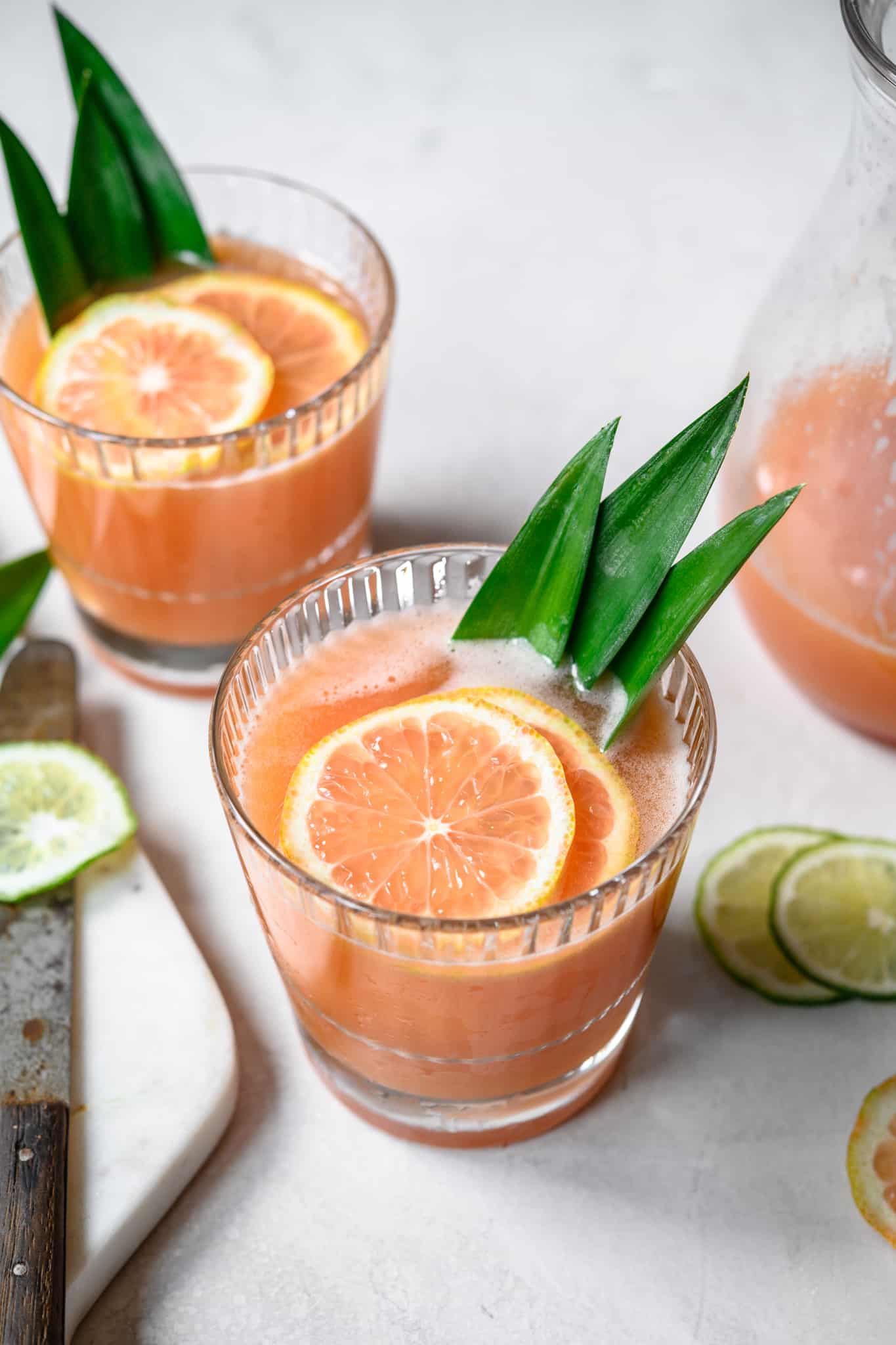 There is nothing better than the tropical one-two punch of this guava rum cocktail. Pineapple-infused rum takes this drink to another level, and infused liquor often takes only about 48 hours to make. Add freshly-squeezed lime juice to these simple ingredients for a refreshing mixed drink fit for a paper umbrella and a sandy beach.
View Recipe
---
Guava Margarita
Let the irresistible flavors of guava take center stage in this traditional tequila cocktail. Orange liqueur, lime juice, blanco tequila, and guava nectar are shaken together to make this straightforward mixed drink. The sweet and tart balance of the lime juice and guava is a perfect pairing for this refreshing, summery cocktail.
View Recipe
---
Guava Basil Moscow Mule
Like many of the mixed drinks on this list, guava proves to be a wonderful complement or addition to a lime juice-based cocktail. This guava-based basil Moscow mule is no different! Add guava nectar to the signature mixture of vodka, ginger beer, and lime of a Moscow mule. Basil adds another complex level of flavor to this craveable cocktail.
View Recipe
---
Guava Mojito
Transport yourself to the South Beach of Florida with the guava mojito. And consider bringing a few friends – this recipe makes a tasty pitcher! Combine guava nectar with light rum, club soda, lime juice, and mint simple syrup. Muddle mint in the bottom of individual serving glasses and garnish with mint leaves for that signature mojito look.
View Recipe
---
Guava Daiquiri
A Guava Daiquiri blends the tropical sweetness of ripe guava with the classic, tangy kick of a traditional daiquiri. This cocktail combines fresh guava puree, white rum, lime juice, and simple syrup, shaken to perfection. The result is a refreshingly sweet and sour beverage, perfect for sipping on a sunny day, transporting you momentarily to a tropical paradise.
View Recipe
---
Guava Lime Spritz
Guava and lime meet again in this fun and yummy guava lime spritz. If you're looking for a fabulous guava mocktail option, this spritz fits that role perfectly. This recipe quenches the thirst of a crowd, so I like to serve the non-alcoholic version for birthday parties and other festive occasions. Both tequila and vodka work equally well in this recipe.
View Recipe
---
Guava Cosmopolitan
Tart and sweet cranberry juice is replaced with guava to make this guava cosmopolitan. The flavor profile changes only slightly, imparting a tropical twist to this classic cocktail. Lime juice, vodka, and orange liqueur balance for a tart, flavor-packed cocktail. A cosmopolitan looks especially elegant and feminine in a martini glass.
View Recipe
---
Guava Rose
The guava rose presents a challenge for the home mixologist, namely in finding the niche Brazilian liquor this recipe requires. Cachaça is the national spirit of Brazil, and stars as the main liquor in this cocktail. The result is a tart, floral, and sweet cocktail that's unlike anything else.
View Recipe
---
Guava, Pineapple, and Coconut Rum Cocktail
If you're trying to cut back on calories, this guava, pineapple, and coconut rum cocktail recipe presents a lighter option. Coconut and light rum, guava juice, pineapple juice, sparkling water, and lime juice combine for this delicious, light, and easy cocktail.
View Recipe
---
Guava Lemonade Cocktail
Take your summertime lemonade to new heights with this guava lemonade cocktail. Add vodka, mint, and guava to a glass and allow it to infuse for a short while. Add ice and lemonade on top for tropical flair to everyone's favorite sweet and tart drink.
View Recipe
---
11 Guava Cocktail Recipes
Indulge in the exotic flavors of guava cocktails for a refreshing and tropical escape.
Ingredients
Instructions
Pick your favorite recipe
Gather all the needed ingredients
Prep a guava cocktail in less than 5 minutes
Please drink responsibly, be fully accountable with your alcohol consumption, and show others respect.