If you're a fan of spicy food like I am, it's about time you also give spicy cocktails a try!
From fiery jalapenos to smoky mezcal, spicy cocktails bring a new level of excitement to your glass.
Adding a little heat to your drinks is the perfect way to impress guests at your next event and works well throughout the year.
Check out my favorite spicy cocktails below, and get ready to spice things up!
Best Spicy Cocktails
Spicy Margarita
A classic margarita is one of the most well-loved cocktails known to man, but when you add a couple of fresh jalapenos to the mix, it outdoes itself.
I enjoy spicy margaritas when eating spicy Mexican food like tacos and enchiladas, but it also makes for a great drink to enjoy on their own.
---
Spicy Thai Chile Paloma
If you're constantly craving spicy Thai food, why not give your Pad Kee Mao a rest and try out this Spicy Thai Chile Paloma instead?
The cocktail contains grapefruit, lime juice, Tequila Reposado, and a single Thai Chile, which complements the citrus flavors well.
---
Bee Sting Cocktail
This Bee Sting Cocktail is similar to the classic Bee's Knees but with a spicy kick added thanks to the Ancho Reyes, a spicy liqueur.
This punchy cocktail is such a treat when you're in the mood for something sweeter, thanks to the honey-flavored simple syrup, and the heat takes things up a notch for a dynamic result.
---
Pineapple Jalapeno Margarita
Pineapple Jalapeno Margaritas are a great choice for those who enjoy spicy cocktails. The sweetness of pineapple balances out the spiciness of jalapeno, resulting in a refreshing and delicious flavor.
It's a delicious drink that I can't resist throughout the year.
---
Spicy Jalapeño Gimlet
A Spicy Jalapeno Gimlet is another one of my favorite drinks, thanks to its relative simplicity.
I highly recommend trying it when making cocktails in spring or summer with friends.
This recipe includes a recipe for a homemade jalapeno simple syrup, which I also highly recommend trying instead of buying for the best, freshest flavor.
---
Spicy Ginger Pineapple Punch
As someone who loves bold and adventurous flavors, the spicy ginger pineapple crush is a game-changer. Combining sweet pineapple and fiery ginger creates a dynamic flavor profile beyond invigorating.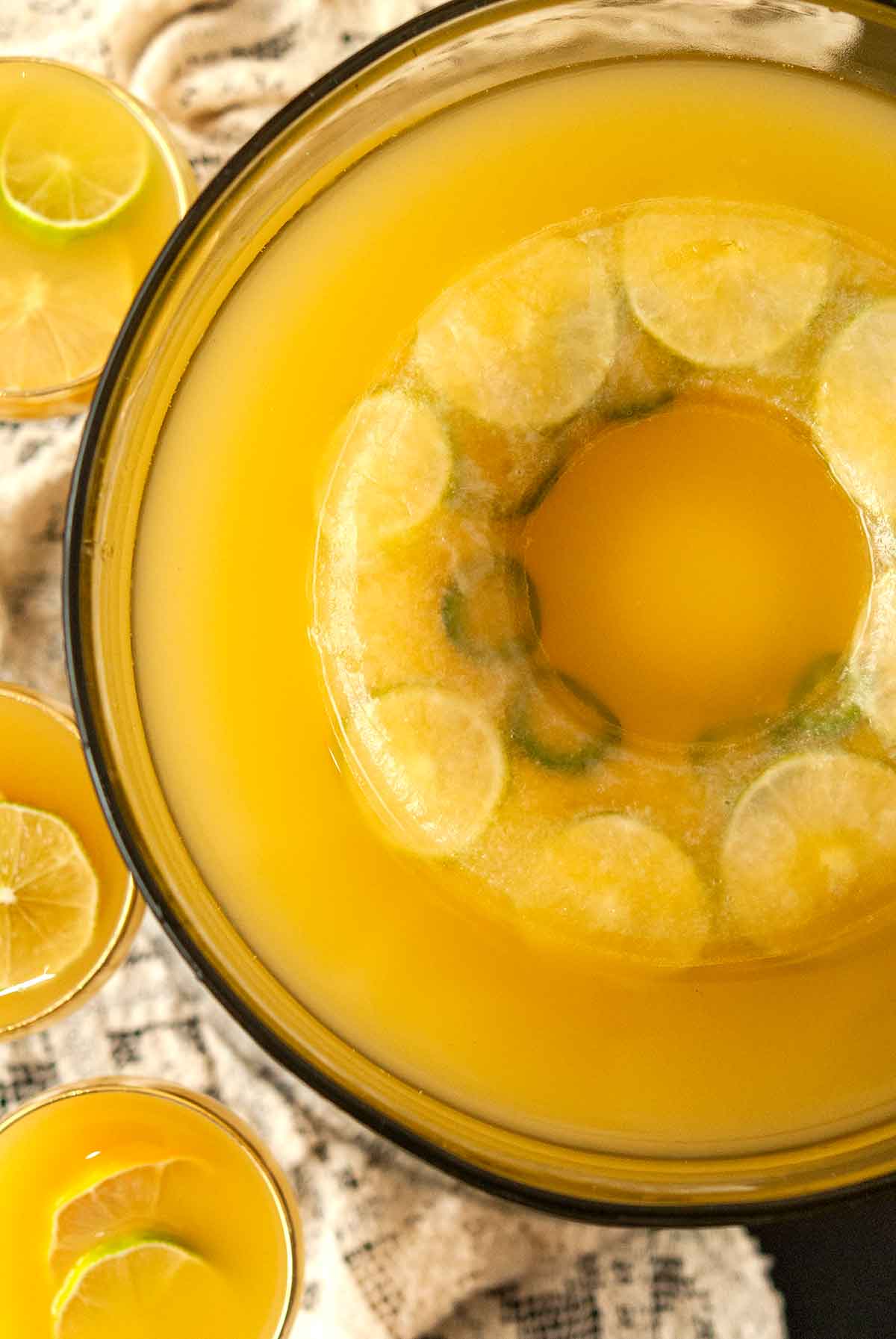 This is a must-try cocktail for those who enjoy bold yet inviting sensations, and I especially enjoy it when I need a little pick-me-up in the colder months.
---
Spicy Ranch Water
Spicy Ranch Water combines silver tequila, lime juice, jalapenos, and more for a compelling result that fires up your taste buds.
I love adding the chili lime seasoning on the rim for extra flavor, plus a lovely visual appeal that people tend to appreciate at events.
---
The "Hawaiian Bonfire"
The "Hawaiian Bonfire" is a spicy pineapple-based cocktail in which you first create a jalapeno-infused pineapple juice before mixing in bold ingredients like mezcal and Malibu rum.
The result is a fiery drink that tastes like a tropical paradise, and I can easily see it becoming the star of any summer party.
---
Smoky Mezcal Paloma
This Smoky Mezcal Paloma also features a two-part recipe, as you'll need first to make a jalapeno-flavored simple syrup.
But trust me, the additional time and effort will be worth it once you've created this smoky, citrusy, tart, sweet, and ultimately delightful summertime beverage. I can seriously drink this one all day!
---
Sweet + Spicy Bourbon Cocktail
Fresh, muddled strawberries combine lime juice, ginger beer, and jalapeno slices for this complex and exciting Sweet + Spicy Bourbon Cocktail.
It stays true to its name, offering a balanced, sweet, and spicy mix that almost everyone will love upon first sip. I like to make this for special, more intimate gatherings, as it takes a bit longer for me to prepare it just right.
---
Spicy Tomato Martini with Hot Sauce
Most people enjoy a classic tomato juice-based Bloody Mary, but the Spicy Tomato Martini with Hot Sauce is a must for more adventurous folks.
This one packs some severe heat with its addition of Tabasco hot sauce, and the vodka and fresh lime help to cool things down for a clean finish.
---
Hittin' the Sauce
Hittin' the Sauce is a fun recipe for your next lively evening event.
The deep purple color is simultaneously sophisticated and welcoming. Combining ginger liqueur, blackberries, lime juice, vodka, and hot sauce is a dynamic, intriguing treat that people won't stop discussing.
---
Fiery Honey Badger Cocktail
You'll make a spicy honey syrup for this Fiery Honey Badger Cocktail and be so glad you did!
The mix of honey, water, and red pepper flakes is all it takes to create a drink that's out-of-this-world delicious! The spicy honey syrup adds a burst of heat that perfectly balances the sweetness of the honey.
---
'Spicy With Tequila'
Don't underestimate the power of green Chartreuse, agave nectar, and habanero tincture in this 'Spicy With Tequila" cocktail.
Despite its somewhat primary name, this cocktail is dynamic and riveting with each sip. I appreciate that it includes a habanero flavor instead of the standard jalapeno flavor in many other spicy cocktails.
---
Hot and Spicy
Last is the Hot and Spicy, another simply-named but far-from-simple spicy cocktail. It features Cognac Roullet, chili peppers, cloves, ginger root, and more, making it the perfect drink for exceptional occasions.
You may need to get a few more bartender-worthy tools in your kitchen for this, but it'll be worth it!
---
Cheers!
Whether you enjoy a hint of heat or crave a full-blown spice explosion, these spicy cocktails will tantalize your taste buds and leave you craving more.
I love them all, so choosing my favorite one is hard.
But which of these spicy cocktails stands out to you the most? Let us know in the comments below!
15 Spicy Cocktail Recipes
Instructions
Pick your favorite recipe
Gather all the needed ingredients
Prep a tasty cocktail in less than 5 minutes
Please drink responsibly, be fully accountable with your alcohol consumption, and show others respect.