Pumpkin cocktails are a delicious way to add a touch of autumn to your drink menu. These cocktails are made with pumpkin flavors and spices that give them a warm and comforting taste. They are perfect for sipping on a chilly evening, while watching the leaves fall or hanging out with friends.
Pumpkin cocktails are versatile and can be made with a variety of spirits, including whiskey, rum, vodka, and even tequila. They can be served cold or warm, and can be made with a variety of mixers, syrups, and liqueurs. Whether you're a seasoned mixologist or just looking to try something new, pumpkin cocktails are a great way to get creative with your drink menu and impress your guests. So, grab your shaker and let's get mixing!
Pumpkin Spice White Russian
Vodka, coffee liqueur, and cream are the main ingredients in a classic White Russian cocktail. This fall-themed variant is prepared slightly differently. Keep the vodka and Kahlua coffee liqueur, but use pumpkin spice creamer in place of plain cream. To make this pumpkin drink stand out, garnish with some whipped cream and pumpkin pie spice.
View Recipe
---
Pumpkin Old Fashioned
Bourbon, sugar, bitters, occasionally water, and garnishes of an orange peel and cherry are the components of a traditional old fashioned. This recipe replaces sugar with maple syrup, adds black walnut bitters and some pumpkin puree for the perfect fall cocktail.
View Recipe
---
Pumpkin Pie Martini
Imagine taking all the delicious, creamy, sweet and rich flavors of your favorite pumpkin pie and mixing in some booze. Add maple syrup, cinnamon and graham crackers to the rim and this drink is like dessert in a glass.
View Recipe
---
Pumpkin Whiskey Smash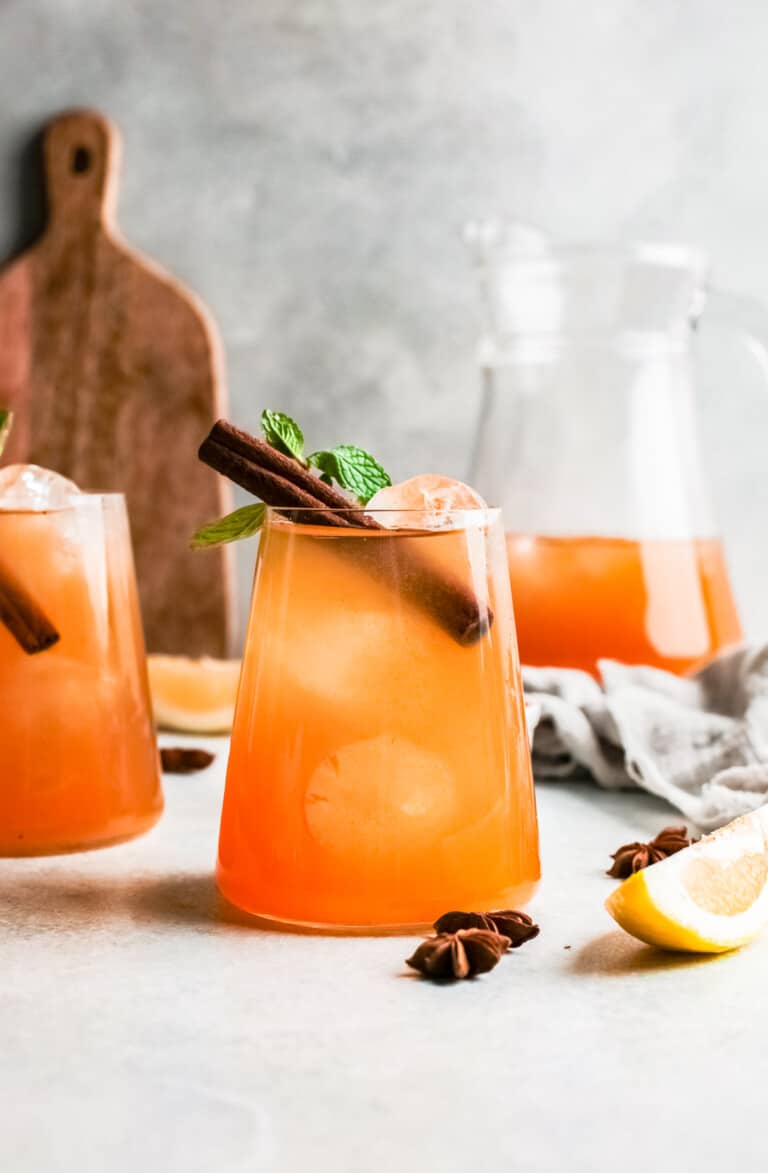 The ideal drink to sip this fall is this pumpkin whiskey smash. This whisky cocktail, which is seasoned with pumpkin pie spice and mixed with homemade pumpkin simple syrup, is a comforting beverage as the weather cools off.
View Recipe
---
Pumpkin Spice Martini
The martini is an absolute classic cocktail and it's made even better with the flavor of pumpkin. The Pumpkin Spice Martini is a sweet treat of a cocktail that packs a little punch, too. All you need is pumpkin puree, simple syrup, vanilla vodka, Bailey's Irish Cream liquor, and pumpkin pie spice.
View Recipe
---
Pumpkin Pie Punch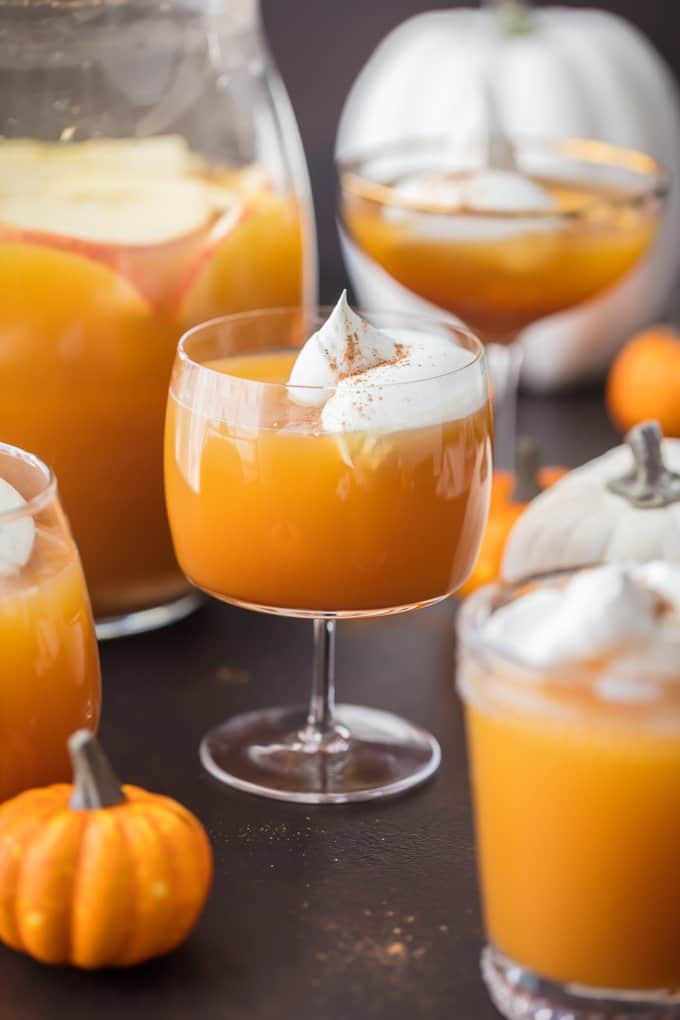 If you're planning a party this autumn, you'll want a drink to serve your guests that's fun, tasty, and, most importantly, easy to make. That's where this Pumpkin Pie Punch comes in. It's sure to be a hit at any Fall celebration. Grab some apple cider, pumpkin puree, cream soda, pumpkin pie spice, and some vodka to whip this cocktail up in no time!
View Recipe
---
Pumpkin Spice Moscow Mule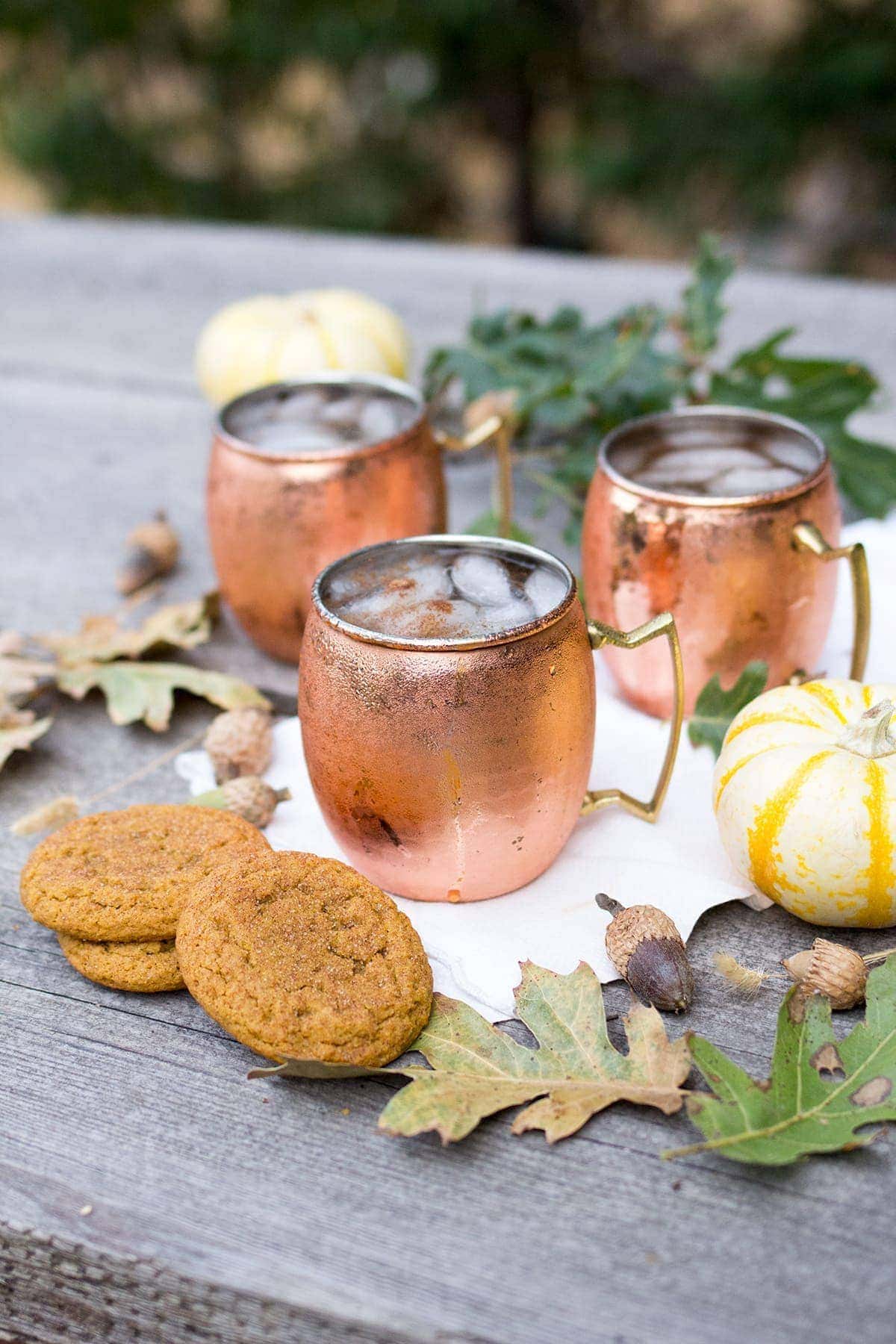 Who doesn't love a good Moscow Mule? I certainly do, but when Fall comes around, I like to mix it up just a bit. The Pumpkin Spice Moscow Mule is a great choice to help you get into the spirit, plus it tastes amazing. Like with any Mule, you'll need vodka, lime juice, and ginger beer, but for this one, be sure to get pumpkin puree and pumpkin pie spice as well.
View Recipe
---
The White Pumpkin Cocktail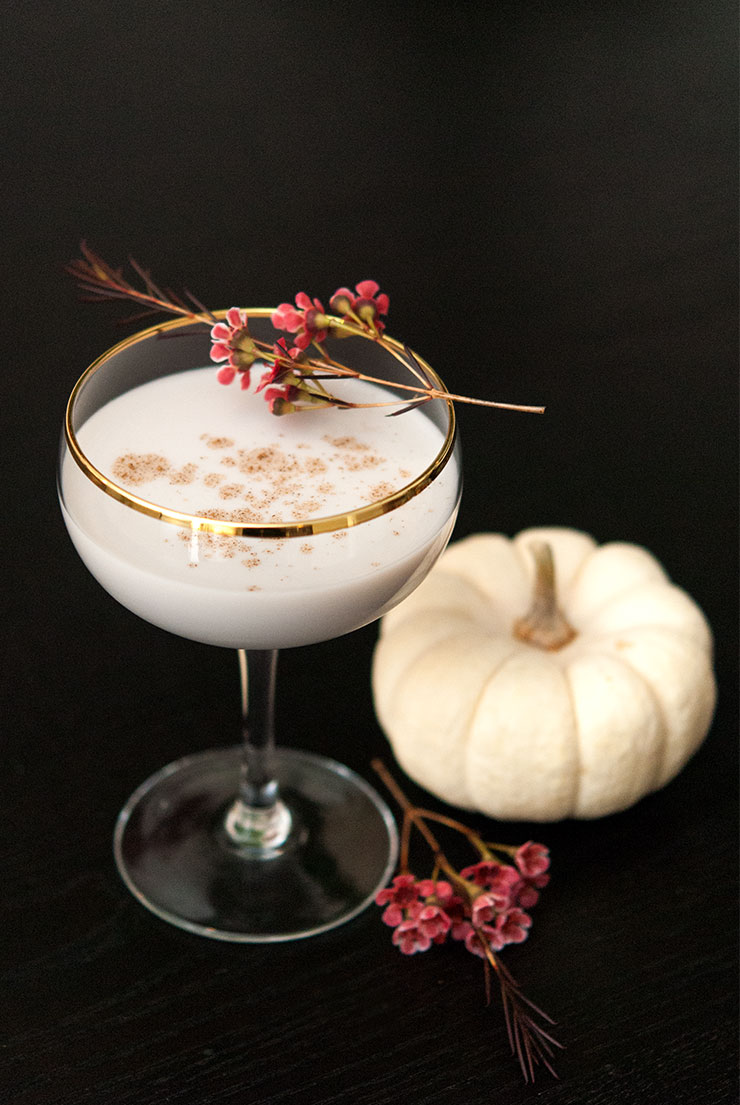 The White Pumpkin Cocktail is proof that white rum isn't just for tropical drinks. This cocktail is sweet and comforting, perfect for a rainy autumn evening. It's a simple recipe as well, so that makes it even better, in my opinion. All you need is white rum, almond milk, honey, and pumpkin spice. That's it! Just mix it all up and garnish with a cute flower sprig.
View Recipe
---
Pumpkin Spiced Apple Cider
Few things are better during the fall than a warm glass of apple cider. Make it an alcoholic apple cider and you're really speaking my language. When I want some apple cider with a little extra kick, I go for this Pumpkin Spiced Apple Cider cocktail. The cinnamon simple syrup is easy to make and then you just combine it with the rest of the ingredients for an extremely refreshing pumpkin drink!
View Recipe
---
Pumpkin Spice Margarita
No cocktail list is complete without some form of a margarita, if you ask me. The Pumpkin Spice Margarita is perfect for all your fall cocktail needs whether you're mixing it up for guests or just enjoying a drink for yourself. This stunning cocktail requires a few more ingredients than some of the simpler ones on my list, but it never disappoints. Trust me!
View Recipe
---
Bourbon Pumpkin Shrub Cocktail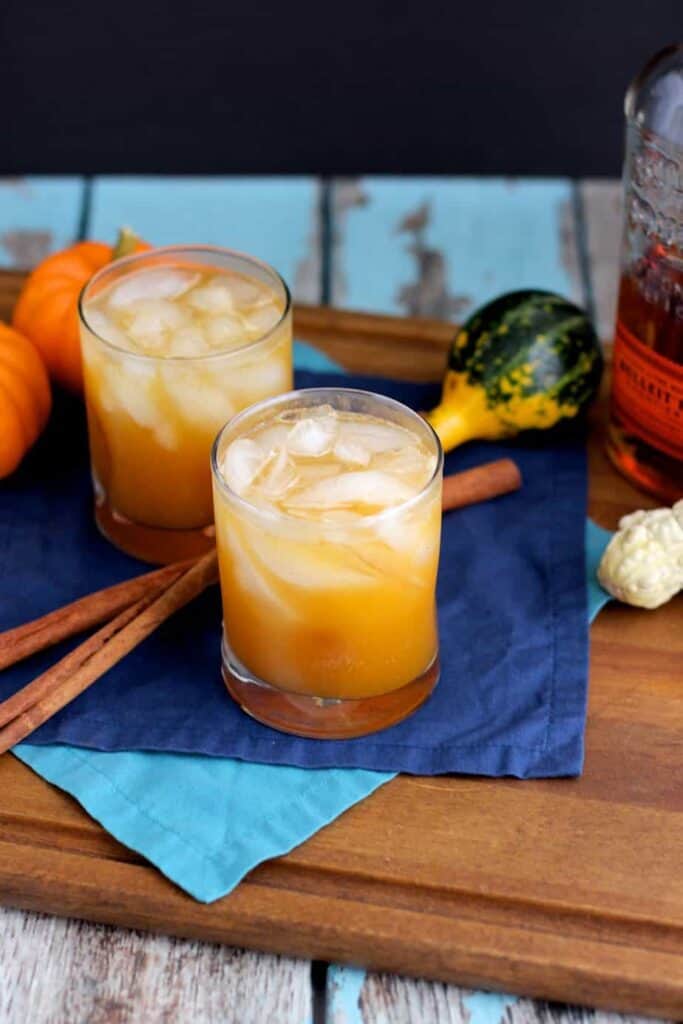 If you love a good bourbon cocktail, then this is the one for you. The Bourbon Pumpkin Shrub Cocktail is certainly one you'll want to keep in your recipe book. You'll need to prepare the pumpkin shrub 24 hours in advance so you can let it sit in the refrigerator overnight. This is important for the flavor of the drink. Once that's ready, just grab your favorite bourbon, ginger beer, and maple syrup to combine with the pumpkin shrub and you're golden!
View Recipe
---
Pumpkin Spice Mudslide
This next cocktail is almost more like a milkshake, but you won't hear me complaining! The Pumpkin Spice Mudslide is perfect for satisfying that sweet tooth in the most seasonally appropriate manner. All you need is Blue Bell pumpkin spice ice cream, Bailey's pumpkin spice liqueur, milk, and vodka.
View Recipe
---
Pumpkin Spiced Espresso Martini
Another one of my favorite martini variants is the espresso martini, but when you add pumpkin it takes the cocktail to a whole new level. Vanilla vodka, espresso, coffee liqueur, pumpkin spice syrup, and nutmeg are all you need to craft this concoction. This drink is perfect for a Fall Sunday morning brunch while you munch on some french toast.
View Recipe
---
"Grown Up" Potter Pumpkin Juice
This next pumpkin cocktail is simply magical and I really think you're going to love this one, even if you aren't a Harry Potter fanatic. "Grown Up" Potter Pumpkin Juice consists of apple cider, pumpkin puree, sugar, pumpkin spice, and bourbon. What's not to like? I recommend splurging on a high quality apple cider, if possible. It can have a massive impact on the taste of the drink.
View Recipe
---
Spiked Pumpkin Horchata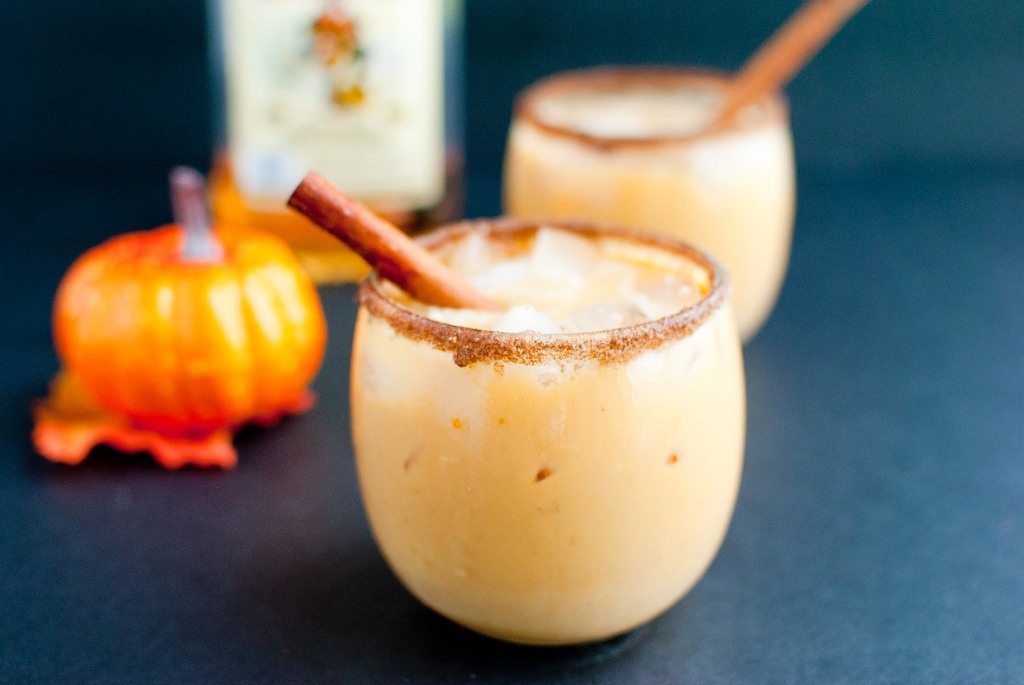 I really love horchata, so I was elated to stumble across the Spiked Pumpkin Horchata cocktail. Make sure you have a blender for this one because the Spiked Pumpkin Horchata cocktail is a bit more work than some of the simpler drinks I've listed previously. Trust me, the extra steps are 100% worth it every time. The sweet cinnamon flavor of the horchata really works wonders with the pumpkin puree.
View Recipe
---
Caramel Pumpkin Coquito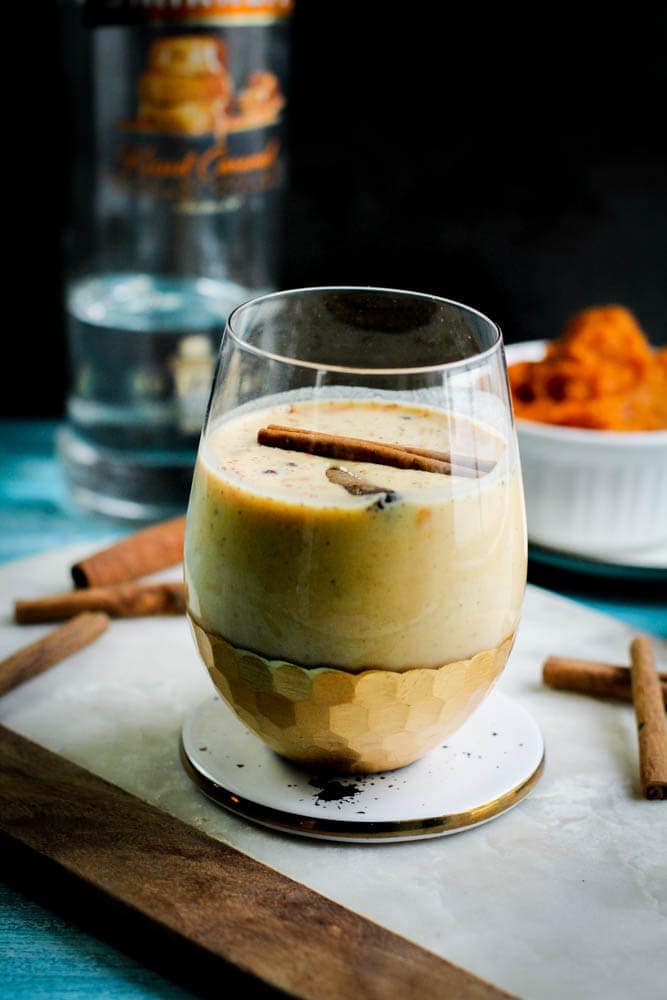 Last but not least, I thought I would end on a sweet note with the Caramel Pumpkin Coquito. I seriously look forward to the autumn season every year just so I can make this drink. It's a bit of work like the horchata, but it is so worth it. Plus, the recipe makes a generous serving, so it's perfect for group gatherings and celebrations. You can even store your coquito in the refrigerator for later occasions once you've made it.
View Recipe
---
16 Pumpkin Cocktail Recipes
Nothing says fall like pumpkins! Indulge in these pumpkin cocktails all season long.
Instructions
Pick your favorite recipe
Gather all the needed ingredients
Prep your pumpkin cocktail in less than 5 minutes
Please drink responsibly, be fully accountable with your alcohol consumption, and show others respect.