Strawberries are a delicious fruit that can be used in a variety of ways, including as a key ingredient in cocktails.
With their sweet and tangy flavor, strawberries are the perfect addition to any drink, whether you're looking for something fruity and refreshing or something a little more complex.
In this article, we'll explore some of the best strawberry cocktails that are sure to impress your guests and tantalize your taste buds.
So sit back, relax, and let's dive into the world of delicious strawberry cocktails.
Strawberry Daiquiri
A traditional beverage that has been enjoyed for years is the strawberry daiquiri.
With only a few straightforward ingredients, you can make this cool beverage that is ideal for hot summer days.
You'll need light rum, fresh or frozen strawberries, simple syrup, lime juice, and ice to prepare the ideal strawberry daiquiri.
A wonderful balance of tastes is created by mixing the tart lime juice with the sweet strawberries, leaving you craving more.
---
Strawberry Margarita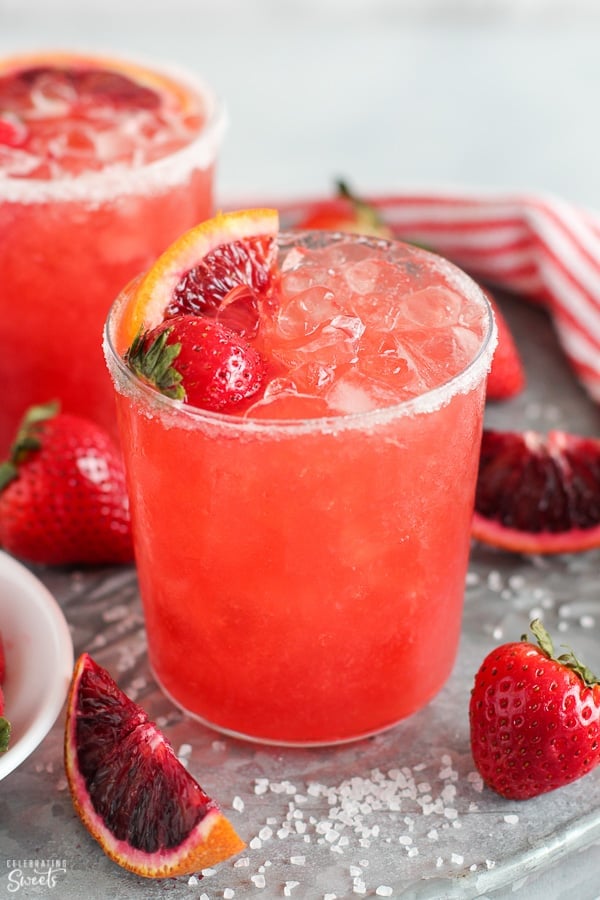 Strawberry margaritas are delicious and refreshing. This cocktail is great for sweet-and-tangy drink lovers.
This drink is made with sliced strawberries, granulated sugar, silver tequila, Grand Marnier or Cointreau, freshly squeezed orange juice, and lime juice.
Strawberry and citrus juice produce a rich flavor that will gratify your taste buds.
Tequila gives the drink a slight sting, while Grand Marnier or Cointreau add sweetness and depth.
---
Strawberry Mojitos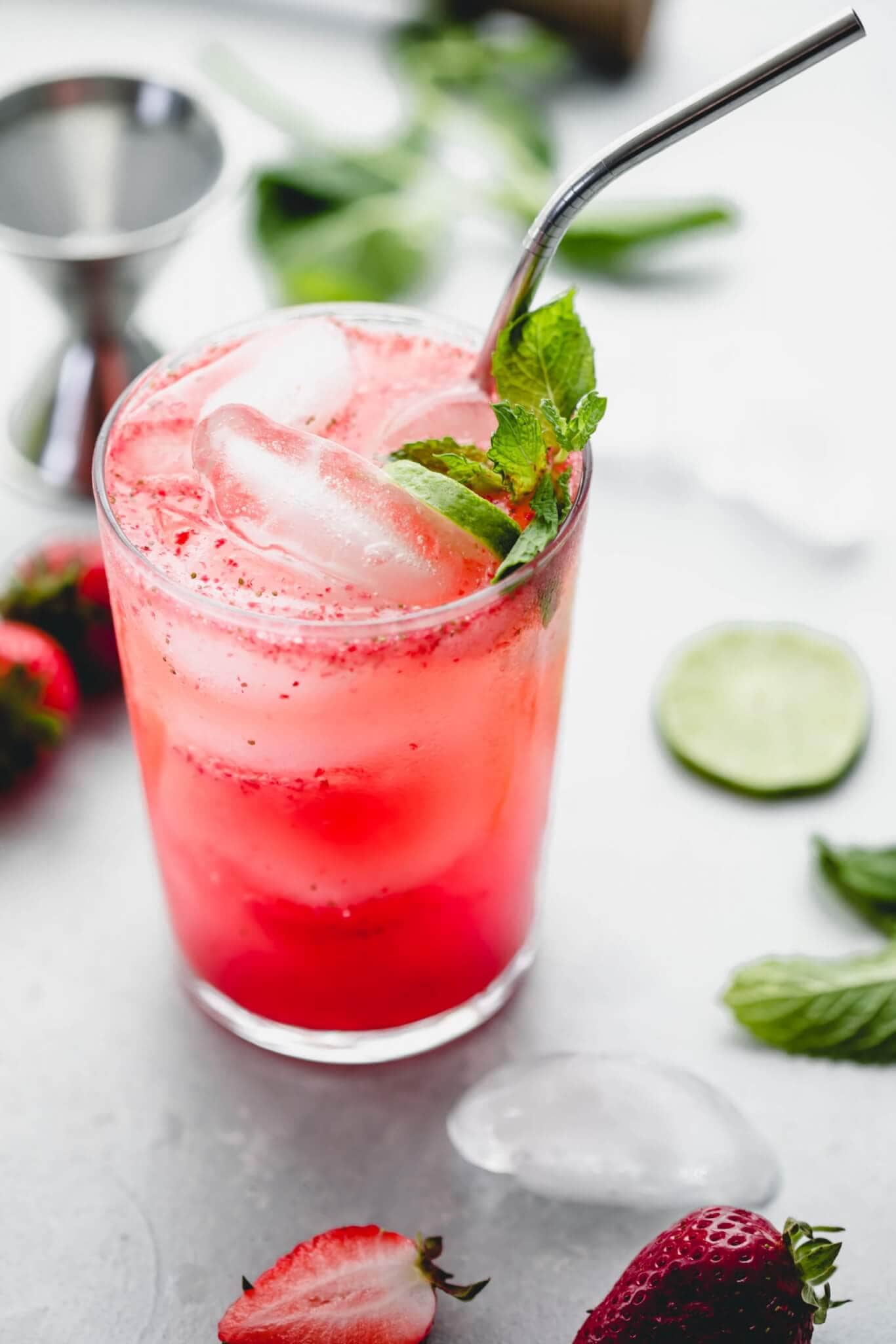 Sweet, sour, and minty tastes come together in perfect harmony in a strawberry mojito.
Fresh mint offers a crisp and refreshing herbal aroma, and the tart lime juice wonderfully offsets the sweetness of the strawberries and simple syrup.
Soda water gives this beverage its delightfully fizzy texture, making it perfect for sipping on a warm summer day.
If you're looking for a refreshing and fruity cocktail to enjoy on a hot summer day, look no further than the Strawberry Mojito.
---
Strawberry Lime Vodka Smash
The tastes of strawberries, lime, and vodka come together in the sweet and zesty drink known as the Strawberry Lime Vodka Smash.
The Strawberry Lime Vodka Smash is the ideal option for a tasty and refreshing drink that is guaranteed to wow, whether you're having a party with friends or just relaxing at home.
---
Sparkling Strawberry Cocktail
Your taste buds will be delighted by the pleasantly sweet and revitalizing flavor of the sparkling strawberry cocktail.
The sharpness of the fresh lemon juice and the smoothness of the vodka nicely offset the sweetness of the fresh strawberries.
Thyme simple syrup gives a delicate herbal note that helps improve the cocktail's overall taste.
This cocktail is refreshingly cool and ideal for enjoying on a warm summer evening.
---
Strawberry Prosseco Cocktail
The Strawberry Prosecco beverage is a classy, delectably cool beverage.
This delectable concoction mixes the flowery tones of vodka, dry Prosecco, and St. Germain elderflower liqueur with the sweet and sour aromas of ripe strawberries.
These ingredients come together to create a light and energizing beverage that has a sweet, fruity flavor and a beautiful flowery scent.
---
Strawberry Gin Smash
The Strawberry Gin Smash is a tasty and invigorating drink, ideal for a hot summer day or a festive gathering.
This refreshing drink is made with real strawberries, gin, lime, sugar, ice, and club soda.
It's one of the greatest strawberry drinks because of the delicious tastes and bubbly texture, and it'll leave you feeling satisfied and energized.
---
Strawberry Cucumber Tequila Martini
The Strawberry Cucumber Tequila Martini is an original and delicious drink that fuses the cool and refreshing flavor of cucumber with the sweet and tangy flavor of fresh strawberries.
If you're looking for a tasty and refreshing drink that's excellent for enjoying on a hot summer day or serving at a special event, look no further than the Strawberry Cucumber Tequila Martini.
---
The Naughty Strawberry
The flirtatious and entertaining cocktail known as the Naughty Strawberry is sure to satisfy the sweet taste of any drinker.
This drink is the ideal combination of sweet and tart since it is made with strawberry vodka, strawberry liqueur, pink lemonade, grenadine, and fresh strawberry slices.
This drink is ideal for a date night with a special someone or a night out with friends.
The drink's quirky and irreverent name accurately conveys its spirit and serves as a wonderful conversation starter.
---
Lemon Basil Strawberry Gin Rickey
Mixing the sourness of lemon with the sweetness of strawberries and the delicate herbaceousness of basil, the Lemon Basil Strawberry Gin Rickey is a very refreshing and fruity drink.
Strawberry basil syrup is sweet, but the tangy lemon juice and bubbly club soda make this cocktail refreshing and enjoyable.
The basil gives the cocktail a somewhat salty tone that goes nicely with the sweetness of the strawberries.
This beverage is simple to prepare and may be swiftly prepared for last-minute get-togethers or a relaxed evening at home.
---
Pink 75
The delightful and revitalizing Pink 75 drink has its roots in the United States.
The Pink 75 is a fantastic option for anyone who likes fruity, energizing beverages with a little spice.
It has a wonderful punch from the vodka and lime juice, which is countered by the sweetness and fizz of the guava syrup and sparkling wine.
Whether you're lounging by the pool or enjoying a night out with friends, the Pink 75 is a perfect choice for any occasion.
---
Strawberry Rum Cocktail
The Strawberry Rum Cocktail is a fruity beverage that combines the sweet and sour tastes of fresh strawberries with the peppery bite of spiced rum.
The addition of lime juice and ginger ale gives the cocktail a zesty and fizzy finish, while fresh mint adds a subtle herbaceous note.
This cocktail is a delicious and easy-to-make drink that is sure to impress your guests.
---
Strawberry Grapefruit Vodka Cocktail
The Strawberry Grapefruit Vodka Cocktail is a zesty and refreshing beverage that features a taste profile that strikes the ideal balance between sweet and sour notes.
This drink is not only tasty but also aesthetically beautiful with its vibrant pink hue because it is served over ice and topped with club soda.
---
Seven Year Itch
A refined cocktail with a sophisticated taste profile is called The Seven Year Itch.
Its special formulation strikes the ideal mix between sweet and sour, with a cool aftertaste that makes it ideal for drinking on a hot summer day.
The Seven Year Itch is a cocktail that will amaze you, whether you're trying to diversify your cocktail menu or just want to try something new.
---
Love Potion
The Love Potion is a quirky drink that combines the sour and flowery flavors of hibiscus tea with the acidity of muddled strawberries and lemon juice.
Gin's subtle botanical notes smooth out the cocktail, making it ideal for a romantic evening or a special event.
Serve it on the rocks, garnished with a strawberry, and watch as the pink hues of the cocktail seduce your taste buds.
---
Cheers!
The sweet, juicy flavor of strawberries has revolutionized the world of cocktails.
The versatility of strawberries allows them to pair perfectly with a wide variety of spirits, juices, and mixers, creating a vast array of flavors and experiences.
Whether you prefer your cocktail shaken or stirred, sweet or tart, there is a strawberry cocktail out there for everyone to enjoy.
So the next time you're in the mood for a refreshing and delicious drink, consider trying one of these best strawberry cocktails and savoring the taste of summer in a glass.
15 Strawberry Cocktail Recipes
Instructions
Pick your favorite recipe
Gather all the needed ingredients
Prep a tasty cocktail in less than 5 minutes
Please drink responsibly, be fully accountable with your alcohol consumption, and show others respect.