Blueberries are a delicious wild fruit with a subtly sweet and distinct flavor. Their deep blue skin pops open with a bright juiciness that's as cheerful as the summer season harvest.
Blueberries are wonderful on their own, but they also serve as a favorite flavoring agent for everything from baked goods to Italian sodas.
Blueberries also make great cocktail ingredients, adding a unique flavor to pair with your favorite spirits. Read on to discover my list of blueberry cocktails.
Best Blueberry Cocktails
Blueberry Bourbon Smash
This refreshing bourbon smash recipe "smashes" fresh blueberries, lemon juice, and mint leaves to release a sweet and aromatic infusion.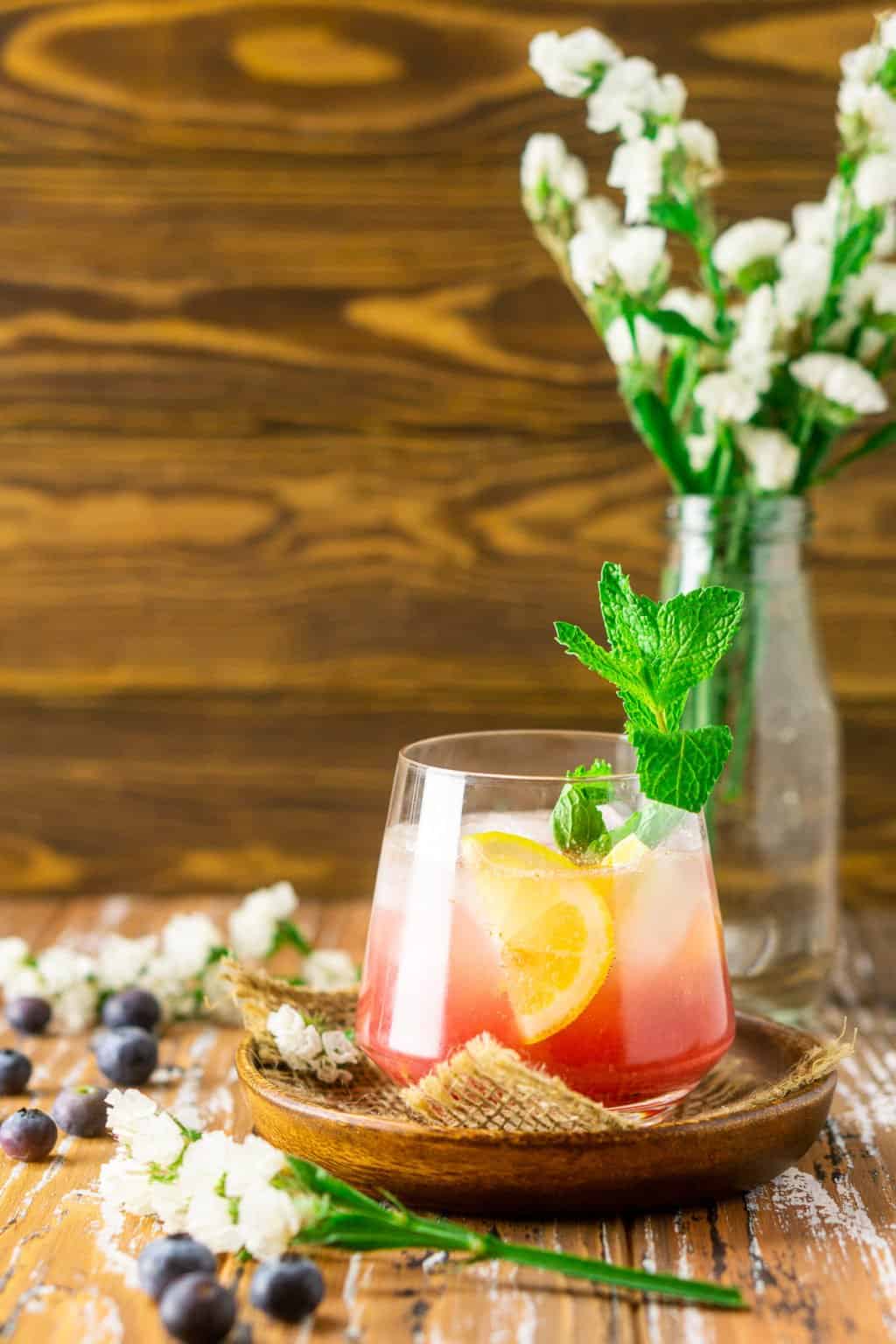 You pour a shot of bourbon into the infusion, straining the dark pink concoction into a low-ball cocktail glass.
The smokey and spicy flavors inherent in the bourbon get a summery upgrade with the tart sweetness of the blueberry infusion.
---
Blueberry Lemon Drop
This tart and sweet blueberry lemon drop recipe makes a pitcher's worth for a lively summertime happy hour.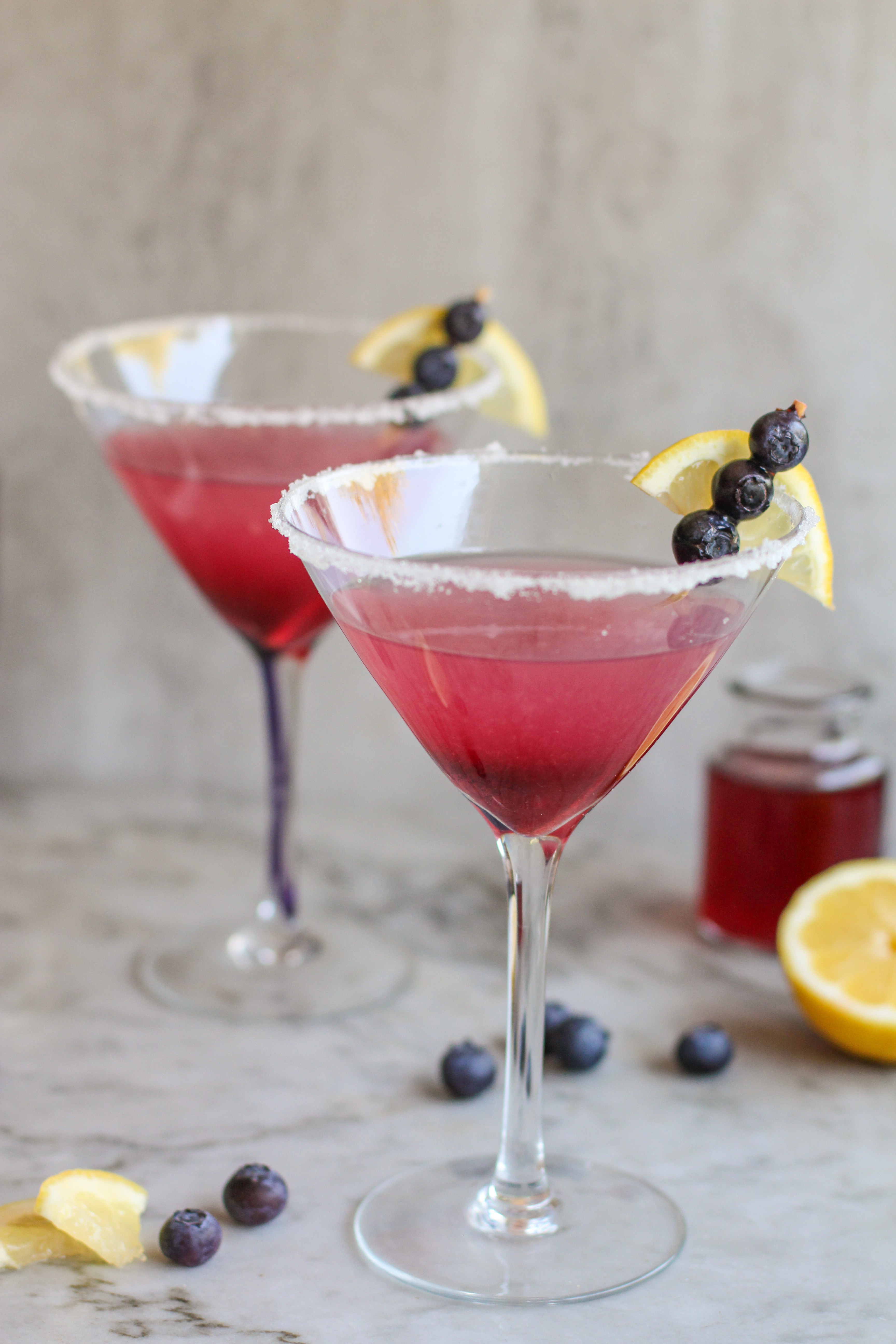 It is a fruity, feminine take on the classic lemon drop martini, infusing lemon vodka with scratch-made blueberry simple syrup and lemon juice.
There's no need for a shaker with this recipe. Simply place the ingredients in a pitcher and stir vigorously.
---
Blueberry Mojitos
Mojitos are one of Cuba's most beloved rum traditions, showcasing the native sugarcane in two different forms.
This recipe adds some natural sugar to the mix with the addition of fresh blueberries.
It also has you make a mint-infused simple syrup in addition to the fresh mint you muddle with the blueberries and lime.
The blueberries infuse flavor and provide a beautiful dark purple color with bits of berries floating to the top.
---
Blueberry Colada
This periwinkle pina colada uses coconut rum and white rum for an extra alcoholic summertime cocktail that's perfect for a pool party.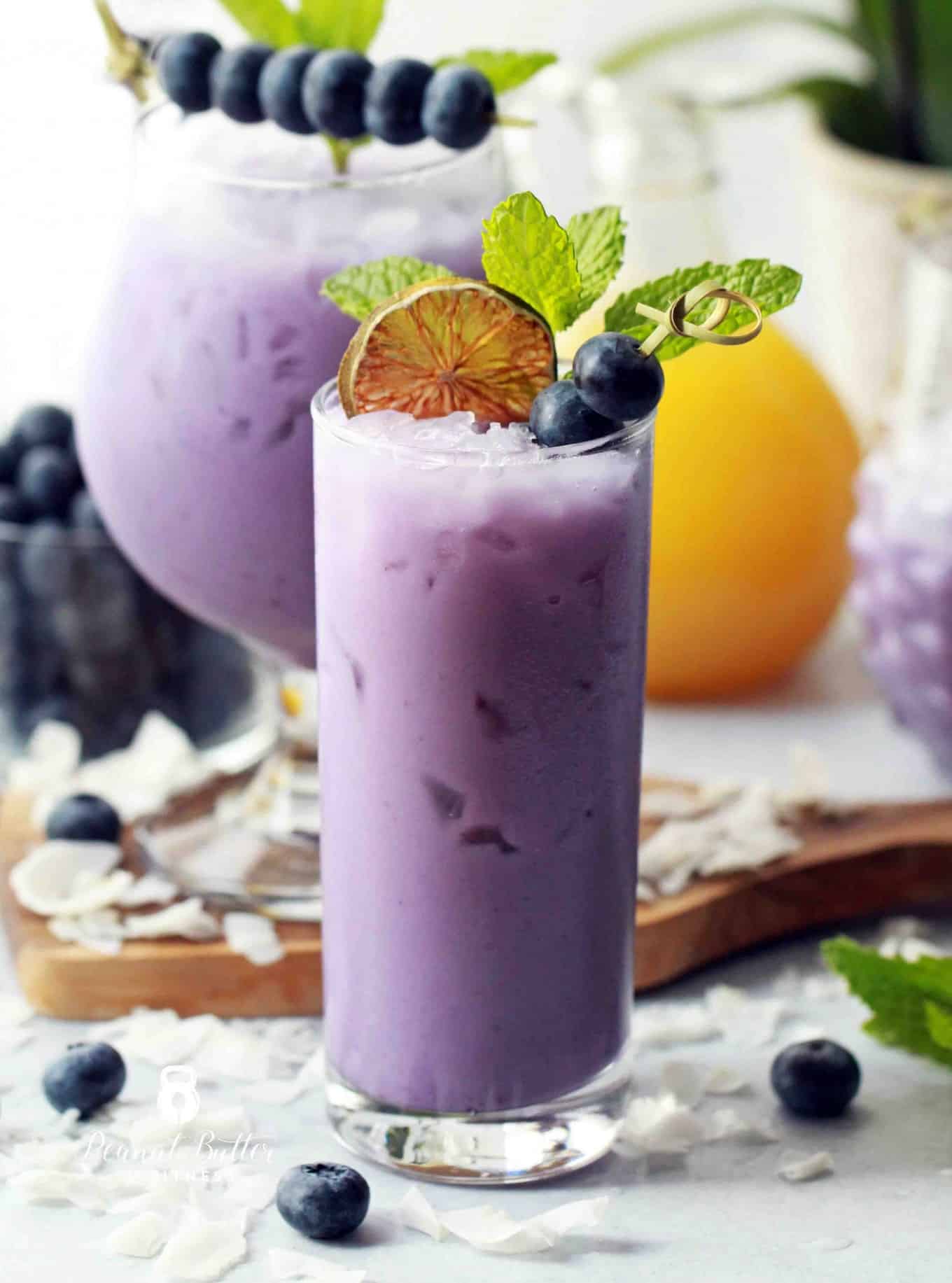 This is an elaborate recipe that has you make blueberry and lime juice from scratch, adding it to a creamy coconut milk foundation.
The pineapple juice adds a final sweet and acidic kick that makes this cocktail the ultimate boozy smoothie.
---
Blueberry Old Fashioned Cocktail
An elegant and sweet take on the classic Old Fashioned, the Blueberry Old Fashioned swaps the typical sugar cube out for scratch-made blueberry simple syrup.
You still get the trifecta of flavors, with the sweet syrup, smokey bourbon, and bitter bite from the Angostura bitters.
However, the fruitiness of the blueberry stands out, infusing a unique flavor and crimson coloring.
---
Blueberry Margarita
This sophisticated margarita recipe is perfect for a fancy dinner party, using the aged, higher quality Anejo or reposado tequila for a smoother finish.
Fresh blueberries and lime juice get muddled with simple syrup for the perfect balance of sweet and tart.
Instead of the sweeter triple sec or Cointreau, this recipe calls for orange bitters to add the orange flavor without adding more sweetness.
---
Blueberry Pie Martini
You can skip the blueberry pie with this dessert-like cocktail.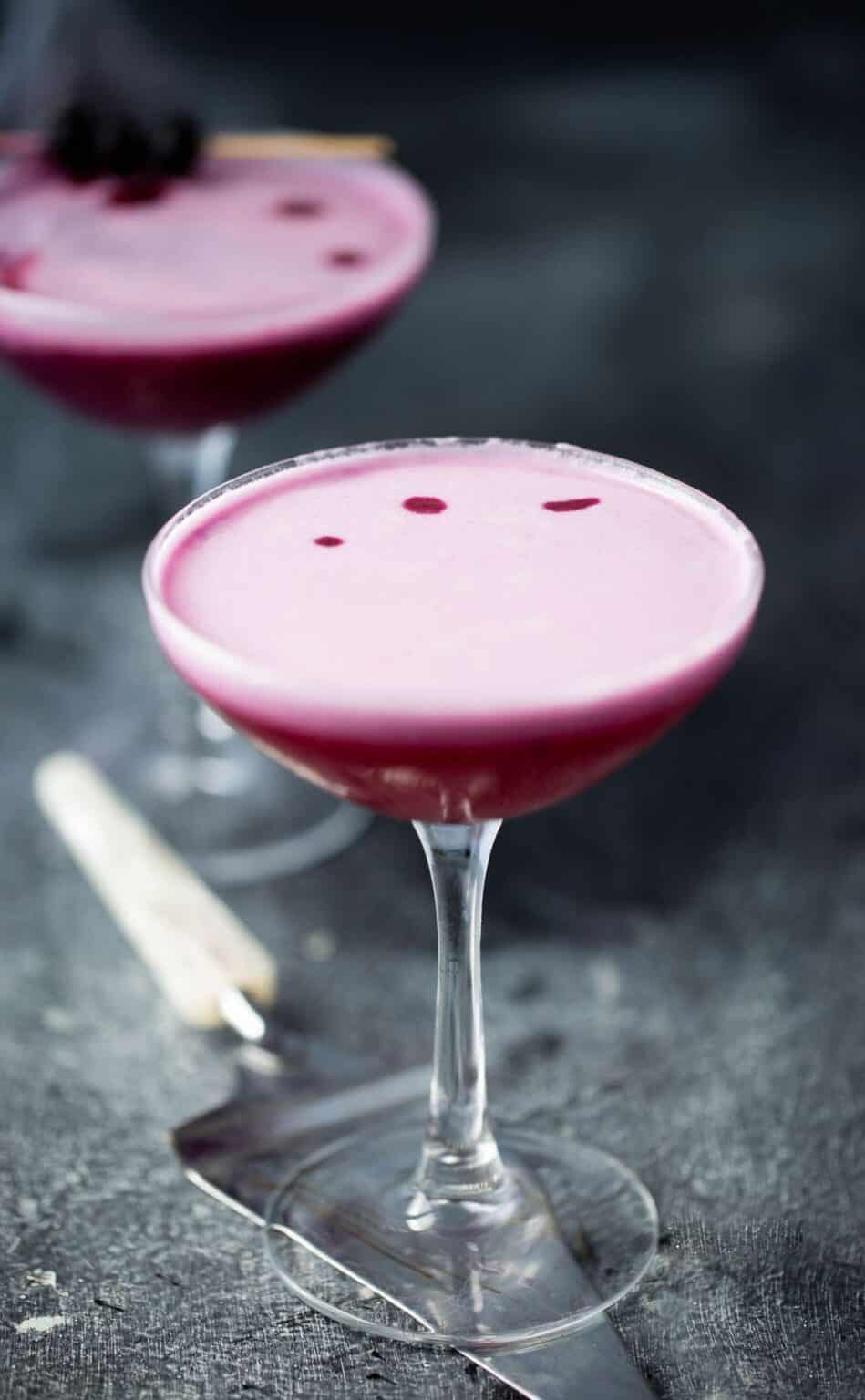 It's a vodka martini that combines equal parts pineapple juice, blueberry lavender simple syrup, and lime juice with two parts vodka.
The lavender adds a botanical aroma and a deeper purple coloring to the drink.
The piece de resistance is the dash of coconut milk that adds a creamy, dessert-like top foam.
---
Lavender Blueberry Gin Sparkler
Another lavender-infused cocktail, the Lavender Blueberry Gin Sparkler is a refreshing and light summer cocktail with a bubbly, carbonated finish.
Gin is inherently floral as it's made from juniper distillate, so adding lavender simple syrup enhances the floral flavors.
Store-bought blueberry juice adds a fruity flavor and saves you the effort of making juice from scratch.
---
Blue Mule
Blueberries aren't the only ingredient that turns this cocktail bright blue.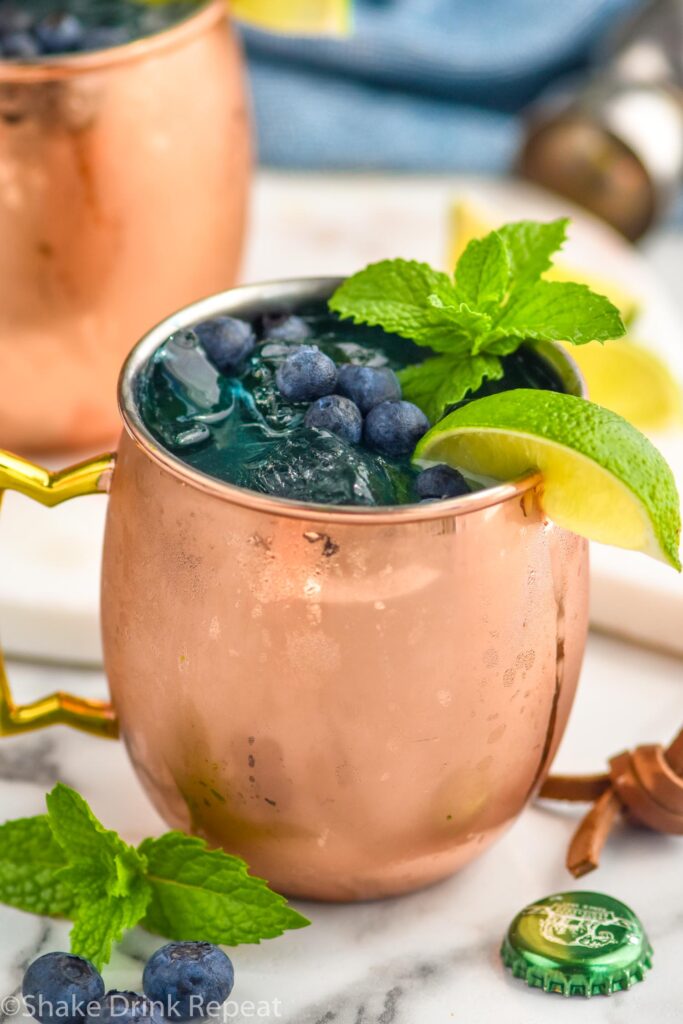 While this version of the classic vodka cocktail uses blueberries as a garnish, the blue color of the liquid comes from blue curacao.
Blue curacao is also the key ingredient that adds a sweeter citrus flavor to the classic ginger beer, lime juice, and vodka recipe.
---
Blueberry Thyme Crush Cocktail
This versatile and easy recipe muddles blueberries with a sprig of thyme, lemon juice, and sugar before adding the spirit of your choice.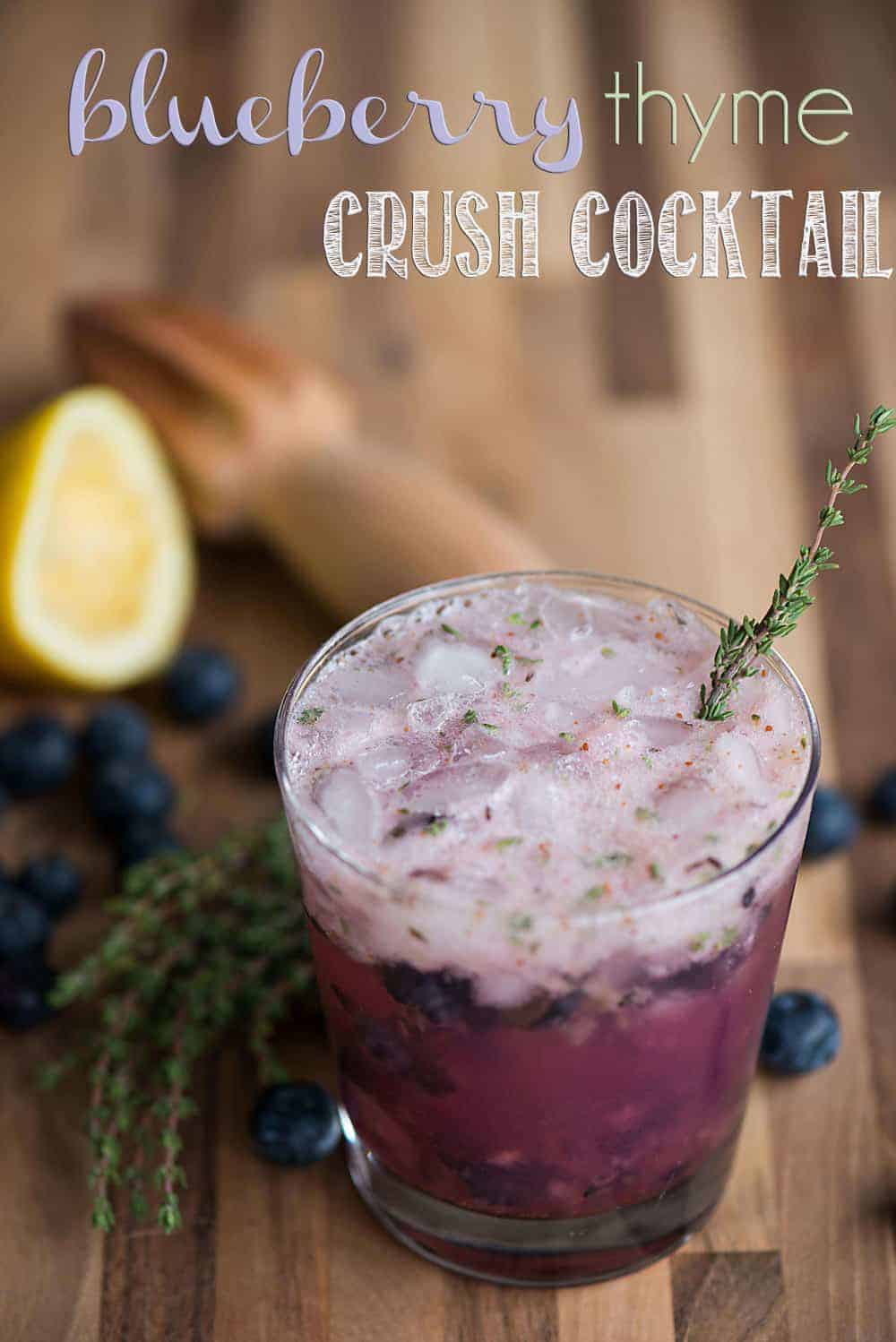 The recipe suggests either gin or vodka. Vodka blends in with any flavor, but the thyme brings out the botanical flavor of gin.
The final touch is topping each glass off with soda water for a refreshingly bubbly finish.
---
Blueberry Bourbon Reviver
This highly alcoholic cocktail features three spirits including bourbon, Lillet Blanc, and absinthe.
All that alcohol gets a luxuriously sweet and velvety compliment from the scratch-made blueberry compote.
Compote is a reduction of blueberry and sugar with lemon juice.
It's the gift that keeps giving, as you can use it in this cocktail as easily as you can spoon it over ice cream or breakfast toast.
---
Blueberry Ginger Bellini
This beautiful blueberry ginger bellini recipe is an elegant upgrade to your Sunday brunch. It makes two tall glasses of rich blueberry bellinis.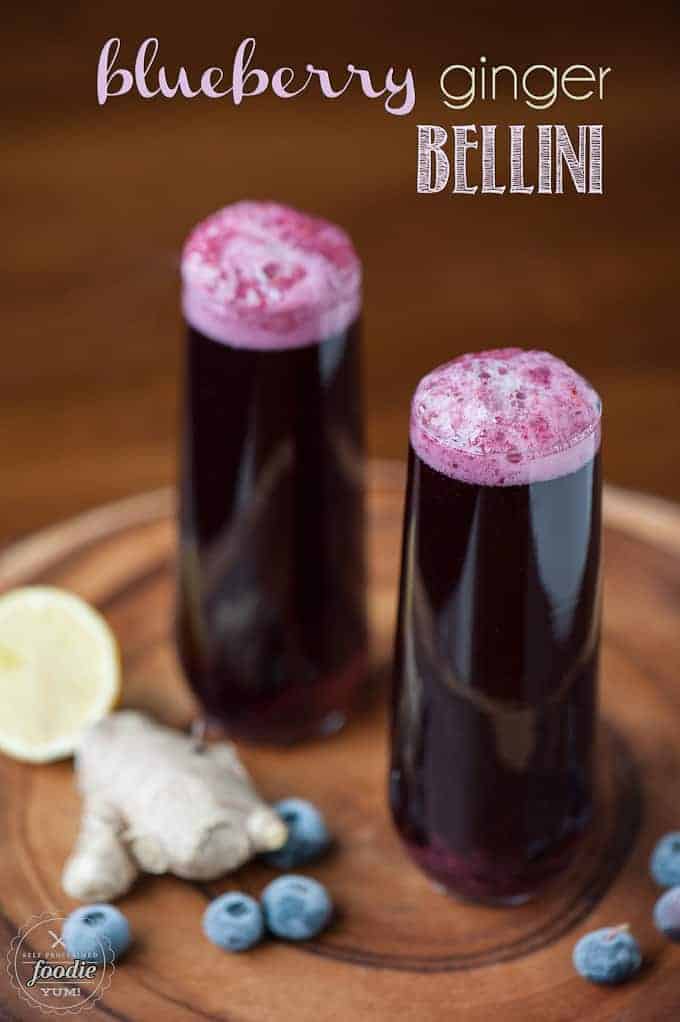 You begin by smashing blueberries, ginger, and lemon juice into a delicious juice you strain into each half-full glass of sparkling wine.
The trifecta of spicy, sweet, and sour gets a refreshing bubbly, and dry finish from the prosecco.
---
Blueberry Vodka Lemonade Cocktail
Blueberry lemonade is a special summer treat, so adding booze and bitters to the mix makes it the ultimate summer cocktail.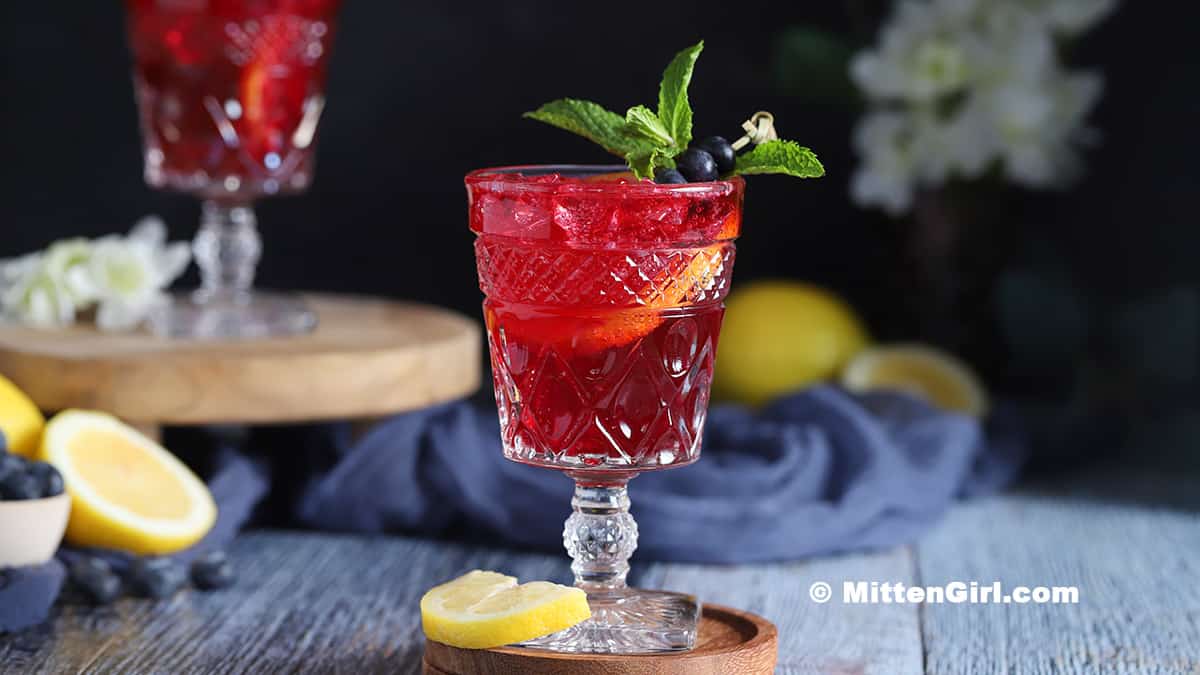 This recipe combines blueberry simple syrup with lemon juice, orange liqueur, and orange bitters for a balanced cocktail.
The tart and bitter citrus ingredients complement the sweet blueberry syrup.
---
Boozy Basil Blueberry Cocktail
Just as strawberry and basil have become a popular dessert duo, basil and blueberry is an equally delicious cocktail duo.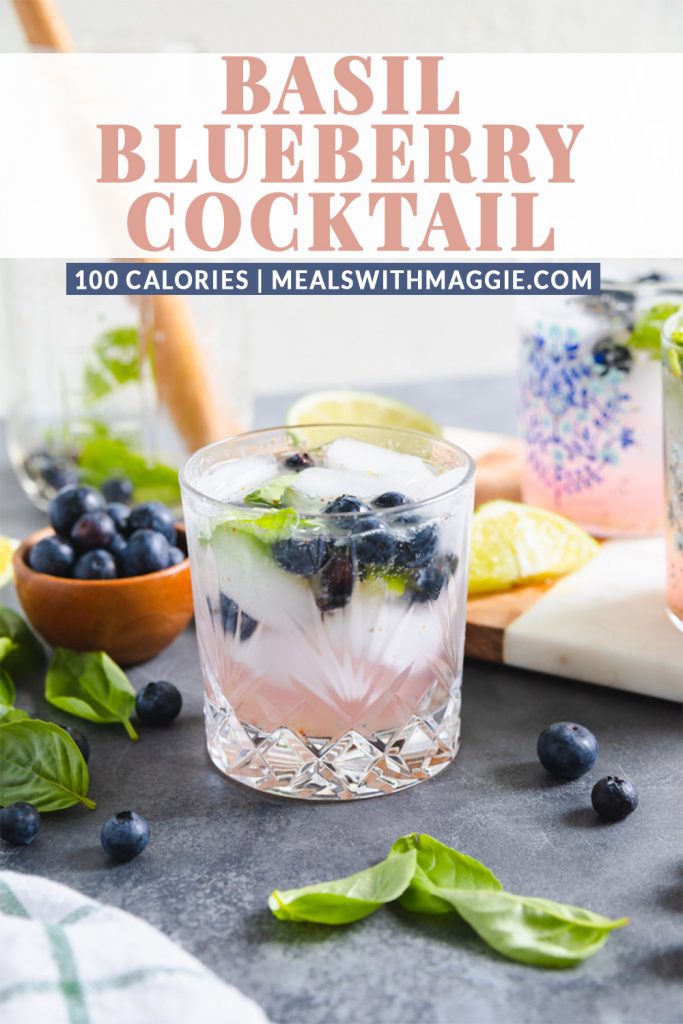 This simple cocktail muddles lime juice, basil, and blueberries for an aromatic and rich infusion.
You can use vodka or gin for this cocktail and easily scale the recipe up to make a pitcher's worth.
---
Blueberry Daiquiri
This recipe proves that blueberries are both a flavoring agent and a sweetener.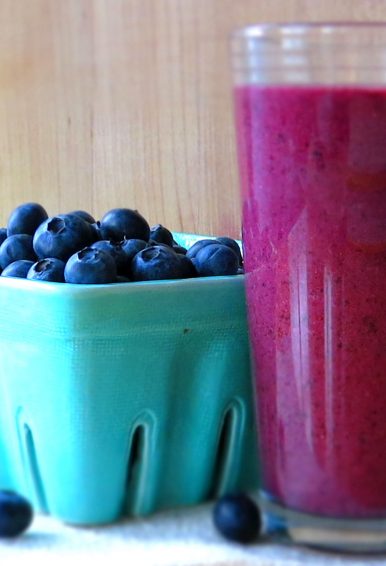 Blueberry daiquiris are a simple, three-ingredient recipe that involves throwing blueberries, lime juice, and light rum into a blender with ice.
I recommend using frozen blueberries, so you don't have to use ice, which waters down the sweetness and taste of the white rum.
---
Mint-Infused Blueberry Cocktail
Another one-shaker recipe, this vodka cocktail infuses mint and blueberry by muddling the two at the bottom of the shaker.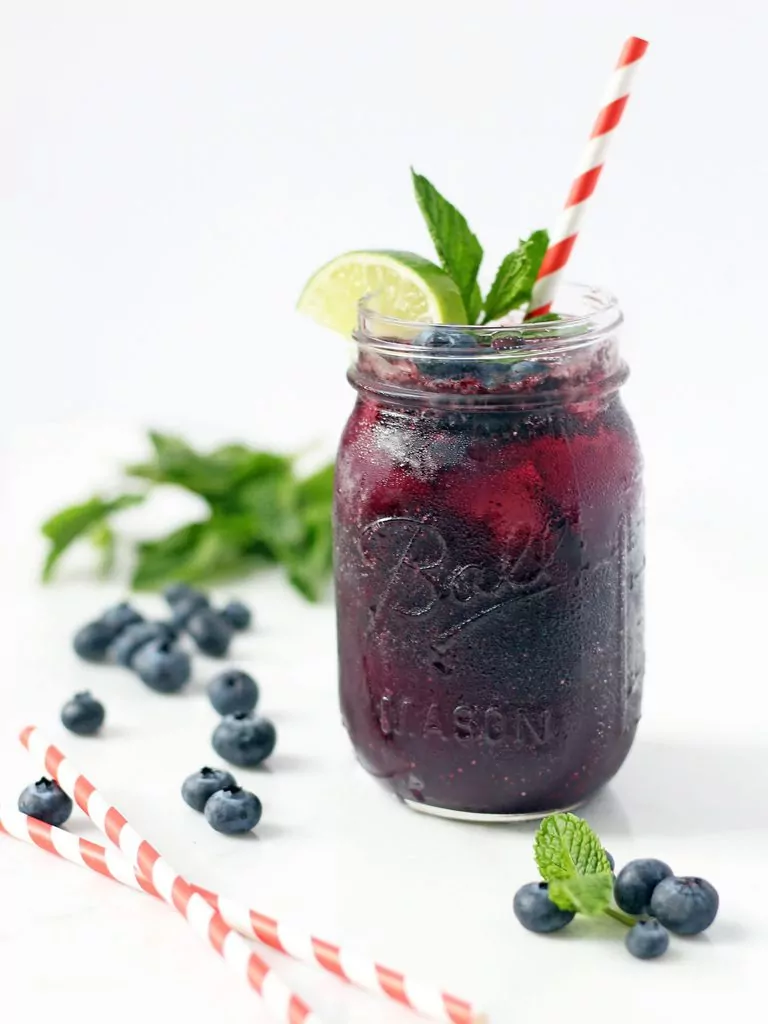 Instead of simple syrup, this cocktail calls for honey, which imparts a richer flavor.
The presentation of this cocktail is quaint, using oversized mason jars topped with seltzer water and garnished with lime and mint.
---
Blueberry Gin and Sage Punch
This flavorful gin punch recipe makes the perfect pitcher for a boozy backyard barbecue with friends.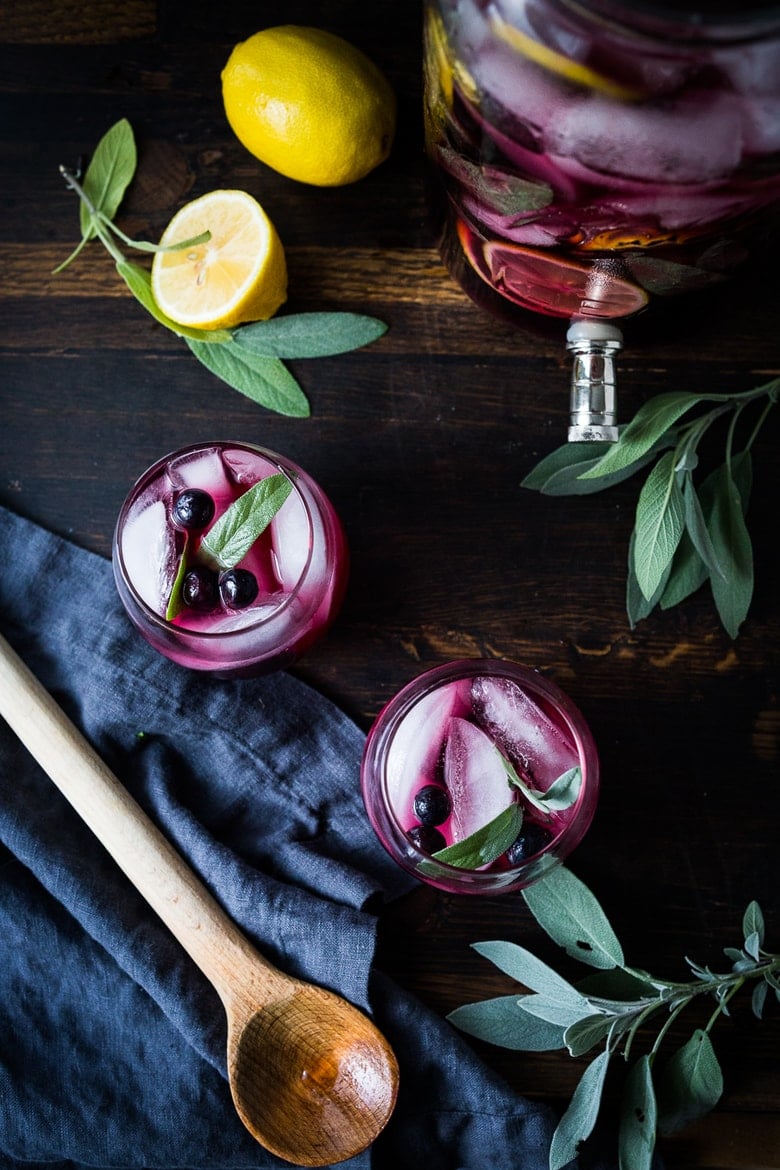 The key to this recipe is making the sage, blueberry, and lemon syrup the night before, letting the reduction marinate overnight before straining it into the pitcher.
All that's left to do is add copious amounts of gin and prosecco.
---
Blueberry Lemon Thyme Smash.
This sweet and smokey smash recipe uses fresh blueberries and blueberry jam to smash with thyme and lemon juice in a shaker before adding bourbon.
This recipe has a solution for every scenario. If you don't have jam, use extra blueberries and sugar.
If you don't have bourbon, you can get the same smokey finish from tequila or mezcal.
---
Tropical Blueberry Smash
This vodka cocktail is similar to the blueberry colada mentioned earlier on my list, blending fresh blueberries with pineapple juice and cream of coconut.
It uses scratch-made blueberry syrup for a stronger blueberry flavor and lemon juice to tamper with the sweetness. It's a mix of tropical and Nordic summer flavors in one cocktail.
---
Blueberry Martini
This bright blue vodka martini gets a double dose of blueberry by using blueberry vodka and fresh blueberry juice.
The triple sec and lemon-lime soda add a strong citrus flavor with a bubbly finish.
It's a single-shaker ingredient that you can easily make two off for a special date night cocktail.
---
Cheers!
Blueberries put a sweet and summery twist on any cocktail, their subtle and juicy nature a versatile ingredient that tastes as delicious in a margarita as it does in an Old Fashioned.
After sipping your way through my list, I'd love to hear which of the blueberry cocktails you enjoyed the most in the comments below.
---
20 Delicious Blueberry Cocktails to Try
Instructions
Pick your favorite recipe
Gather all the needed ingredients
Prep a summer cocktail in less than 5 minutes
Please drink responsibly, be fully accountable with your alcohol consumption, and show others respect.