Halloween is a time for spooky decorations, costumes, and of course, deliciously creepy cocktails. Halloween cocktails are specially crafted drinks that incorporate the holiday's signature colors and flavors. From bright orange concoctions to deep red and black drinks, these cocktails are sure to impress your guests and get everyone into the Halloween spirit. They are perfect for Halloween parties, movie nights, or just for sipping on a cool autumn evening.
Whether you're a fan of classic cocktails or prefer something a little more adventurous, there's a Halloween cocktail recipe out there for you. These cocktails are a great way to add some extra excitement to your holiday celebrations and get into the spooky spirit.
Brain Hemorrhage Shot
The Brain Hemorrhage Shot is a spooky Halloween cocktail that's both visually impressive and surprisingly easy to make. Made with just three ingredients – Peach Schnapps, Grenadine, and Baileys Irish Cream – this shot is a hit at Halloween parties and other spooky events.
View Recipe
---
Witches Brew Halloween Cocktail
Be sure to don your witch hat to make this intoxicating brew. Partygoers will soon be under the spell of this deliciously fruity green cocktail made with vodka, pineapple juice, and blue curacao. Despite its exotic name and bright blue hue, blue curacao is a bitter orange liqueur that pairs perfectly with tangy sweet pineapple.
View Recipe
---
The Full Moontini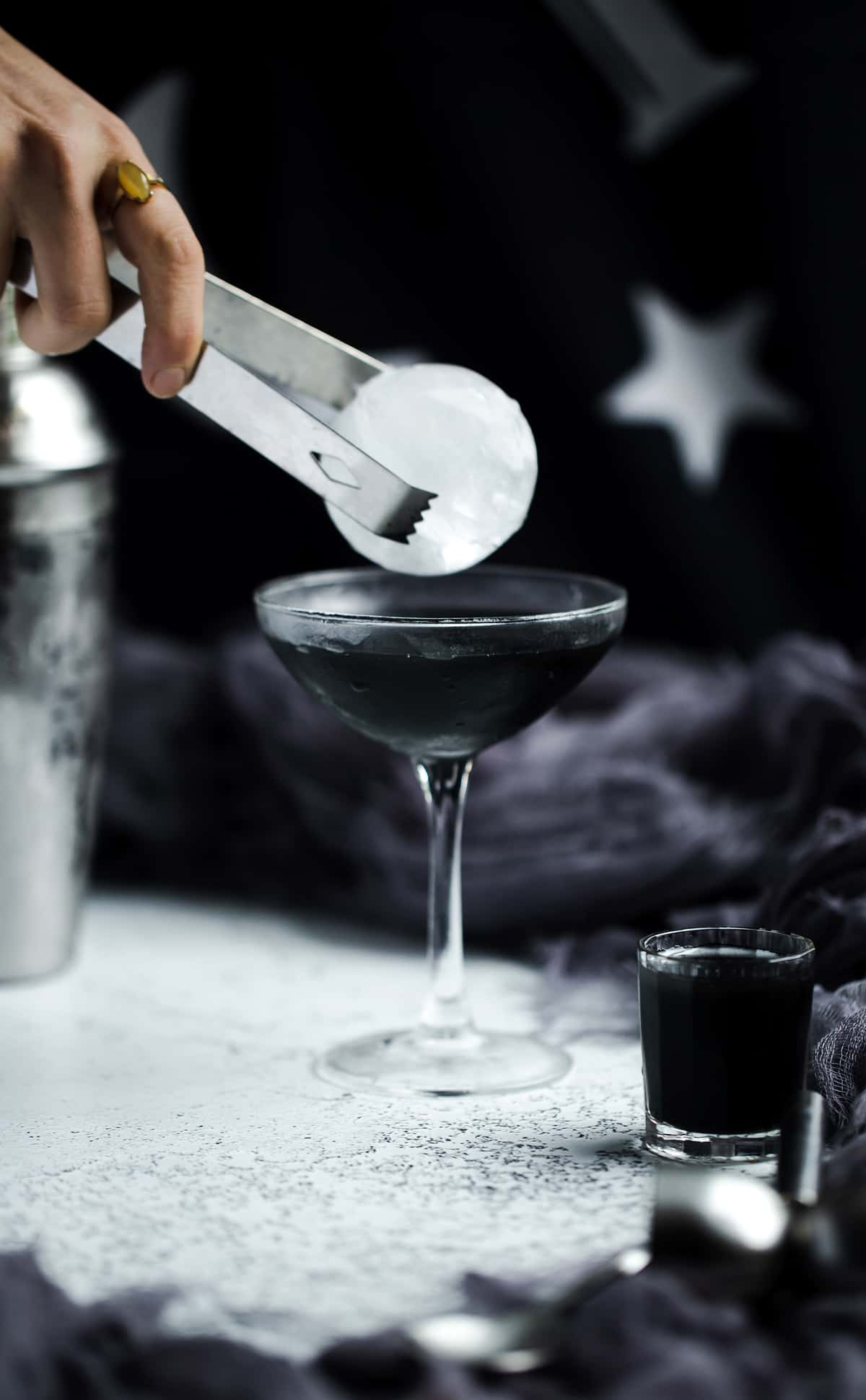 This magical gin martini drink is as black as night due to the addition of charcoal powder. Despite its dark appearance, this Full Moontini has a bright, tropical flavor due to mixers of lime and pineapple juice. This drink has enough gin to get you drunk and enough charcoal to soak up the next day's hangover!
View Recipe
---
The Witch's Heart
The perfect recipe for a Halloween-themed dinner party, The Witch's Heart is a royal purple that tastes as elegant as it looks. You make blackberry liqueur from scratch in a batch large enough to supply five cocktails. The cocktail itself is a sweet blackberry and appletini, using your choice of Apple brandy or apple vodka.
View Recipe
---
Frankenlime Fizz
The Frankenlime Fizz is essentially a Moscow Mule with dark green food coloring. Vodka, ginger beer, and lime soda combine to create a classic cocktail taste turned neon green with the squeeze of a dropper. You could make a magic show for your guests by making this cocktail en masse in a cauldron with dried ice to complete the illusion.
View Recipe
---
BACARDÍ Blood Moon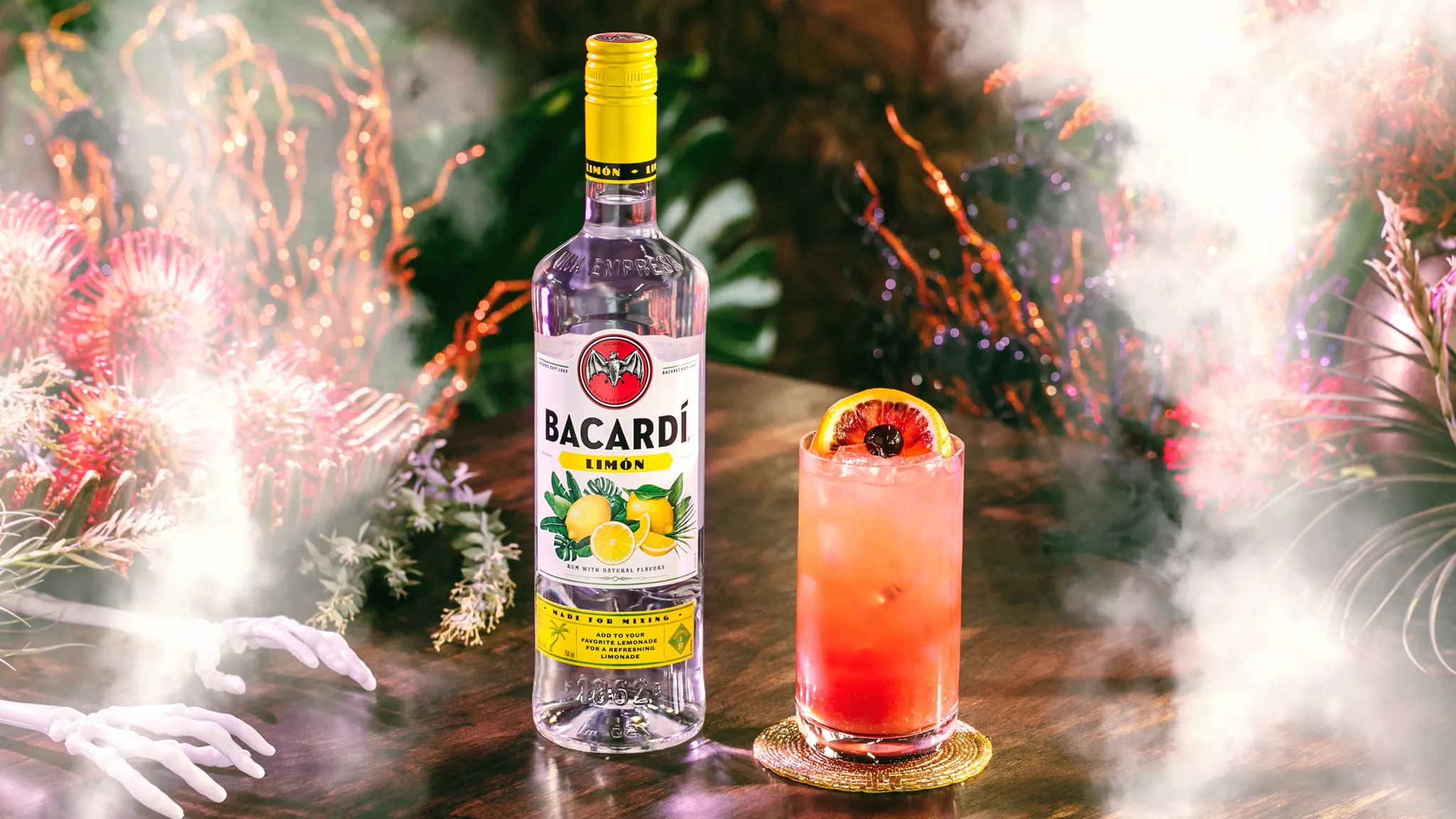 Bacardi is one of the most popular rum brands, so you should trust that their cocktail recipes are on par with the excellence of their products. This spooky Blood Moon rum cocktail showcases their lime-flavored rum. The blood moon color comes from blood orange syrup mixed with golden ginger beer.
View Recipe
---
Maleficent Halloween Cocktail
This iridescent periwinkle-colored cocktail is a mystical addition to your Halloween cocktail table. The flavor profile is as bright and refreshing as you'd hope for the color, combining vodka, lime, and raspberry liqueur with a dash of bubbly sprite. The secret to its stunning color is silver cake shimmer and a drop of purple food coloring.
View Recipe
---
Orange Fizz
If you're a fan of a screwdriver or an orange slice jelly candy, then this inclusion on the list of best Halloween cocktails is for you. It combines vodka with both orange juice and orange soda for a concentrated orange taste with a delightfully refreshing fizzy finish. Instead of fresh orange slices for garnish, I'd drop a jelly candy at the bottom of each glass.
View Recipe
---
Candy Corn Martini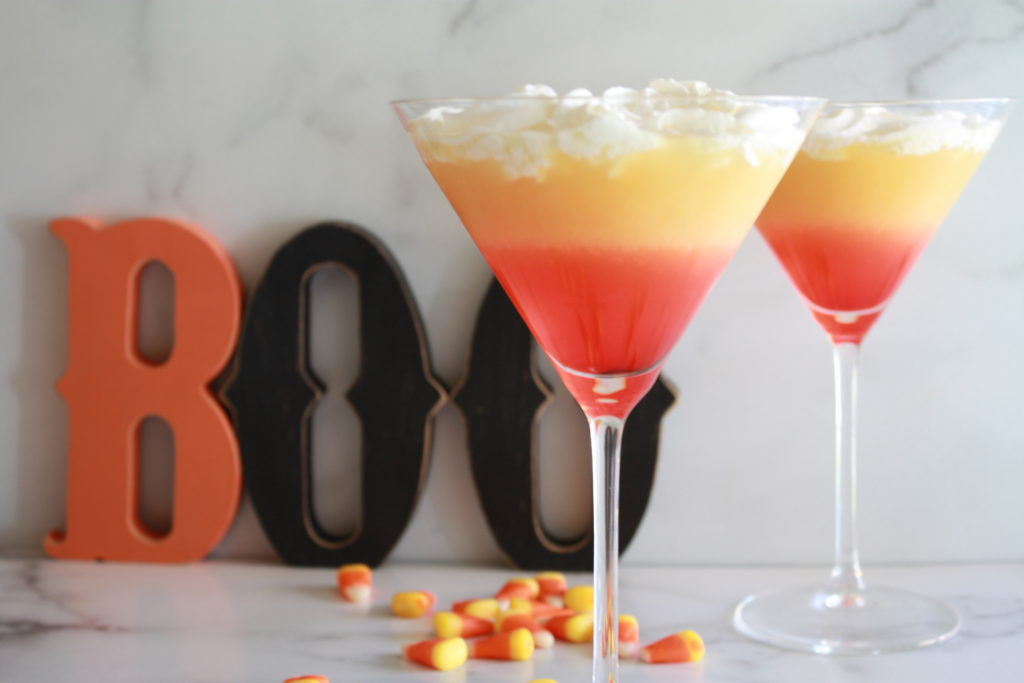 Candy corn may be the Halloween candy you love to hate. However, this candy corn martini will change your opinion about candy corn forever. A martini glass is the perfect candy corn mold for this layered cocktail that starts with a deep orange grenadine and pineapple juice tip, followed by whipped cream flavored vodka midsection, then topped off with decadent whipped cream.
View Recipe
---
Hocus Pocus Fizz
Inspired by the most iconic Halloween movie of all time, Hocus Pocus Fizz is a fiery orange rum and prosecco cocktail. Cranberry juice and orange juice combine to tint the fizzy spirit concoction an orange color as wild as Bette Midler's hair was in the movie! The deliciousness of this rum cocktail will put a spell on you at the most fun places to get drinks.
View Recipe
---
Sparkling Blood Orange Margarita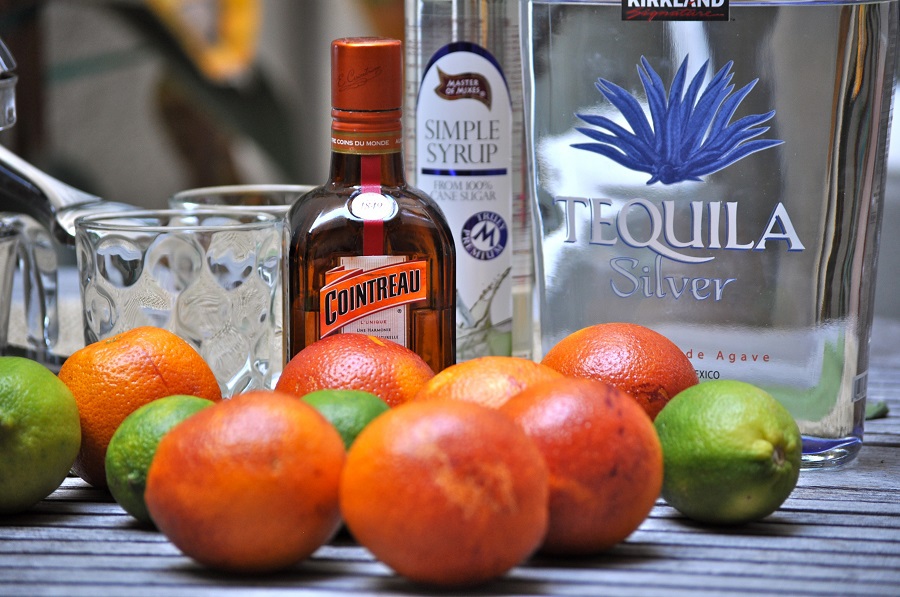 This sparkling blood orange margarita is the height of freshness, using all-natural, freshly squeezed juices in combination with soda, tequila, and Cointreau. Blood oranges give this margarita a pink tint while helping to bring out the orange flavor in the Cointreau. This can be an elegant dinner party drink as easily as a spooky Halloween drink.
View Recipe
---
Black Sangria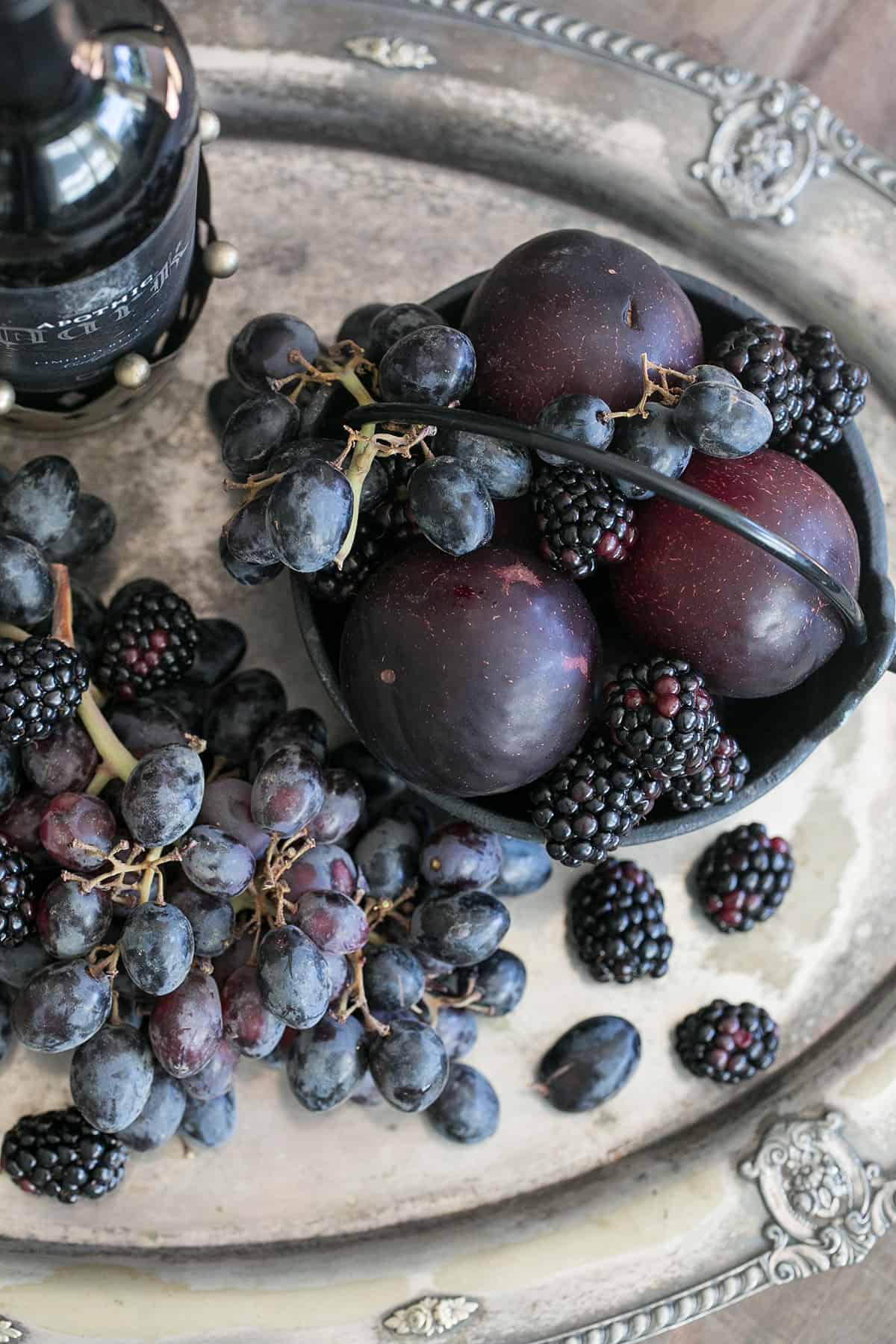 Sangria is the perfect party cocktail because it's always made in a pitcher and tastes better with each passing hour. It ages like the fine wine inherent in its list of ingredients. This Black Sangria recipe uses a dark red bottle of wine, brandy, and a myriad of black fruits like plums, grapes, and blackberries.
View Recipe
---
Drunk Ghost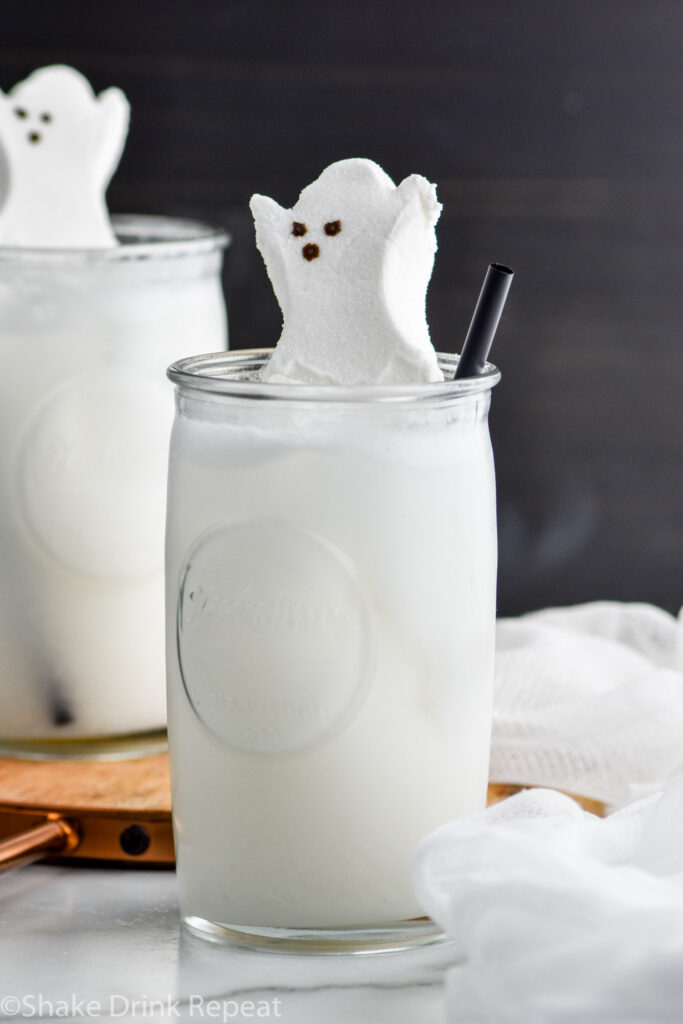 This sweet, sultry, and highly alcoholic cocktail is as white as a ghost and a big draw at fun places to go out. Coconut rum and vanilla vodka blend into coconut cream with a splash of lemon-lime soda to create the Drunk Ghost. You don't have to go to the beach to enjoy this pina colada with a Halloween twist. Just stick a ghost peep on top of it!
View Recipe
---
Green Goblin Halloween Cocktail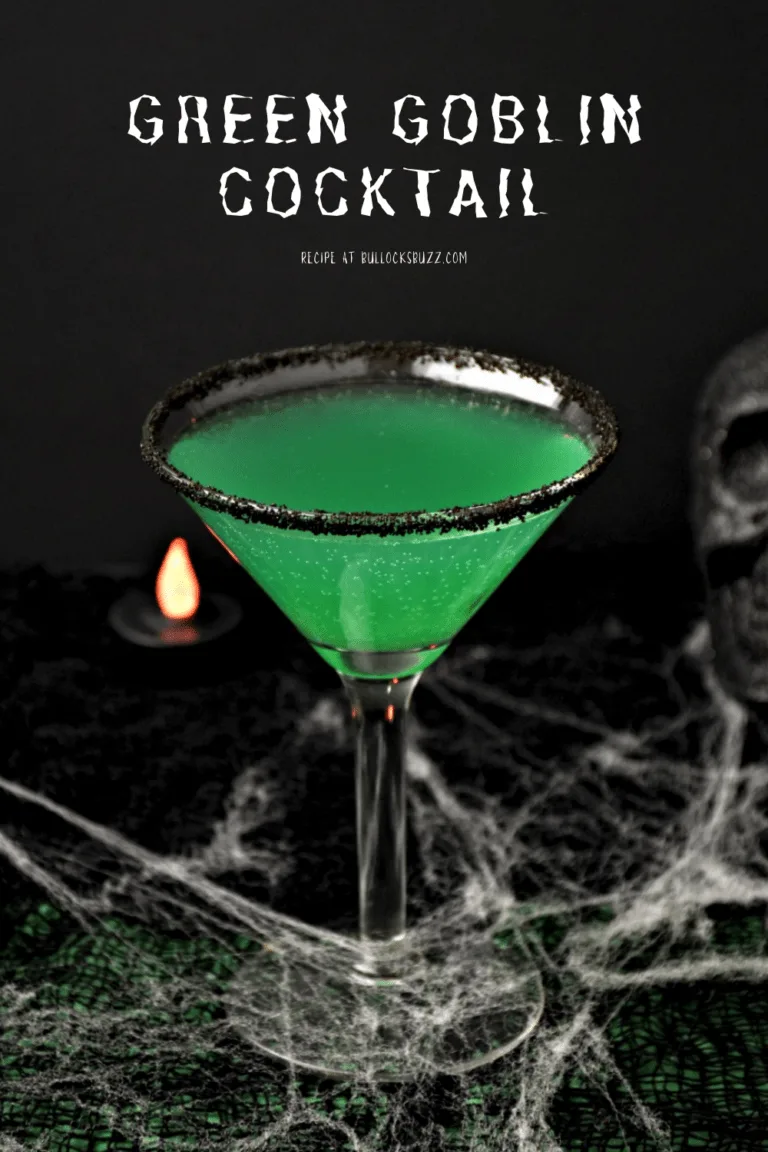 If you're familiar with the primary colors, then you know that blue and yellow create green. A case in point is this aptly named Green Goblin cocktail that combines pineapple and lemon juice with blue curacao. It also has a hearty spike of dark rum to summon your inner goblin.
View Recipe
---
Drunk Witch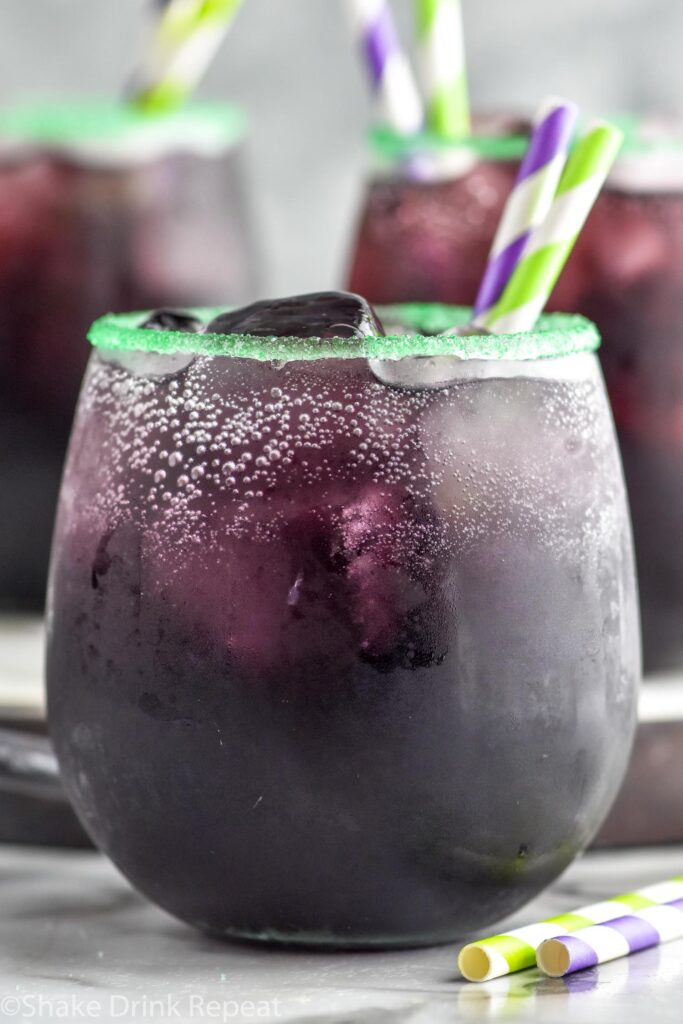 A few sips of the Drunk Witch will coax a cackle out of anyone. This deep purple cocktail consists of equal parts grenadine, blue curacao, and vodka topped off with sprite. Blue curacao has a bitter orange flavor, which blends well with the crisp, sweet sprite. Grenadine blends with blue curacao to create a cauldron-worthy purple potion.
View Recipe
---
The Beetlejuice Cocktail
An ode to one of the greatest Tim Burton characters of all time, this Beetlejuice cocktail is equally wild and whimsical. The color alone could double for a black light with combined hues of bright pink and neon blue. This cocktail is a sweet and sour vodka drink with melon and raspberry liqueur and blue curacao. The combination of melon and berries makes this cocktail a crowd pleaser.
View Recipe
---
Franken-Rita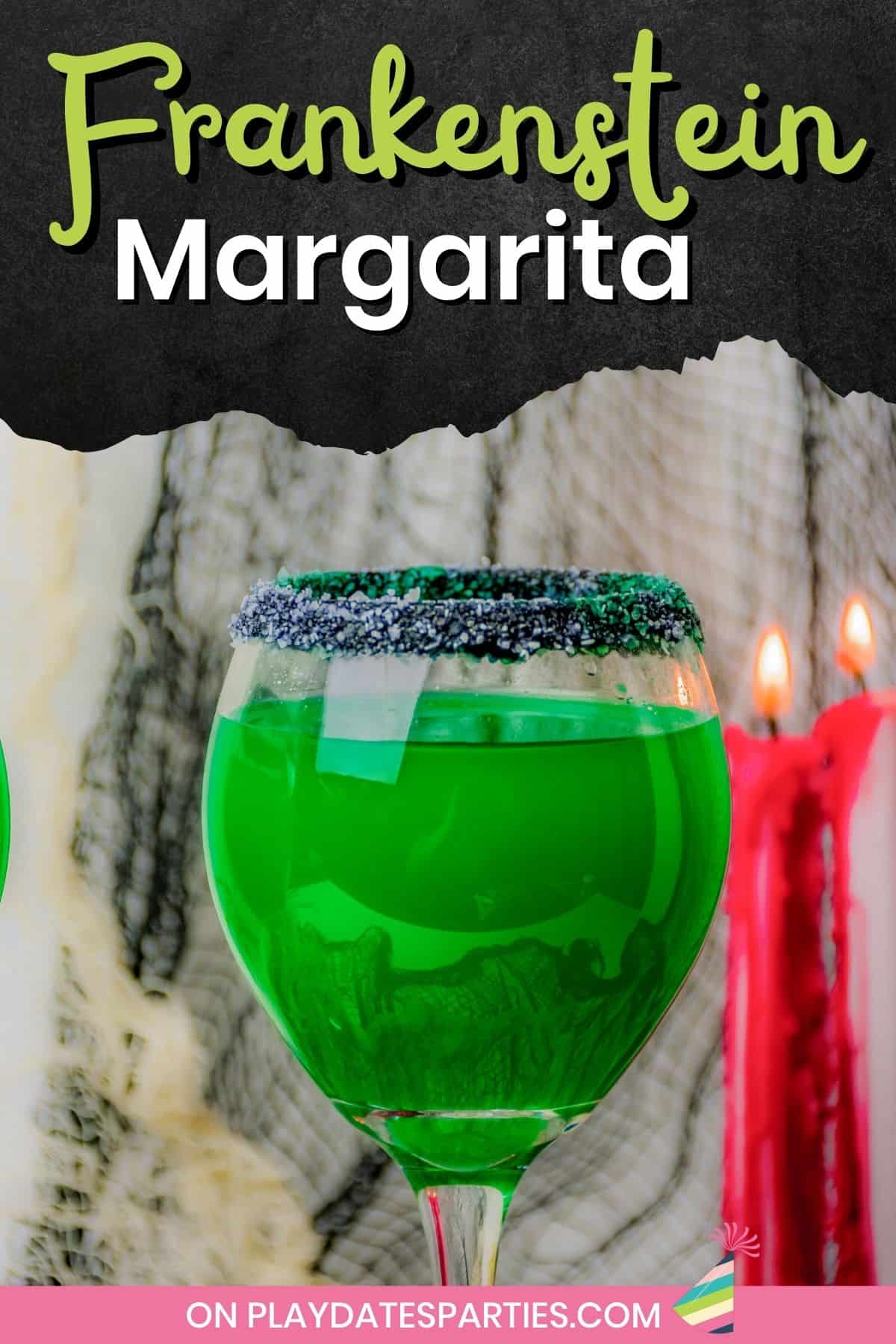 It isn't the limes that turn this Margarita as green as Frankenstein's face. It's a mixture of pineapple juice and blue curacao. For all you tequila lovers, this margarita is as tropical and exotic as it looks. You can serve it with a black and white salted rim to further the Halloween theme.
View Recipe
---
Dracula's Blood Cocktail
This is a cocktail certainly worth sinking your teeth into. The recipe even calls for plastic vampire teeth as a garnish! Black cherry juice and grenadine provide "blood" for this white rum and peach schnapps cocktail. The rum and peach schnapps add a lot of sweetness, but black cherry juice is the perfect tangy complement.
View Recipe
---
Pumpkin Patch Punch
There's no better Halloween decoration than a jack-o-lantern, and you can serve this Pumpkin Patch Punch at your next boozy pumpkin carving party. Brownie points if you serve it in one of those old-school plastic jack-o-lantern bowls. This highly alcoholic punch features vodka and brandy with various cider, citrus, and ginger mixers. The key ingredient, however, is pumpkin butter, which complements the brandy perfectly.
View Recipe
---
Vampire's Kiss Cocktail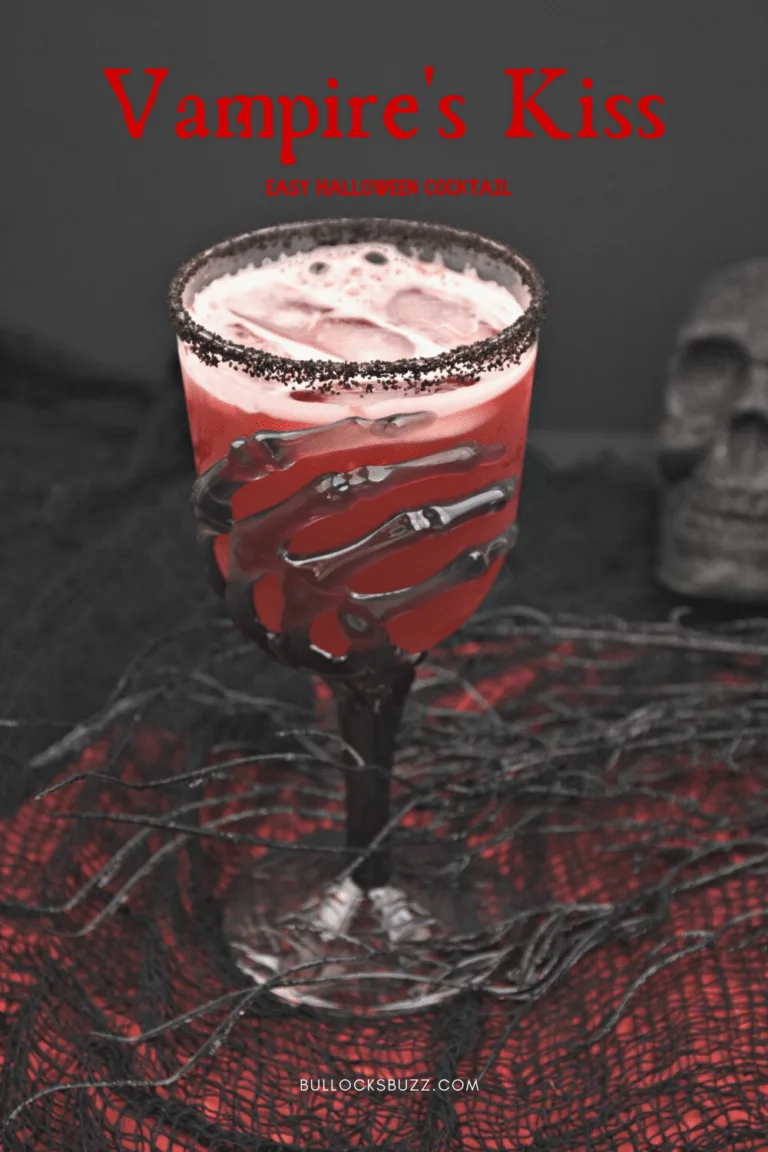 This blood-red cocktail starts with an ominous, black-rimmed glass, cautioning guests to drink at their own risk. The risk lies in the inability to refuse another after you gulp the first one down. The Vampire's Kiss is a spiced rum cocktail with cran-grape and pineapple juice to create a deep red coloring. It's easy to make in a shaker or a pitcher.
View Recipe
---
Love Potion Cocktail
Even if you exclude the dry ice from this recipe, this sweet vodka cocktail will still enchant your date. You could serve it on Halloween for its blood-red coloring and on Valentine's Day as the perfect sweetheart drink. This love potion mixes vodka with peach schnapps, cranberry, and pomegranate juice for a taste as bewitching as cupid's arrow.
View Recipe
---
Witches Blood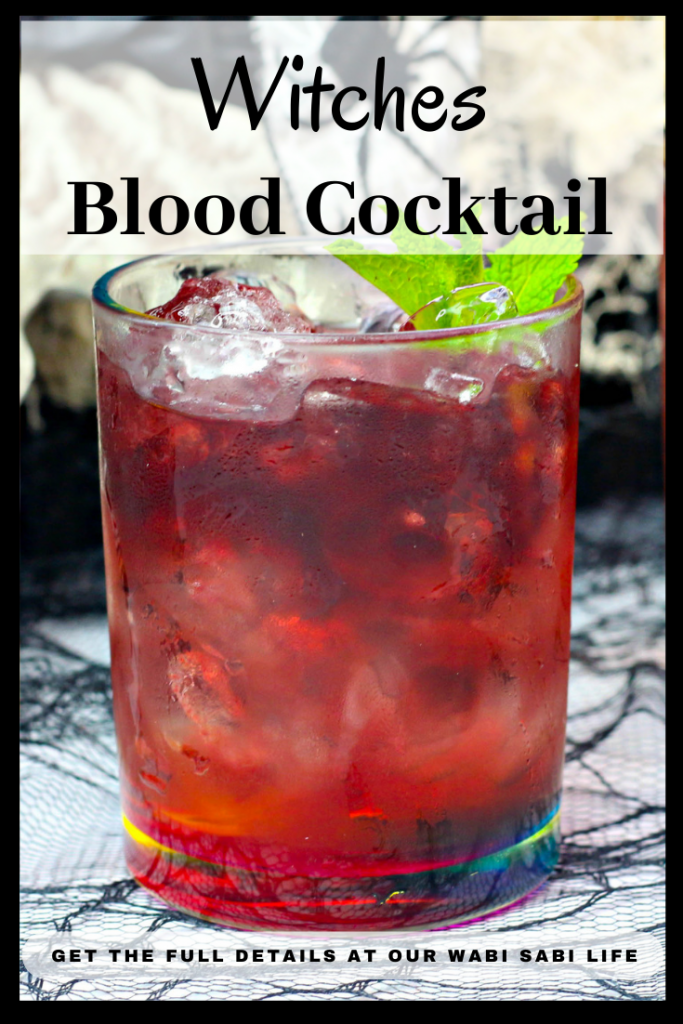 This delicious cocktail is a cross between a Moscow Mule and an Old Fashioned. It mixes bourbon and blood orange liqueur with lemon juice and ginger beer, adding a dash of pomegranate juice for a blood-red hue. If you're an old-fashioned fan, you know that a smokey spirit like bourbon pairs perfectly with orange. The addition of ginger and fruity citrus creates a delightful fall twist.
View Recipe
---
Devil's Kiss
If this cocktail is the Devil's Kiss, then I'd be willing to spend an eternity in hell! This cocktail is sensual and utterly rich, featuring dark rum, Kahlua, and grand Marnier. You serve it in a martini glass with a cayenne and sugar-dusted rim. That spicy rim will leave a fiery kiss on your lips with each sip.
View Recipe
---
Dark Purple Drink
While the author of this recipe calls this dark purple drink "Purple People Eater," I think they should reorder the words to "people eating purple." Semantics aside, this tangy, sweet and sour vodka cocktail gets its deep purple hue from the combination of blue curacao and cranberry juice. It tastes delicious and is a versatile recipe that allows you to tweak the sweetness.
View Recipe
---
"Hallowine" Sangria
Sangria comes from the Spanish word for blood, sangre, referring to the blood-red color of this wine and fruit cocktail. This Halloween-inspired sangria adds fruity clots in the form of fresh blackberries to a sanguine-colored base of cabernet, orange liqueur, and orange juice. If, like me, you find this overly sweet, the recipe calls for a hearty pour of club soda to lighten it up.
View Recipe
---
Poisoned Apple Cider Cocktail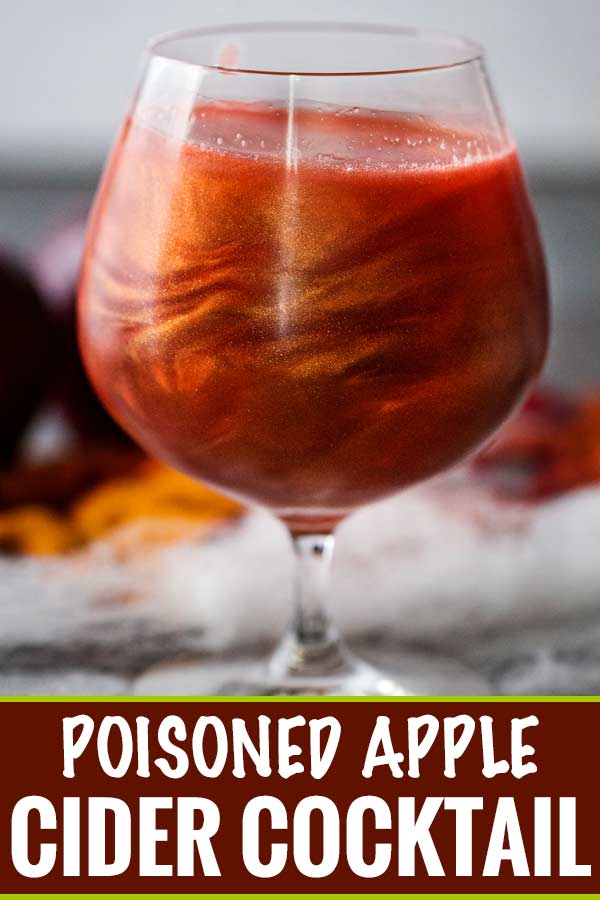 This sweet, apple-red cocktail turns golden cider red with pomegranate juice and grenadine then spices it up with a heavy helping of spiced rum. It's the kind of poison you'd be happy to spike into an apple drink. This beverage is a very sweet cocktail that gets a glittery ribbon of edible gold luster dust.
View Recipe
---
Black Magic Cocktail
This super sweet grape juice and vanilla liqueur cocktail looks like a black magic potion but tastes like a recipe for happiness. You'd get drunk from the sugar before feeling the effects of the alcohol. It's more of an ode to grape juice, featuring whole red and green grapes floating in it. I recommend freezing the grapes, so they double as flavored ice.
View Recipe
---
Death in the Afternoon
Named after Ernest Hemingway's 1932 novel, Death in the Afternoon is also a cocktail invented by Hemingway himself who advised readers to drink three to five of them in one night! It consists of two ingredients: absinthe and champagne. If I had five absinthe drinks in one night, I'd be dead long before afternoon. One absinthe drink alone is enough to launch you into the next dimension.
View Recipe
---
Vampire Tequila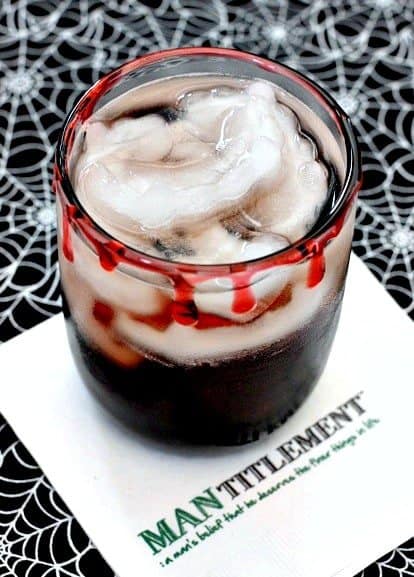 This simple, user-friendly Vampire Tequila cocktail has only three ingredients, and two of them are alcoholic! You end up getting two tequila drinks in one as this cocktail uses tequila and PAMA liqueur, a delicious mixture of vodka, tequila, and pomegranate. With double the tequila and a blood-red coloring, this fruity concoction will turn you into a vampire from the first sip.
View Recipe
---
Bloody Champagne Bellini
This elegant cocktail could be the crowd pleaser at your next Halloween brunch or at the bars you choose to frequent on Halloween night. Bellinis are essentially mimosas that use peach juice instead of orange juice. The Bloody Champagne Bellini switches peach out with Amarena cherry syrup for a red-tinted glass of bubbly. I find that the best part is the sugary Amarena cherry floating on top.
View Recipe
---
Zombie Brains
This elaborate Halloween cocktail is sure to be the piece de resistance at the cocktail table, steaming with dry ice that clears to reveal a vat of floating brain matter. Don't worry, the brain matter is muddled raspberries floating in a blood-colored concoction of pomegranate and orange juice spiked with vodka and Chambord.
View Recipe
---
Corpse Reviver 2
An age-old hangover cure, the Corpse Reviver 2 used to be the prescription cocktail for bar goers who'd had one too many the night before. Despite its macabre name, this perfectly balanced cocktail is quite elegant, featuring Lilet Blanc, Cointreau, and gin. It's a lemony cocktail with wonderful floral notes from the gin and white wine.
View Recipe
---
The Frankenstein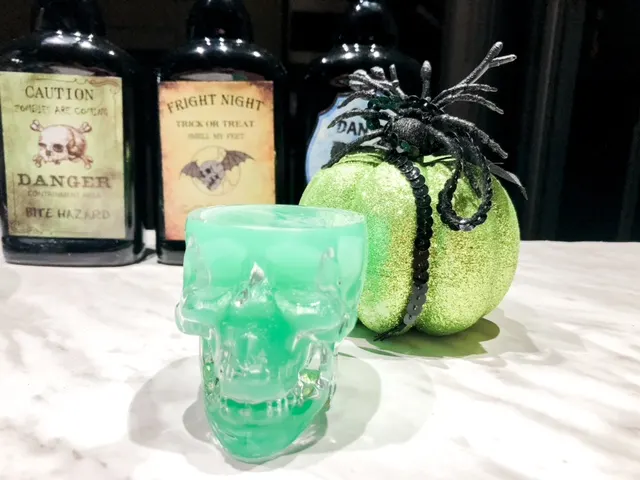 Whether this sweet vodka cocktail is called the Frankenstein because it'll give you a second life to enjoy the after-party or because it's green is anyone's guess. The Frankenstein mixes citrus and pineapple with blue curacao to create a bright green cocktail that's as delicious as it looks. You can save this recipe for a tropical summer party a few months from your Halloween bash.
View Recipe
---
Gravedigger Halloween Cocktail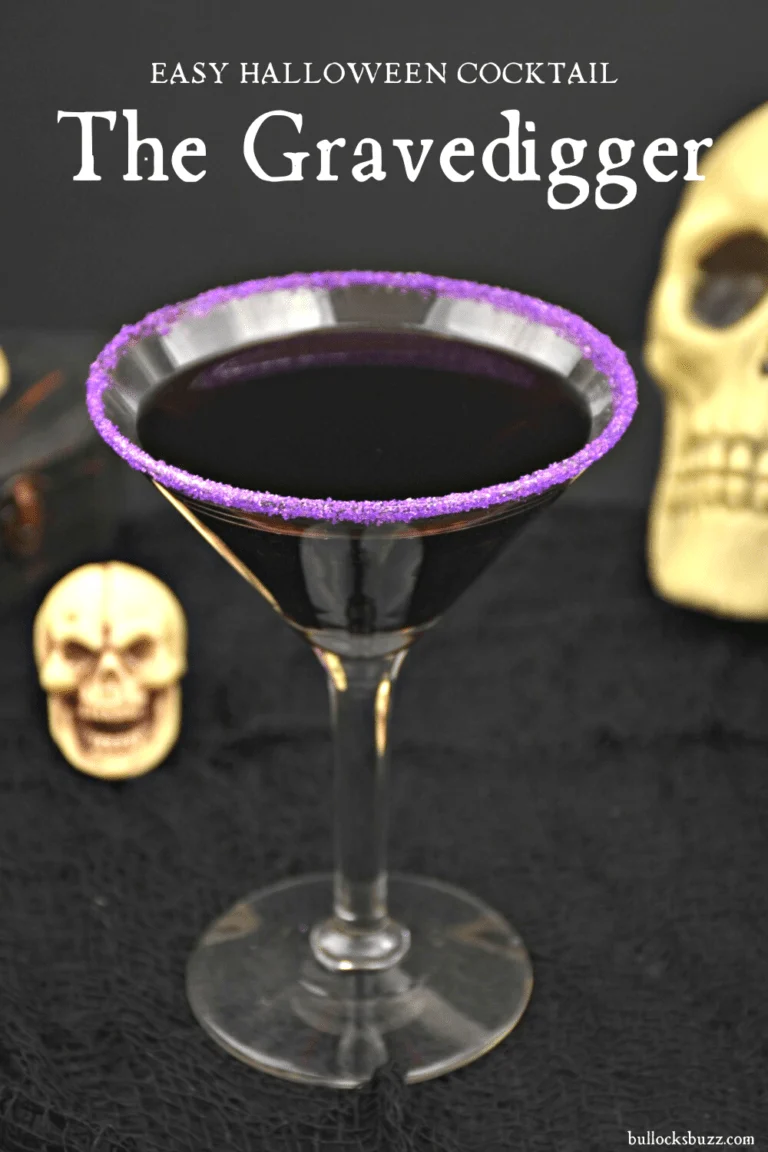 The Gravedigger Halloween cocktail is a dark purple mystery drink loaded with Bacardi rum, grape-cranberry juice, and sprite. You could serve it in a large rectangular tin with a homemade gravestone taped to it to honor its name. One too many ladles from this spiked punch bowl and you'll be digging your own grave the next morning.
View Recipe
---
34 Halloween Cocktail Recipes
Stir up a drink this spooky season with these tasty Halloween cocktails!
Instructions
Pick your favorite recipe
Gather all the needed ingredients
Prep your halloween cocktail in less than 5 minutes
Please drink responsibly, be fully accountable with your alcohol consumption, and show others respect.